I've never seen a Budget where the number of losers are actually quite small. A Treasurer's tax and spend plan are often called Robin Hood budgets, where they take from the rich to give to the poor. Well, this isn't one of them. This is a Hey, Big Spender budget or maybe a Whatever it Takes budget. I prefer the You ain't seen nothin' yet budget.
In my 30 years of covering budgets, I've never seen anything like this. And that's because the threat is like nothing we have ever faced. A life-threatening virus caused the governments of Australia to close the economy down, creating the worst recession since the Great Depression. And that's why Josh Frydenberg has thrown a budget deficit of $213 billion at us and the economy. For those economically illiterate enough to be worrying about the debt being repaid, I simply ask you, if you were about to die but a doctor promised you he could help you live provided you signed up for a million loan, would you say "Yes"? I don't need to know your answer.
If the Oz economy was a fat bloke who had a heart attack at the MCG watching cricket and scoffing down a pie, you'd go straight into cardiac heart massage to keep him alive until the ambos arrived. You'd ignore any dope who yelled out from the crowd: "Put him on a low fat diet!"
The Treasurer is kickstarting the heart of the economy. Sure, it will leave debt — a lot of it, with our gross public debt going from 34% of GDP to 55% of GDP. That said, our debt was actually bigger in the 1950s after World War II and we remain the lowest public debt-to-GDP economy in the 37-country strong OECD.
So debt worriers, relax.
Ben Fordham on 2GB breakfast asked me how I'd mark the Budget out of 10 and I gave it a nine! That's only because it's right for the time. When the Prime Minister, Scott Morrison, delivered his first Budget as Treasurer in 2016, he came on my old Sky Business TV programme. I'd given his first Budget a D for distinction and ScoMo complained that when I taught him at the University of New South Wales, I never gave him anything like a distinction then. I replied: "You weren't as good then!"
Here's what tax cuts you'll get: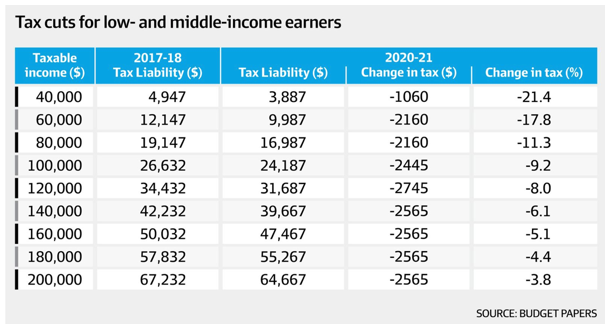 That fourth column shows what the Government misses out on, which you'll get if you have a job or a business. It's $17.8 billion worth of tax cuts.
The average teacher's wage is around $90,000 so a couple who both teach could see a tax cut gift of up to $5,490.That's huge! And we can only spend it here in Australia unless we buy online from overseas. But a big chunk will be spent here, with the Aussie dollar at 71 US cents.
And as US President, Ronnie Reagan, once told Americans, "you ain't seen nothin' yet!"
There's $35 billion worth of business tax breaks, which means if you buy a new truck for $60,000 you get a 100% tax deduction in year one! If your business is making losses now because of the Coronavirus recession, you can get a tax refund out of the taxes you paid on profits going back to 2018-19. And you'll be able to use this "carry back loss" trick for the next two financial years!
There is a sting in this one and that is accountants say it only applies to small businesses that are companies. Sole traders, partnerships and trusts won't be able to access this 'gift'!
And of course, business owners benefit from the personal tax cuts as well.
The incentive to hire young unemployed workers is a little stingy, with employers to receive $200 a week for hiring someone under 30 and $100 a week for taking on someone above 30 but younger than 35.
This is a great Budget for the young, anyone still working and business owners. But self-funded retirees received nothing directly. But I think there'll be a windfall because the stock market should benefit from
Josh the Big Spender. And here's how: A Budget Deficit of $213 billion (or 11% of GDP) leads to economic growth of 4.25% in 2021, after we've contracted by 3.75% in 2020. So the tax cuts of nearly $18 billion, plus the business tax relief, which totals $50 billion, plus the wage subsidies costing $4 billion lead to higher consumption throughout the economy and greater business investment. This pushes up confidence and job creation and more economic growth. This puts company revenue and profits on a steroids programme! And share prices get pumped. And as most self-funded retirees depend on the stock market for growth of their income (with term deposits paying 1%), this Budget indirectly helps self-funded retirees.
Why did I call this the "You ain't seen nothin' yet" Budget? Well, the huge spending of today will ignite a massive multiplier effect and provided a vaccine shows up in 2021, which is an assumption the Treasurer has made with his Budget, and therefore no local or global lockdown is necessary, then we could be on the cusp of a Roaring 20s of the 21st century.
Labor's criticism of the Budget is that about 900,000 unemployed will not benefit from the wage subsidies for hiring younger workers. But you'd have to think those other unemployed workers will benefit from this spending spree of Josh and Scott.
You can only hope I'm right!