On Thursday night I made a big mistake I will never make again — I read my Twitter account! Big mistake and there was a tweet from some guy called Michael Bassett giving me and my stock-tipping reputation a bit of a needling.
Michael has an excuse for his short-sighted criticism of someone like me, who is really walking a tightrope without a safety net, and that is? He is young or at least his Twitter shot portrays him so!
The tweet pointed out that I tipped A2Milk (A2M) less than eight weeks ago and it's down 20%! Who's counting? Well, probably Michael who might have taken my 'tip', which I do prefer to call my selection, because I'm not a punter stock market player.
I think there are two types of shareholder — the punter/speculator/trader and the investor. The former plays a short game, while the investor is a stayer.
Tipping short-term is hard and reminds me of that Seinfeld episode when Kramer was trying to wrestle a baseball from a sick kid in hospital and so he promised that the famous baseball player, Paul O'Neill, would hit him two home runs. This is what O'Neill told Kramer when the latter asked him to hit two home runs for sick little Bobby: "It's hard to hit home runs and where the heck did you get two from?"
And the same goes for tipping a stock and expecting it to go up instantly or for some stocks, even in eight weeks! It goes double when you are a long-term investor like me but maybe Michael doesn't know how I buy stocks as an investor.
If my critic, Michael, watches my stocks-focused TV shows on YouTube on Monday and Thursday nights, he might think when I say I like a stock, such as A2M, that I expect it to rise soon.
Let me be honest, when I select a stock, I hope it rises soon but if it does it's a pleasant surprise. Timing the market and the buying of stocks is like hitting two home runs in Major League Baseball — it's very hard.
Historically, I've always invested based on basically seven principles.
I was recently asked by a young investor about how I invest and so I decided to think about the core considerations when I decide to buy a stock, but in many ways the same issues are relevant if I'm buying a property or thinking about any investment.
These are questions I ask myself and they become filters by which I decide if the investment opportunity will be a goer.
Every week I write a story for my Switzer Report where I look for a good value company or a group of companies and they generally have to pass most of these Switzer Seven Investing Principles.
First, I buy great quality companies/stocks/assets that will grow in value over time and I want to be able to receive income while I'm waiting for uplift in the value of the asset I've invested in. A2M is a best of breed company that has had a few internal issues but it's biggest problem is the fact that the Coronavirus has killed off Chinese tourism to Australia, which has killed off the daigou trade, which in one form is a bus pulling up outside a big pharmacy and a mob of tourists fill their suitcases with A2 baby formula!
By the way, the expert analysts surveyed by FNArena think A2M has 9.2% average upside ahead but the expert assessor from Morgans has a $10.40 target implying 36.13% upside! Meanwhile Macquarie's analyst tips 27.6% upside!
Second, I invest for the long-term because that often can create buying opportunities. For example, the CBA in 2020 went under $60 a share and so I selected and bought these shares on the idea if the share price went to $80 in say three years' time, I'd make $20 on a $60 outlay, which is 33% or 11% a year! And the CBA pays a dividend better than 5%, so that would possibly be 16% a year by betting on the best bank in Australia where our top four banks are often in the top 50 of the world!
It's $89 in under a year and so as an investor I got lucky and look like a genius to those who took the tip.
Third, I sometimes will buy lesser quality companies that might be new to the stock market or in the tech space or might be in an industry with a real future, such as electric vehicles. These investments are called satellite stocks or a more risky companies compared to my core investments, which might be 80% or more of my stocks portfolio. These assets can give you alpha or big returns but they are more risky. I did select Webjet not long after the Coronavirus crash both on TV and in my Switzer Report after interviewing the CEO — John Gusic — who said the pandemic had forced him to cut costs and that he'd breakeven with the opening up of local borders. That surprised me and made his stock very buyable but the gain was still quicker than I expected. This stock is up 113% since April at $5.30 but it was a $14 stock before the virus came to town, so there's more to come over time and that's what I invest for.
Fourth, I look for opportunities to buy quality assets when markets are over-negative. The great investor Warren Buffett advised us "to be fearful when others are greedy and be greedy when others are fearful."
It's why I was a buyer of stocks when our stock market crashed nearly 37% because of the Coronavirus.
Fifth, I "stand of the shoulders of giants" and I do that by having experts in my life, either directly by knowing them or by reading, listening to or viewing them wherever they might be communicating. My TV show and Report recruits these giants and they have done really well for a long time but Michael, they're not always right in the short-term, like eight weeks.
When I buy stocks, I build up a case for the stock and then check out my charts experts to see if the charts are positive about the company. I then go and see what expert analysts say about the company and if the stars align I invest.
Sixth, I'm a diversified investor. I'm in stocks, property and other capital-gaining assets. And when it comes to stocks I hold 15-20 stocks to make sure I'm not too exposed to a silly CEO or a dumb government decision that could KO my investment.
Seventh, I have to have the courage to kill an investment if it doesn't work out. Obviously, I do my objective homework to see if a failed investment has potential but if I play stubborn because I fear a losing stock becoming a winner, then I could end up losing a whole lot more.
There are other important lessons to investing successfully but these are some core ones you should always consider when you put your hard-earned money into any investment, let alone the scary world of stocks!
One last piece of crowing. In May last year I opted to create an alternative to the great FANG stocks in the US and our own WAAAX stocks here that had performed so well in the years before the Coronavirus crash. I created my ZEET stocks on the basis that I thought they'd do well over time and here is there latest showing.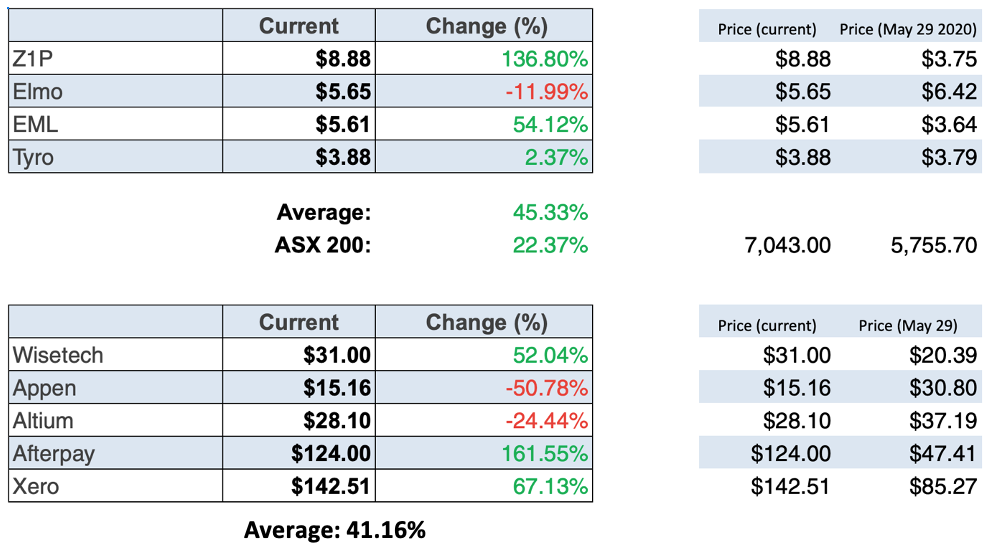 If you'd followed my ZEET stocks and had invested equal amounts in then you'd be up 45.33% in less than a year. Over the same time the WAAAX stocks were up 41.16% and the S&P/ASX 200 Index was up 22.37%.
I was lucky I guess but I knew the ZEETs were good companies, though Elmo Software has not got there yet but the trend is improving.
And Tyro was a victim of a hedge fund report that has been proven to be wrong and used to drive the share price down so the OS fund could make unfair profits at the expense of local shareholders.
Tyro

This chart shows how the stock fell on the biased report and how the market eventually discounted it as the facts were revealed. Without that savage hedge fund report, Tyro's stock price would be higher and my ZEETs would even look better.
The moral of my story? Buy quality companies when markets are madly negative and be patient and try not to grumble too early!
And for my part, when I cop an unfair bagging, I do get biblical and think: "Forgive them Lord for they know not what they do."
Also remember, our Virtual Investor Strategy Day is next Tuesday, so if you haven't already claimed your free ticket, make sure you click here to secure your spot.