Economists are piling in on Dr Phil Lowe, putting pressure on the RBA boss to raise interest rates during an election campaign. The scene of the potential crime for the Government could be next Tuesday's Reserve Bank Board meeting where we could see a 40 basis points rise or 0.4% jump in the cash rate, taking it to 0.5%.
Until yesterday's inflation number of 5.1%, most economists expected June was set to be the month when the rate-rising cycle would begin. For your information, we haven't seen this happen since November 2010!
That 0.25% rise took the cash rate to 4.75%. Today, it's a minuscule 0.1%. The chart below shows how high and low the cash rate can be.

That inflation number was bigger than the expert economists had expected and they now think a rate rise is necessary, ASAP. So, they were wrong on their calculations of inflation and now they want rate rises quicker than they first expected to help reduce the inflation rate.
According to the AFR's Vesna Poljak, "AMP Capital, ANZ, Barclays, JPMorgan, National Australia Bank, and RBC Capital Markets revised their forecasts for an RBA rate rise at next week's meeting, joining Betashares which published a May call on Tuesday".
Her survey of the interest rate futures market shows you how certain money experts are about a rate rise next week: "Futures markets ascribe a 110 per cent probability (in other words, a certainty) to a 0.15 of a percentage point, or 15 basis point, increase at next week's meeting based on the implied 0.26 per cent cash rate."
So Dr Phil has to weigh up the pressure from his economist buddies and his Prime Ministerial buddy ScoMo, who'd really prefer him to wait until after the election to do something that will unleash more scary headlines before the May 21 poll.
Waiting a month to raise the cash rate really wouldn't make much difference, but as EY's chief economist, Cherelle Murphy pointed out, it could undermine the credibility of the RBA if it didn't raise rates next Tuesday.
And then there's another credibility issue, which gets down to this: should the rise be 15 basis points, taking the cash rate to 0.25% or 40 basis points, which leaves the cash rate at 0.5%?
The economists are recommending 40 basis points, while I'm sure ScoMo would prefer 15. That will be part of the drama that unfolds in five days' time.
Interestingly, a bigger rise earlier than expected could actually mean the RBA might have to do fewer hikes this year.
But to understand Dr Phil's brain wrestle, you need to know that this 5.1% might be the peak in our inflation surge, because the most significant price rises in the March quarter were for new dwelling purchases by owner-occupiers, up 5.7% and fuel for our cars, which was up 11% in the March quarter.
Since then, Treasurer Josh Frydenberg has cut the fuel levy by 22 cents a litre, so the June quarter inflation reading could be lower. But that could depend on how long China remains in lockdown with its pandemic problems. Also, the Ukraine war doesn't help the oil price, though it has fallen since the March quarter when the war commenced, as the chart below shows.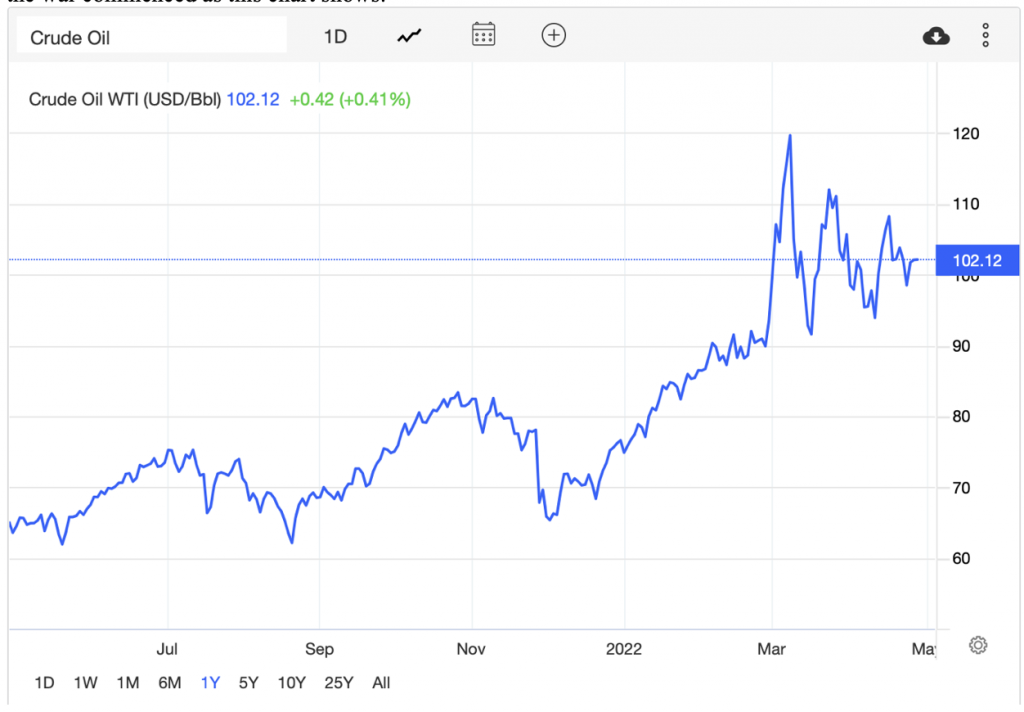 By the way, if the RBA does hike next week, it would help push up the Oz dollar, making imports cheaper, which would also be good for slowing down inflation.
The bottom line appears to be that a rate rise next week looks economically sound but politically tricky.
So I guess we'll find out whether Dr Phil is an economist or a political player next Tuesday.