A friend of mine who generally believes in my overall views on the economy and stock market was spooked by a so-called economic expert who was predicting a day of reckoning and a massive collapse of the world economic system, share and property prices!
Of course, this doomsdayer was recommending going into gold and wait for the Armageddon!
My friend (who I've nicknamed Stavros over the years because of his Greek heritage) sent me a chart via text that must have been used on a TV show to scare the pants off my mate and anyone else who watched the programme.
And there was a plea that read: "Pierre, hope this guy has got it all wrong." (I don't know why he has given me the French tag but we often forget where nicknames come from!).
Anyway, I returned fire with the question: "Was the 'expert' Harry Dent?" And not to my surprise, the answer was: "Yes!"
My perception surprised my friend but my guess being right didn't surprise me. That's because Harry has been plying his "let's spook the untrained and the very, very nervous" for a long time. And what he says is like a broken clock that actually tells the time 100% right only two times a day (unless it's a digital one that will be right only once a day).
I'm not going to personally insult Harry, as I've interviewed him. Let's assume he has the best of intentions to save people from going broke, but his predictions aren't reliable. And by my count since 2010 at least, his economic doom forecasts were only made right by the Coronavirus, which he never predicted. Or did he? That could be a new claim for another book.
Yep, he's big on rewriting his history and he often does it with media people who can't test out his claims because they haven't studied all Harry's predictions.
But I've interviewed him many times since 2011 and he says the same kinds of things to scare the same kind of people who buy his books, invest in gold and now it looks like he has a fund!
I'm not saying Harry is a dullard but he has got it wrong for a long time. And no one ever looks at what he's selling.
Using YouTube, I was reminded that on 31 December 2011, he tipped the S&P 500 would fall by 30-50%, but it didn't until the Coronavirus crash of 2020.
Now Harry's talking about a 40% correction in stocks in 2021, but as Billy Joel might sing: he may right, he may be wrong or may be crazy!
I repeat, Harry isn't dumb but he makes big calls, which are often wrong, and no one ever brings him to book because he isn't breaking any laws being wrong. But lots of people could be misled and could wind up in silly investments.
Let's look at what has happened to stock prices since 2011 to see if you were better off out of the market.
S&P/ASX 200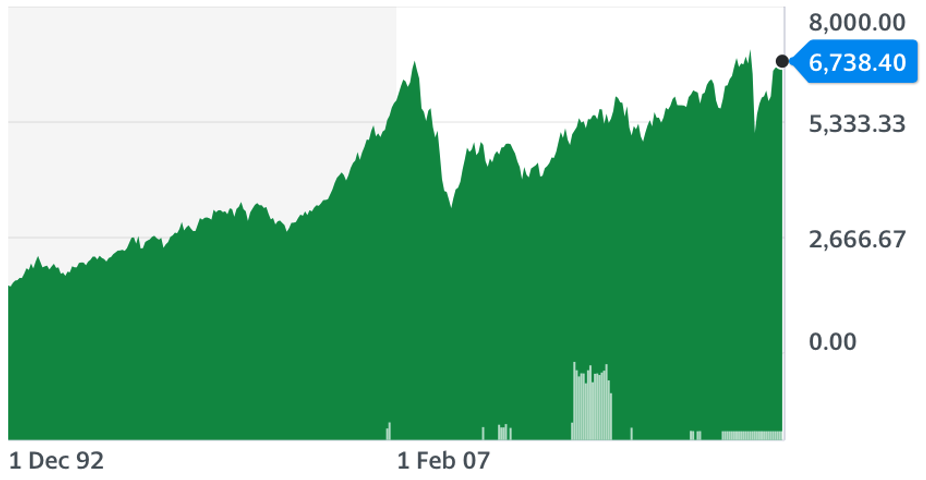 On 31 December, our market was at 4753 and is now 6738, so if you listened to Harry, you missed out on a 41% gain!
Now let's look at what you missed out on if the fear in 2011 made you sell your house.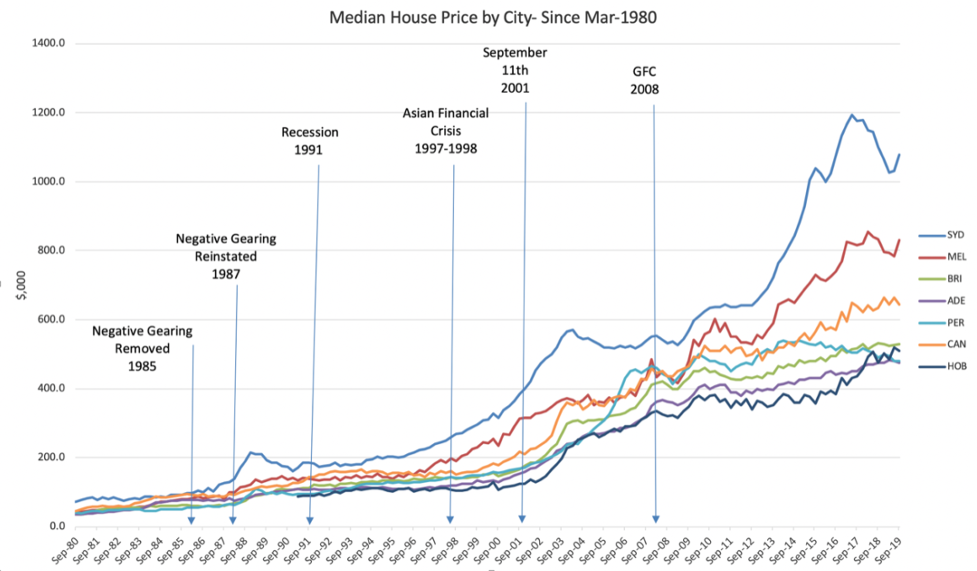 The chart above shows that selling your house would've been madness, and the one below puts it into dollar terms.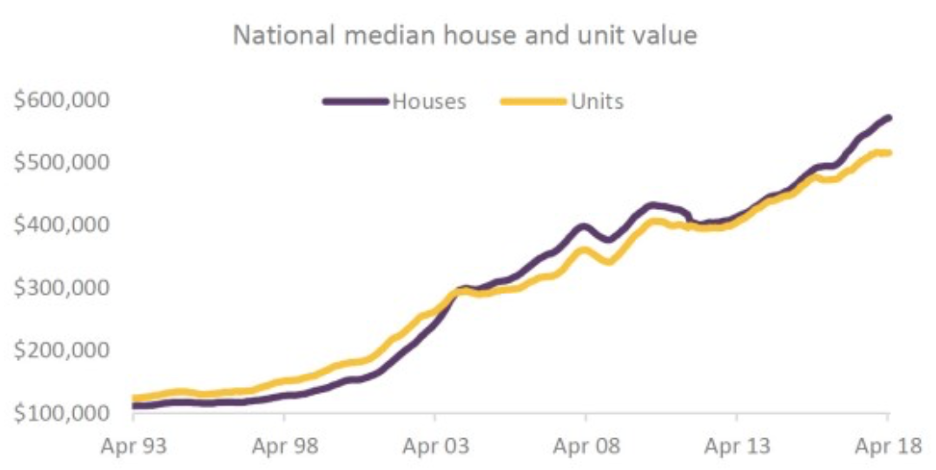 Now this chart up to 2018 had the median house price around $600,000, but according to Domain's quarterly House Price report in January, Australia's national average price for a house was $852,940. That's an increase of 5.8% year-on-year and a dramatic 4.1% lift in just one quarter.
That figure has gone from around $400,000 to $850,000 in 10 years, which is virtually a doubling, if you ignored the negativity Harry out in late 2011!
On the other hand, if you had been spooked by Harry and went to gold in late 2011, say after selling your stocks and home, you could've got in at $US52,000 a kg. And now it's around $US55,000 so you would've gained 5.7%!
But the news for Harry's predictions gets worse — just look at this chart of gold and think what it was like watching good old gold go as low as $US34,000 in 2016!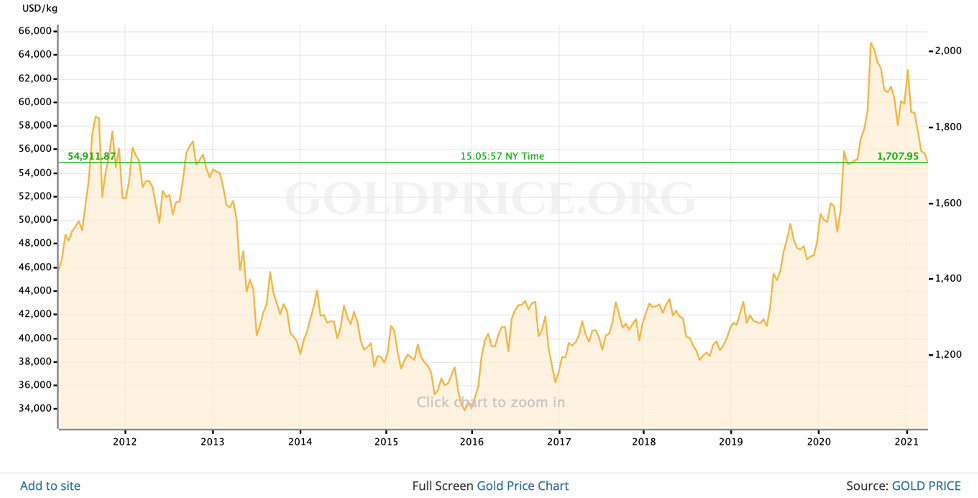 Of course, if you hear Harry in 2016, when he was probably talking up gold, you could have made a fortune, but that's what happens with speculation — sometimes you win and sometimes you lose.
I prefer to ignore the likes of Harry and stick with the tried-and-tested investment strategies of quality stocks and property held for the long term.

I'm not saying Harry is always wrong but his 'big call' approach looks more like calculated guesswork that history has shown is often way off the mark.
On the other hand, charts of stocks and property show consistently that they gain over time, with stocks having a history of gains of 10% per annum over a decade, and that's despite those scary sell-offs that people like Harry try to protect you from.
Harry seems like a likeable bloke but when it comes to his disaster-predicting forecasts and what you should do, I'm not wild about him.
I prefer investing in quality assets for the long term and having a buffer of cash in case markets encounter a scary period like the Coronavirus crash of last year. But even then, the bounceback from that crash would've hurt those who listened to the doomsday merchants who became popular in February last year. And this chart shows how wrong these people were.
S&P/ASX 200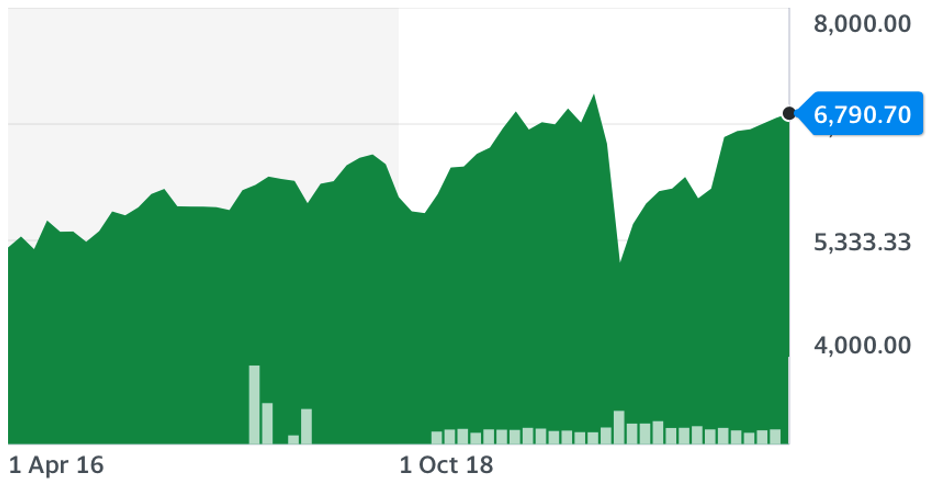 That's a bounceback that doomsday merchants would've 'saved' you from! It's why I'm not wild about Harry Dent.