Another expected bad night on Wall Street as the people who try to guess how company profits and their share prices are affected by closure of economies simply go to cash, no matter the crazy price. And seeing the Dow Jones Index (the most quoted market measurer in the world) down over 2,000 points, can even make hardened professionals like me think: "F—k!"
But then my experience kicks in and I start asking, "when do I start buying?" To date, I've been sitting on my hands because I know stock markets overreact on the way down, just as they do on the way up. But as the old saying goes, they "go up by the stairs and down in an elevator!"
Right now, the Dow is down over 30% and our S&P/ASX 200 Index is off 26%. It should get worse today but really, who knows nowadays? In fact, the market could do a last Friday and drop nearly 10% and finish up 4%.
There easily could be buying today following two huge investors from the US stock market telling us that we're looking at a chance to get rich!
Overnight, Bill Ackman, the founder and CEO of Pershing Square Capital Management, a hedge fund management company, who's renowned for being a contrarian investor said: "I'm aggressively buying stocks."
And then we learnt that Bill Miller, another leviathan investor and fund manager, who was chairman and chief investment officer of Legg Mason Capital Management, admitted that this was "…one of the great buying opportunities of my life."
Personally, I'm furious that I wasn't an expert on pandemics and what unbelievable virus containment policies were possible when global governments get rattled by the prospect of death for the people they lead. In 2003, SARS was a much more deadly disease but it clearly wasn't as contagious as the Coronavirus.
That said, if we have to endure this temporary and excessive sell off of stocks and other assets, at least keep all this in perspective.
You're experiencing huge hip-pocket pain if you're exposed to the stock market. This has been primarily caused by the government containment policies, that in the fullness of time might be seen as the biggest overreaction by governments since Y2K.
That discussion is for another time. Right now, we have to play the game that's in front of us. If you need to understand why stock markets are falling, just think about what all these shutdowns might mean.
Let's assume the Oz economy is negatively affected by the lockdowns for four weeks. Our annual total production is around $1,480 billion a year. If you assumed we had no production for four weeks, which is an excessive assumption, then we lose $113 billion worth of production and therefore income.
That would be a 7% contraction of the economy and it puts the $17.6 billion stimulus package into perspective. And it's why more stimulus will be (and should be) announced ASAP.
What this figuring leaves out is the multiplier power of the stimulus over the rest of 2020 (and rolling into 2021) from the money that's pumped into the economy from both the Government and Reserve Bank.
We and the market are worried about the 'here and now' and the more short-term effects when people like Ackman and Miller are looking down the road when the stimulus kicks in, people go back to work, holiday-goers take their currently cancelled holidays and businesses start to invest and rehire.
This is the chart that worriers have to learn to love: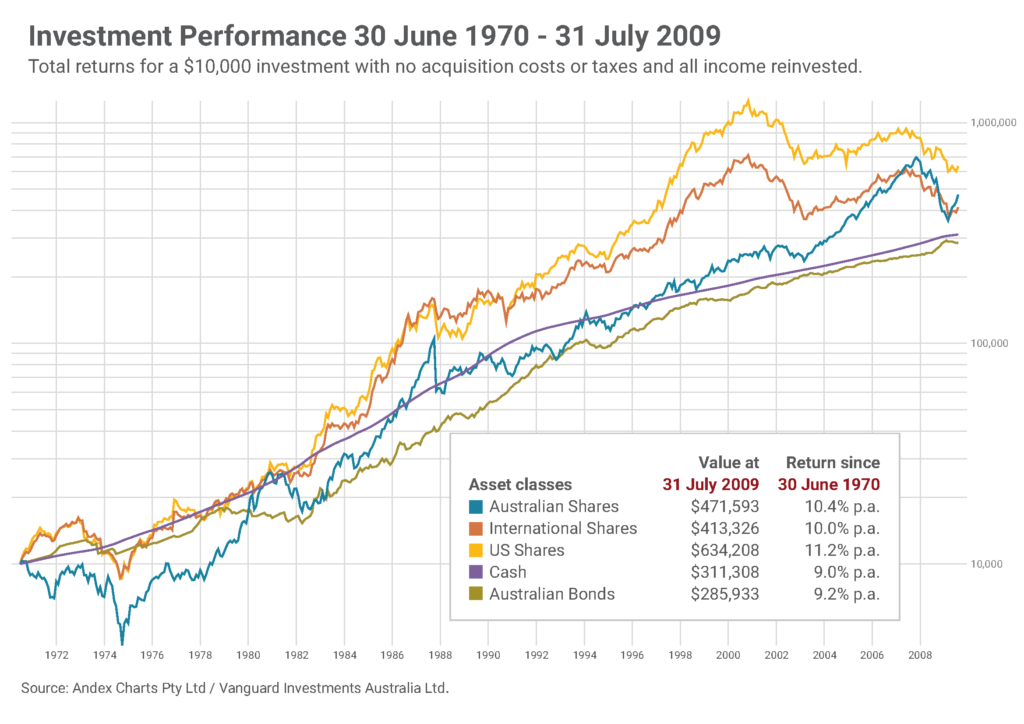 I show this all the time to anyone who's worrying about what's happening to markets. It shows how $10,000 invested in the stock market in 1970 became $471,593 in 2009, which was one year after the 2008 GFC, when the market fell 50%!
The blue line shows four big crashes and many corrections but the upward trend re-emerges.
I know these are worrying times, but if you're in a good super fund or your financial planner has you in good quality assets, there will be a rebound in these asset prices. And I bet you'll be feeling less worried by year's end.
This chart shows how a growth super fund copped it in the GFC but rebounded one year later.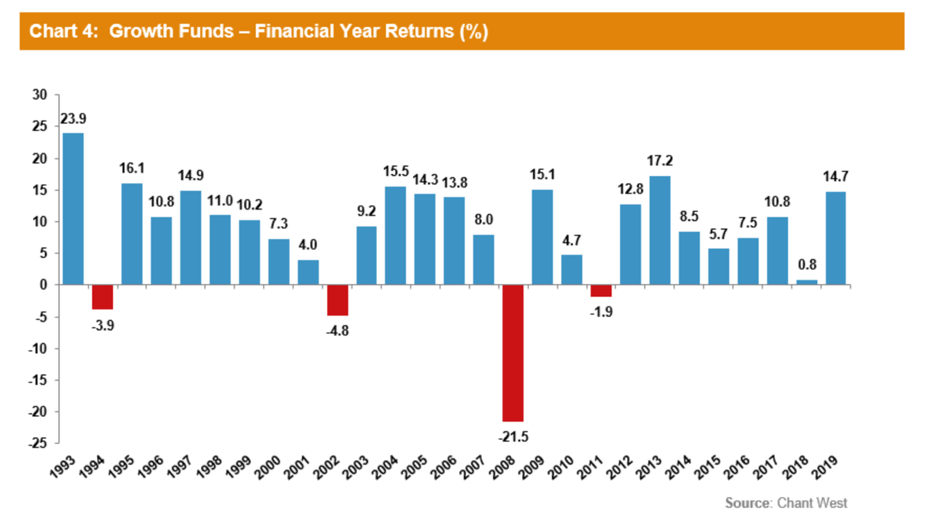 The GFC saw a median growth super fund lose 21.5% when the stock market was down 50% in 2008, but in 2009 came back 15.1% and then punched out 10 years of positive returns averaging around 8%.
Worrying about stocks right now when you're a long-term investor is like being down when your team is losing in a grand final for most of the game, yet they get up and win on the bell!
As long as your super investments are akin to a great team, then you should stop stressing out about what stock markets do once in 10-12 years.
The only thing I'm cheesed off about is that this was largely caused by a damn black swan called the Coronavirus!