What if net-zero emissions don't really mean no coal and gas production? What if net-zero emissions result in terrible impositions on the farming sector? What if we stop 'killing' the planet and please the demanding world, even though our actual emissions are really small on a global basis?
We're the 15th largest emitter, producing 1.2% of fossil fuel CO2. China is at the top with 27.92% and the US is 14.5%, followed by India at 7.17%, then Russia at 4.6% and Japan at 3.03%. Even Germany and Iran are bigger emitters than us.
Largest producers of fossil fuel CO2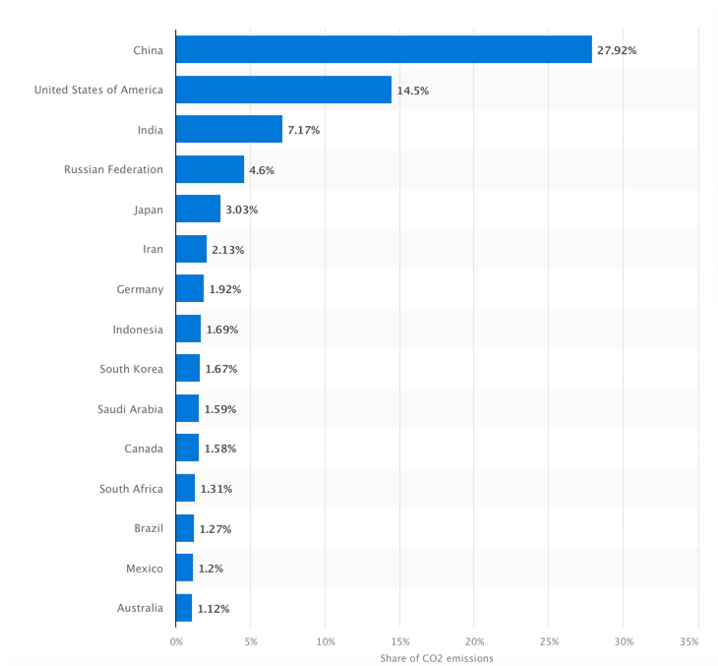 So our growing reputation as the world's greatest enemy of creating a cleaner and greener planet might need to be toned down a tad ahead of the Glasgow climate change conference. And The Australian's Simon Benson has revealed some Treasury modelling that will surprise a hell-of-a-lot-of Aussies. "The Australian has confirmed the government's 2050 net-zero plan shows agriculture, resources and gas exports to be higher by both volume and value in 2050 than current levels!", he writes today. That's my exclamation point because, if this is true, then it deserves a huge one!
Treasury also thinks that there will even be strong demand for high-quality coal over the coming decades, despite the 2050 demands.
What's critical to this surprise revelation is two really important ingredients that are not talked about enough — technology and time. And that's why ScoMo can't go to Glasgow and promise anything huge for 2030 because the technology and the adaptability of people, as well as the genius of mankind, isn't quite there yet.
But people are changing and it's what the PM discovered with that Guardian Essential poll that showed him 70% of us/voters want net zero emissions by 2050. And it's why someone as 'ornery' as the National's boss, Barnaby Joyce, is at least talking and listening to plans to change both agricultural and mining lives in the bush. All this affects the planet's climate, albeit in a smaller way than many of us think, but it also affects Barnaby's and his political party's future.
So it's really important to understand how we can become loved by the world again as pro-planet but still be a top supplier of energy, minerals and produce that feeds a big chunk of the world.
Not surprisingly, the Nationals want proof about the modelling that forecasts/promises a boom in regional jobs, new industries and low-emissions technologies. Benson says Barnaby is "questioning whether assumptions about the development of hydrogen and other green energy sources were achievable".
From the point of view of the leader of the Nationals, that makes perfect sense. And this will be the make it or break it factor in what the Prime Minister takes to Glasgow as an Australian commitment to the 2050 goal.

Angus Taylor, who has a new age ministry and is now known as the Energy and Emissions Reduction Minister, says we will "take advantage of new economic opportunities while continuing to serve traditional markets and blue-collar jobs".
That's the Minister predicting that technology will ride to the rescue of the planet and jobs in the bush.
New age innovations such as better carbon capture, safer nuclear plants, cleaner coal processes and God knows what will escalate in number over the next 29 years before 2050 and we will surprise ourselves.
We did that last year when all the medical experts said we'd never get a vaccine for the Coronavirus before two years. But we did because when challenges met fear and money, the impossible became achievable.
The world now wants net-zero emissions by 2050 at least, and they might be more achievable than many of us have once thought, because we didn't understand what net-zero meant.
The climatecouncil.org.au says that: "Net zero emissions refers to achieving an overall balance between greenhouse gas emissions produced and greenhouse gas emissions taken out of the atmosphere. Think of it like a set of scales: producing greenhouse gas emissions tips the scales, and we want to get those scales back into balance, which means no more greenhouse gas can be added to the atmosphere in any given year than is taken out."
So we're not closing down coal production but we might learn to do it better and with less impact on the climate. Andrew Twiggy Forrest, founder of Fortescue Metals Group, is going long on green hydrogen and his iron ore production will be progressively less dependent on fossil fuels and more on green energy.
There will be a change in the way we do things and politicians have a vested interest to make sure the losers from the old world (workers and businesses in the bush and mining) get a piece of the action in the cleaner, greener world of the future.
That doesn't mean that there won't be losers but that is inevitable with economic progress. The blacksmiths lost out when cars replaced horses and carriages and the manure collecting business owners went broke!
Right now, the work-from-home trend that has escalated since the 2020 Coronavirus came to town has changed many a CBD business, which could be hit forever, so adaptation will be compulsory.
Inspirational author Roy T. Bennett once said: "Change begins at the end of your comfort zone," and that's what Barnaby and the Nationals are wrestling with right now. But once you take your thinking outside of your comfort zone, it's surprising what you end up seeing.
It's called opportunity. I hope the PM can help Barnaby see it, though I think tens of billions of dollars for the bush will make this vision of the future easier to see!