When is good news that lowly paid Australians who've benefited from the biggest quarterly increase in wages in the 26 years that the wage index has been recorded, be seen as bad news? Clearly, it's when we need inflation to fall to prevent home loan borrowers copping more rate rises that could squeeze their budgets and spending so much that we end up in a recession, and then houses go into forced sales and those on low and high incomes end up on the jobless queue.
To be accurate, as the SMH's Shane Wright points out: "Almost half of all private-sector workers enjoyed a pay increase in the quarter, driven by the 5.75 per cent increase in the minimum wage that started from July 1 and a 15 per cent pay rise for aged care workers. About 13 per cent of workers received a pay rise of at least 6 per cent while just 3.3 per cent suffered a pay cut." And he added: "People in the nation's lowest-paid jobs, such as hospitality or social services, received the biggest quarterly pay rises through the quarter."
To be clear, the wage price index was up 1.3% for the quarter, taking the annual growth to 4%.
OK, that's largely good news for those recipients of better pay, especially when inflation topped out at 7.8% in December last year, and the last reading had it at 5.4% for the year when these pay hikes happened. It was rubber stamped by the Albanese government, which isn't surprising considering it is a Labor government with strong backing from the unions.
But the real question is just how ruinous is this for future inflation readings and, ultimately, what the Reserve Bank of Australia decides to do with interest rates.
Be clear on this: the money market experts who try to guess the future of interest rate rises think there's only an 8% chance of another rise before Christmas. A February rise is around 30% but bad pro-inflation data could escalate the chances of another rise just when the bulk of those on low fixed rate home loans roll off onto very high variable rate loans. I think this will deliver a substantial cut to the nation's spending and potentially could push us close to a recession.
That said, other forces such as immigration and a rebound in the Chinese economy, which started to show up yesterday when economic data surprised on the higher-than-expected side, could help our national economy remain in non-recessionary growth territory.
However, many borrowers and businesses/industries could think they're in their own personal recessions as rate rises bite. So how bad is this wage jump for inflation and therefore rates?
Ideally, a lower number would be better for future Consumer Price Index or inflation readings. However, this week the Yanks got a lower- than-expected CPI, despite last year seeing what they call "compensation costs for civilian workers" rising by 4.3% in the year to September. That number was 5% in the year before.
Offsetting those inflationary forces has been a jump in US productivity, which on the latest reading was 4.7%, compared to 0.4% last year and a long-term average of 2.17%.
Wage rises push costs up, but productivity pulls costs down. So, how's our productivity doing? The UK, Canada and Australia have seen falls in productivity and Angelina Bruno, Jessica Dunphy and Fiona Geogiakakis from the RBA say "…the effects of the pandemic and subsequent shocks might be having lingering impacts on the productive capacity of advanced economies; for example, through labour market hoarding or the transition to remote work practices". A lack of business investment hasn't helped. But many businesses are still trying to recover from the jolt of the pandemic lockdowns.
The hope has to be that, like the US, we soon see improved productivity levels. And on our fight against inflation, we're simply lagging behind the likes of the US and other countries where inflation is falling pretty quickly.
Shane Oliver's Pipeline Inflation Indicator shows our future inflation rate is likely to fall and rising productivity levels would help that happen.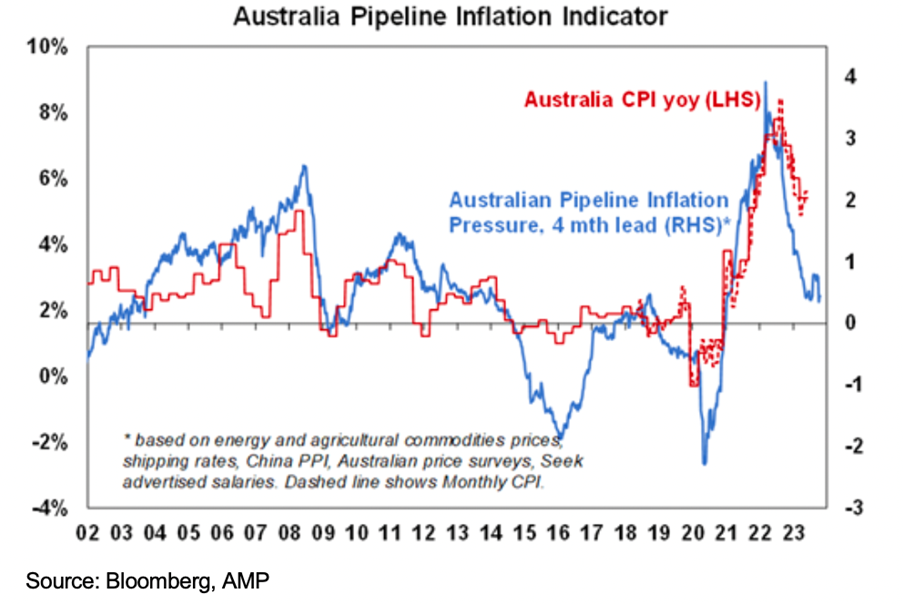 Right now, all we can do is hope that the official inflation data (the red line) catches up with the Inflation Pipeline data. That would put a stop to future rate rises.
Importantly, the RBA expected this wage spike. Recent wage deals have been less aggressive. "Record quarterly WPI growth was widely expected, but given it was partly driven by temporary factors it will not concern the RBA as much as would be expected on face value," said the ANZ economics team.
A surprise spike in productivity would be nice to see. We see the December quarter CPI on 31 January, just before the RBA rates meeting on February 6. However, there are monthly readings on December 12 for November's inflation and another meeting on January 11. If these don't show inflation coming down nicely, we could see another rate rise in February.
By the way, the Oz dollar rose to 65.05 US cents yesterday. If this continues, it will not only make many overseas holidays cheaper, but it will also help lower inflation!
You better hope that subdued wage rises, and better productivity come to our rescue!