It's one of the best-received Budgets in modern times but Newspoll says it hasn't given the Morrison Government an electoral bounce! But what's worse is that there are parallels with Peter Costello's last Budget that ran before the November 2007 election that saw the end of the Howard Government. And PM John Howard lost his seat!
It's no wonder ScoMo has been intently concerned about how well the Budget was received.
Well, in reality, it has been a ripper in terms of how Aussies viewed Treasurer Josh Frydenberg's budgeting.
Some 44% of voters claimed it would be good for the economy as we try to wipe from our economic memories the short sharp deep recession forced on us by the Coronavirus, and then the government-imposed restrictions at the hands of the PM, premiers and territory leaders.
Despite Morrison-haters telling us that the success in beating the pandemic was because of the state premiers' actions (seemingly ignoring the 820 deaths out of a national total of 910), the PM is still more popular than Labor leader Anthony Albanese. The Newspoll score shows 55% plays 38% for ScoMo as more preferred PM.
Helping Morrison must be the fact that only 15% of voters saw last week's Budget as bad for them, but worryingly this compares to the well-received Peter Costello last Budget in May 2007, before the Howard Government lost the election and Mr Howard lost his safe seat of Bennelong.
Ominously, Newspoll says Labor retains its two-seat 51 to 49 lead on a two-party preferred basis.
Primary vote-wise, the Coalition is at 41%, Labor is actually down 2 points to 36% but the Greens are up from 10% to 12%. And this inclination to the Greens could be a bad omen for the PM, especially if you factor in a number of interesting parallels between now and 2007.
Here are those parallels with that election:
Unemployment in 2007 was around 4% and that's where we're heading towards. We could be there by the time of the next election if it's held mid-2022.
In 2007, Australian society and even John Howard became more politically green with his pre-election policies. In July of that year he announced a new "cap and trade" emissions trading system saying: "Australia will more than play its part to address climate change but will do it in a practical and balanced way in full knowledge of the economic consequences for our nation."
Peter Costello's 12th Budget was very generous and was tagged a "Budget for the future", with $31.5 billion worth of tax cuts over four years delivered ahead of an election in November. There was one big difference: this Budget had a predicted surplus of $10.6 billion rather than a $106.6 billion deficit for 2021-22 now.
In the early 2000s, China's demand for copper, steel, aluminium and coal kept prices high through to 2014, with a spike thanks to record high oil prices in 2008: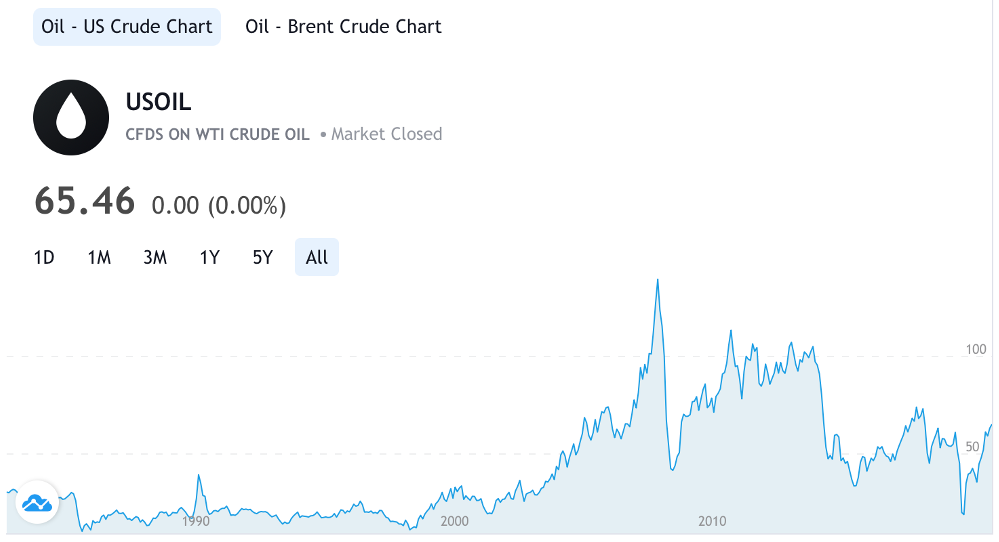 As you can see, though high now, oil prices were a lot higher in 2007. That can often annoy a lot of long-driving voters, especially if they have gas-guzzling big cars! That said, petrol prices are on the rise right now and don't look like falling, with the world staring at a global economic boom that tends to demand oil to underpin the expected growth. According to the Treasurer last week, Australia alone is expected to grow at 4.25% over the upcoming financial year.
The stock market was booming in 2007 and in fact topped out on November 1 and was falling when the poll was held on the 24th of the month. The chart below shows how steep the drop was, and it got worse over 2008 into early 2009:
S&P/ASX 200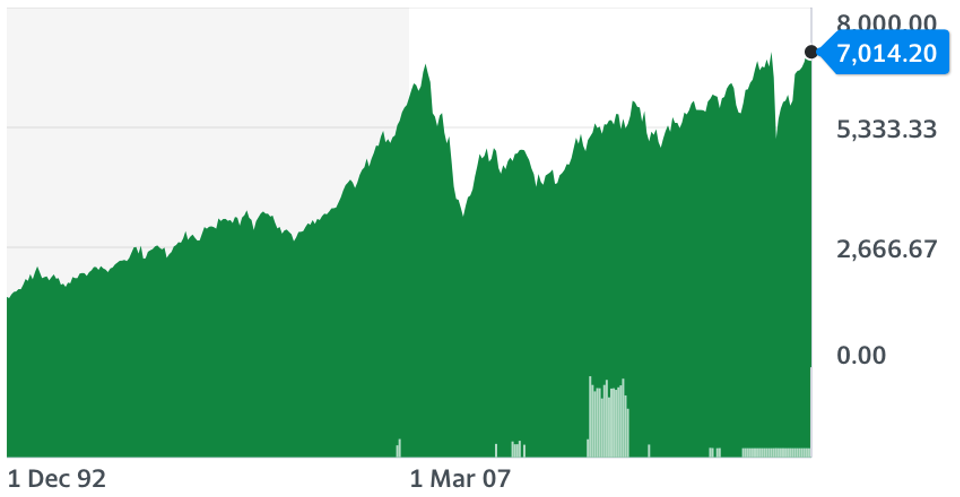 The 2007 election was held in November and in a story written on this Switzer website, Malcolm Mackerras tipped ScoMo would try for a November poll. Malcolm could be spot on if this Budget eventually does the trick in the polls.
Another significant difference between now and 2007 is about the relative popularity of Albo, who is no "Kevin 07", as Mr Rudd was then called.
It was one of the best digital election marketing campaigns ever in Australian political history. And it worked and it was before we all learnt to grow tired of K. Rudd! We weren't alone in that because his own party ended up disliking him enough to dump him out of the PM's job in 2010!
Another possible important difference might be that the 2007 election was in the wake of good growth, plenty of jobs and maybe a degree of complacency when an economy isn't challenged by stock market crashes and recessions.
Pre-2007, we had dodged the dotcom market crash, enjoyed success at the Sydney Olympics, the Budget was in surplus and unemployment was very low around 4%. In contrast, 2020 gave us a taste of what a recession is like and we panicked as our stocks and super were smashed.
How we eventually vote should be a great insight into what's really important to Australians, at least in the here and now. History has taught me that what we want changes over time depending on how we're personally and economically affected.
As Paul Keating once told us: "In the race of life, always back self-interest - at least you know it's trying!"