This week the Treasurer does a show-and-tell on the course of the Budget and it's good news, with the projected deficit expected to be smaller and our economic growth bigger than predicted only two months ago.
And Deloitte Access Economics says the outlook for the jobless looks better than forecasted in the Budget, with the success in handling the Coronavirus delivering these economic dividends. But we're also benefitting (thanks to our 'buddies in Beijing) with China's demand for our iron ore, and market fears that iron ore could face Chinese trade sanctions. This is pushing iron ore prices to historically high levels of over $US152 a tonne.
Iron Ore Prices 2007-2020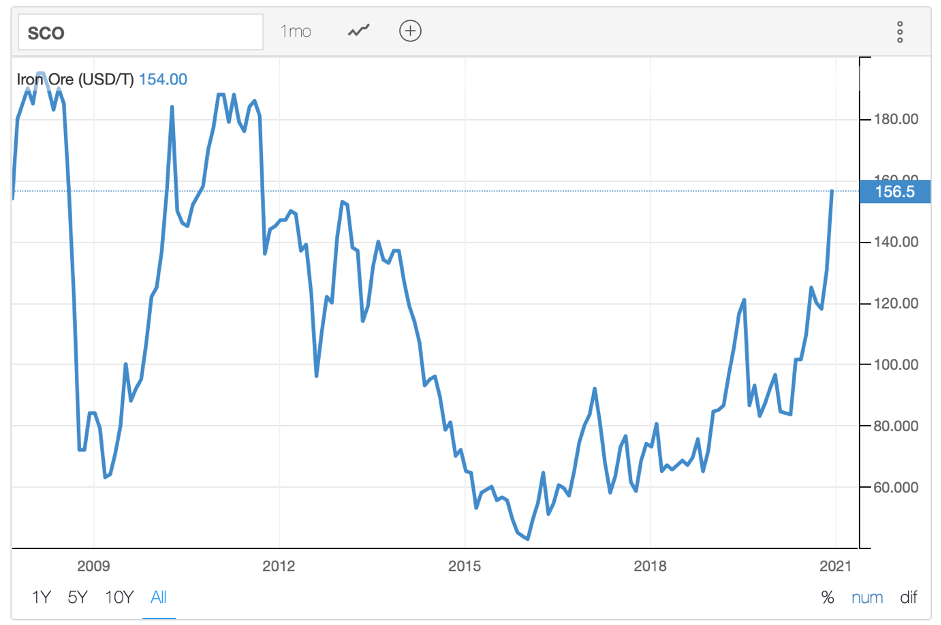 This is getting back to mining boom price levels of 2011-12, but the budget used a forecast of only $US 55, which gives the Treasurer a tax windfall and a lower Budget Deficit number.
Iron companies like BHP, Rio Tinto and Fortescue pay a lot of tax so we have a perfect storm of good economic and COVID-19 news, which is delivering better-than-expected budget outcomes. And while China is punishing our producers of lobsters, barley, wheat and beef, our iron ore producers are getting prices higher than their wildest dreams.
A lower-than-expected budget deficit and a faster growing economy not only gives better future debt outcomes (because our deficits will be smaller) but it creates more jobs, and there's a virtuous cycle of economic activity, with more jobs leading to more consumption of retail goods and services, which leads to more business investment and then more job creation, and so on.
Economists call this the multiplier effect. And Beijing's smart politics of bouncing the Morrison Government with tariffs to embarrass the PM for being too pro-US and even pro-Trump, has pumped up the multiplier for us. It looks like smart politics has resulted in dumb economics in as much as in trying to punish Australia, we've actually been made better off.
Back in September, when the iron ore price was
$US 115 a tonne, Cathryn Lee from Deloitte Access Economics calculated that the gain to the Budget could be $5-$15 billion based on the Treasurer's use of only $US55 for his deficit calculations. So China's trade bans could give us a windfall of another $3 billion. It could be more!
China is trying to erase the Coronavirus crash of its economy and stock market by stimulating lots of growth via infrastructure spending, which means it needs lots of iron ore for steel. And this comes as the biggest rival for BHP, Rio and Fortescue is Brazil's Vale, which has a heap of company troubles on top of the country's shocking COVID-19 mishandling.
But the gains are not only to jobs growth and the Budget. You see, our super funds are exposed to mining stocks, which not only have had terrific capital gain, they're also paying bigger-than-expected dividends. So the bad boys of Beijing could also help our super funds have a spectacular year next year.
Because of the Coronavirus crash, our top super funds have returned only 1.32% to 4.04% compared to a five-year average of 7% to 8.4%. But the combined effects of the big Budget Deficit, historically low interest rates, the great handling of the COVID-19 challenges and these skyrocketing iron ore prices has set super up for a huge year next year.
Top Super Funds One-Year Returns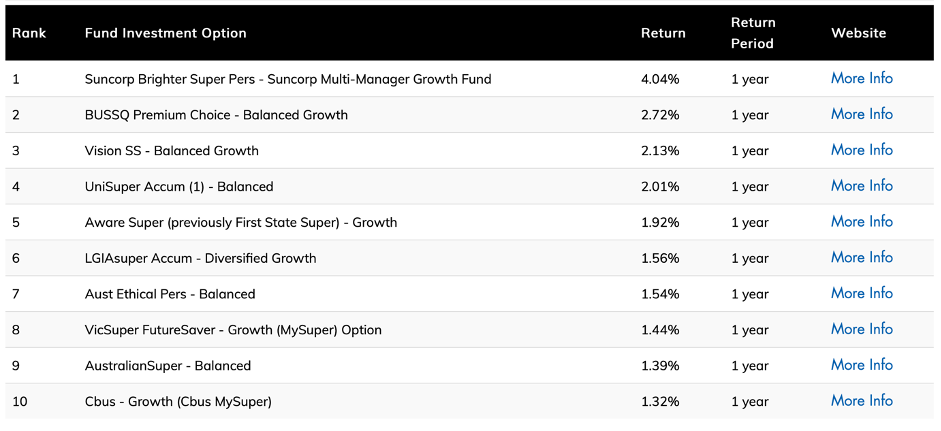 As I pointed out last week, Goldman Sachs is tipping a 16% rise in US stocks. And if we play follow the leader (as we usually do), our good super funds could be up 10% plus!