It's the kind of good news that could get a "ho hum" or "big deal" reaction from normal people but oddballs like yours truly, who are always looking for good or bad omens for the economy, see the CBA promising to get into business lending big time is more than just a PR stunt. The failure of business to invest is not just a case of entrepreneurs being too scared to have a go. It is also a case of the big banks, in particular, not really interested in bankrolling smaller aspirational dream builders with a potentially great operation in hand.
By the way, it has pretty well always been the case, even though we all have lived with some great ad campaigns that made you think that "this bank really is in touch with small business". In reality, banks have cherrypicked the safest and the not-so-smallest to lend to, which has forced a lot of potentially great businesses into the hands of loan sharks that charge like there's no tomorrow. Some use credit cards with interest rates close to 20%, which is little wonder that small business failure rates are gut wrenchingly horrific.
Bemedia.com.au gave us the latest headcount on this terrible stat: "As per the Australian Bureau of Statistics, more than 60 percent of small businesses stop their operation within the first three years of their start-up journey. This is certainly a true downside for business enthusiasts in the country."
That's not to say they actually go broke but they simply stop for reasons such as it's too hard being a boss, the idea didn't work, partnerships break up, divorce in the family disrupts things, sickness, digital disruption, cost rises, red tape, award wage problems and, of course, a lack of money.
I could probably name another 10 reasons for a business failing but a lack of money is a huge one because lots of businesses can survive a long time not making a great profit but they are lucky to last six months with terrible cashflow.
When the founders of Peter's of Kensington — Peter and Christa Satouris — started their success story department stores in Sydney's Kensington, Christa kept her full-time job to ensure the business would be a success and to guarantee they had a cash back-up before they dived headlong into a risky business dream.
When we started our media business I was working with Triple M, The Daily Telegraph and still teaching at the University of New South Wales, which meant we didn't have a cash flow threat. But as we took on bigger contracts, where customers didn't pay within seven 14 and even 30 days, we secured an overdraft to fund our growth.
In fact, many businesses fail because they grow too fast and the owners don't have the skills, the processes and the money to make it all work!
The CBA, Australia's biggest and most successful bank, reported well yesterday and its already elevated share price went up $3.46 to $88.18, which made me happy because at the Switzer Report we have remained a CBA believer, despite the Hayne Royal Commission. But this will be the bank's biggest test.
The Royal Commission has seen it reduce its exposure to wealth management and insurance, which has got most of the banks into trouble. So the question I've been asked time and time again is, where will they make their money going forward?
My answer has always been: "They have to back business, they will take over tech-threat businesses and they will be more and more digital."
The CBA is already ahead of the pack in the digital game, which partly explains why its share price is $88 and Westpac's is $25! But it has been in the area of really supporting business that partly tells us why business confidence is way below its all-time average, our economy is growing so slowly and why we have US actor Alex Baldwin selling us loans on Aussie TV!
This week we saw that the NAB business confidence index rose from -2.5 points to -0.8 points in January but it's still in negative territory, saying pessimists outnumber optimists and note that the long-term average is 5.8 points! Meanwhile, the business conditions index fell from 2.7 points to 2.6 points in January, which is still way below the long-term average, which is 5.7 points.
A banking group that more readily says "Yes we can" lend to businesses, especially when the borrower doesn't have a house to put up as collateral, would be a much better world for business and, ultimately, the economy.
Right now, business investment is a big hold-back factor for the economy. This chart shows just how crappy it is — those beige bars simply show how we really need banks to make it easier for businesses to invest, expand and hire.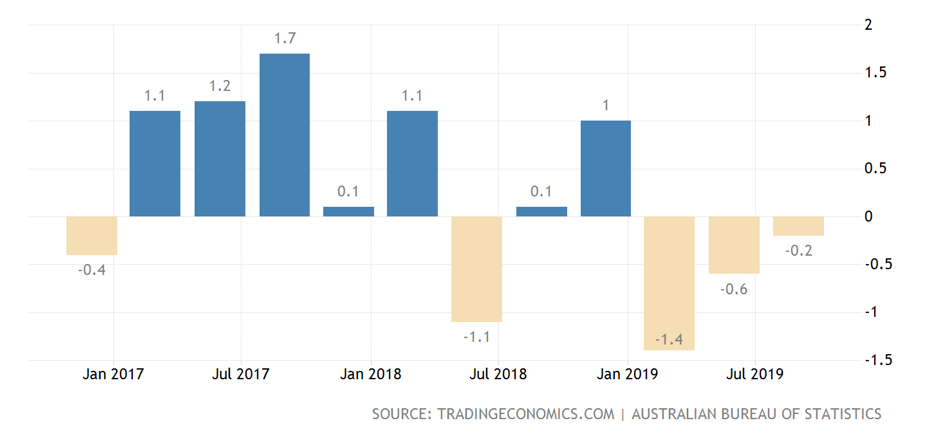 The beauty of CBA's newfound commitment to lend to business means the other banks will follow suit. But banks just can't be suppliers of money — they have to become genuine partners in the business's they support with education, mentorship and leadership. By doing this, they will take a lot of the risk out of lending to smaller businesses.
By the way, if the big four banks don't change their attitude towards small business, they will lose customers to the likes of Judo Bank and Tyro, who have their sights set on being business banks with a difference.
And yes, I'm an investor in CBA, Westpac and Tyro, and I would be in Judo Bank if it was listed!
One day business banking will be a rewarding play for banks, but it could take time and it will be seen as a positive payoff of the Hayne Royal Commission.