What I'm writing today is a tale of two economies and it's a far, far better thing I write than I've ever written before! Clearly my opening line has been inspired by the great Charles Dickens and after seeing my city in post-lockdown mode over the weekend, I have to ponder: what the Dickens goes on in too many people's minds?
Frankly, I generally don't worry too much about the weirdness of humanity. What seems weird one day isn't the next e.g. Uber seemed crazy in 2010 when it broke all the rules imposed on taxis. Same goes with Facebook, Airbnb and the Kardashians!
However, on a day like today that should be the Federal Budget Day. For the last 35 years I've been Canberra and Treasurer focused, as the nation's top number cruncher historically told us of his blueprint for our economic future. But today we're to be told there's no "money tree" to keep this economic rescue plan continuously funded.
That's the message Treasurer Josh Frydenberg will disseminate at noon today, as he gives us an update on the economy and the nation's finances in a crazy Coronavirus locked down world.
Don't be mistaken. Our $320 billion government rescue plan is seen by the likes of the US-based Brookings Institute as one of the biggest and best in the world (as a percentage of GDP). It mirrors our excellent efforts to beat the infections and deaths of this virus. So we're actually poised to reap an enormous economic advantage over many other countries, provided we don't blow it.
And that's where my tale of two economies is relevant and where my weekend experiences have me worried. On Saturday I took a walk down the Esplanade at Manly, through the mall that finishes at the beach, wanting to check out the reopening of businesses. And while the numbers were fewer than a normal Saturday, the social distancing was nearly non-existent, except for some older, more responsible-looking people.
The cool brigade were doing what cool people do. As an economist, who wants these cool people back to work and normal again (if they ever can be so!), they were totally non-socially distanced!
OK, that was the young fit people of the cool world. On Sunday, I checked out the less cool world of IKEA. As a man destined to suffer at the hands of the great Swedish retailer, who designed a business to embarrass the manually incompetent men of the world with their flatpack furniture challenges, I looked forward to see how social distancing worked in the hands of the clinical and systematic Swedes.
Well, if they had a cunning plan to make Aussies play ball with social distancing, apart from the caring tone of a voiceover lady telling us to practice social distancing, to the shop-crazed shoppers that IKEA creates, it was falling largely on deaf ears!
I have to say the public transport I tried was partially partitioned but as the mob paraded off the Manly ferry, they were breathing down each other's necks as they clamoured to come ashore.
My conclusion from my weekend social experiment noting our efforts at social distancing was we're close to hopeless at it.
The queues at Iggy's bakery in Bronte were socially distanced, so a usual Sunday bread line was 100 metres long rather than 50 metres. Apart from that, runners slide by you panting hard and nearly sideswipe you and people walk out of shops and come close to doing the bump.
What stands out is that most people aren't programmed for social distancing.
As I've said, generally I don't get stressed about our national weirdness but when our economy, job creation, bankruptcies, home evictions and a manageable recession could turn into a depression where unemployment tops 10% for over a year, I think to myself: it's time to end Mr Nice Switz!
Last week I hinted that a temporary police state might be needed to avoid a second-wave threat of infections and deaths that could reclose the economy and send too many Aussies — both cool and uncool — back to their house detention cells.
Once we said with affection that: "there's no place like home". After being locked up 10 weeks, with a lot of time with those lovely little 'terrorists' we call our children, we know there are plenty of other places that at times are miles better than home and a hell of a lot of people call it "the office!"
All Ords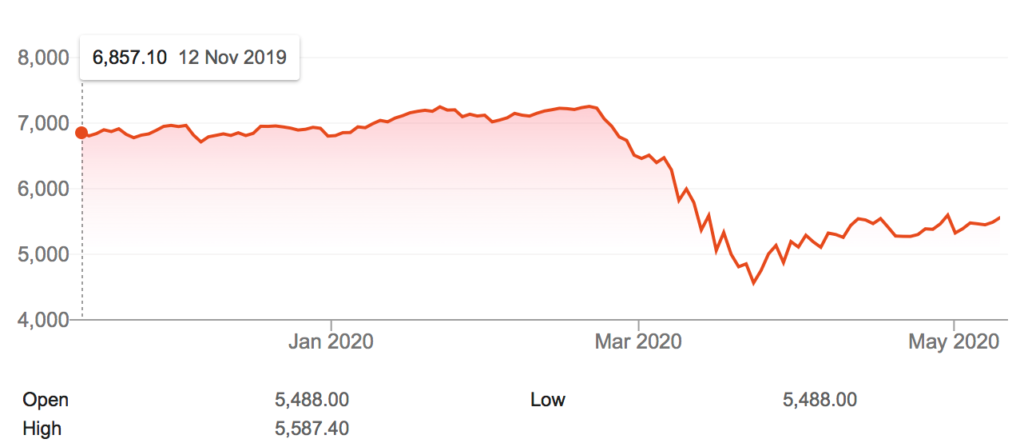 Right now, the stock market is tipping we could see a V-shaped economic recovery, as you can see from the chart above. That's where the stock market and the economy could crash and rebound quickly. The stock market is looking like that, but the economy is still a work-in-progress. And that's where our leaders need to hit us with rules to ensure we don't screw up the potential economic rebound.
Rules like this: for the next two months, if you use public transport or walk in shopping precincts without a mask, there'd be an on-the-spot fine. Same fines could be applied to those people, who aren't related, not socially distancing sensibly. This could be easy to enforce because where we live in an era of credit cards for on-the-spot fines for lawbreakers.
It would become a scary, go-home-and-behave fine for a couple of months until we can safely become our normal and weird selves again!
I hate writing this but if we screw up this re-opening of the economy and get second-wave infections on a worrying scale, politicians will send us back home, close down businesses, KO the footie season, smash the hospitality and travel sectors and waste a year of our children's education.
Places like Hong Kong and South Korea have learnt to live with and beat pandemic viruses. They mask up and follow the rules that make virus-killing possible.
I haven't been wearing a mask but I'm a good social distance guy. If it became law that you don't travel and you don't shop unless you're masked up, then I'd do it.
And for those who tell you masks don't work, I say look at the virus scoreboards in Honkers and South Korea.
I wouldn't be preaching police state stuff if I didn't think our economic futures (i.e. avoiding huge joblessness, massive bankruptcies, smashed stock markets and super funds as well as broken education systems playing havoc with our kid's minds) were important enough to avoid.
In 1991, six months after leaving No. 10 Downing Street, the former UK Prime Minister, Margaret Thatcher said: "Home is where you come to when you've got nothing better to do."
There are a lot of Aussies who might relate to that right now! I believe we need to get back to normal life so we again see our homes as the best place in the world to be. Right now, many of us think it has been the worst of times. I'm into creating the best of times again and a rule or two could make that happen.