Treasurer Josh Frydenberg has made a big call/gamble on our relationship with China that could create what might be tagged Big Trouble in Little Australia! And it looks like the combined force of the Coronavirus and Donald Trump might explain the hard-nosed attitude of the country's number one number cruncher.
The Treasurer has said no to China's Mengniu Dairy Co. to a request to buy Lion Dairy & Drinks business for $600 million. Now those of us who fear China buying up everything that opens and shuts in the land of Oz should be told that there's no land in this proposed deal and the dairy business is currently Japanese owned.
Interestingly, the AFR's John Kehoe says the Treasurer hasn't accepted the views of the Foreign Investment Review Board and Treasury that both gave the thumbs up to the deal.
Given that, it's hard not to think that we're caught in a political ping pong game that could have serious economic consequences. And there could also be stock market and wealth implications for many Australian investors, as this chart for Treasury Wine Estates (TWE) shows, following China's accusations that the company has been dumping wines into China at artificially low prices.
Treasury Wine Estates (TWE) 5 Day Chart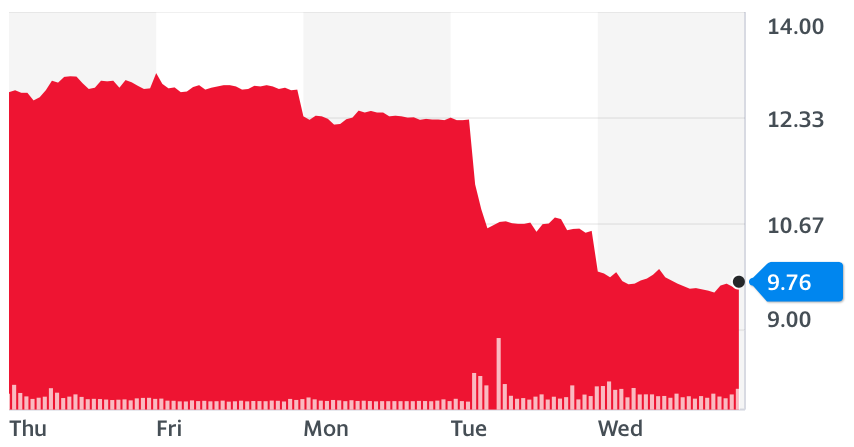 Last Friday, TWE was a $13.04 stock. Now it's at $9.76, which is a 25% penalty for what could be dodgy reasons made up by a Chinese Government annoyed that the Morrison Government is too close to China's number one trade enemy, Donald Trump.
His current attack on Huawei and other Chinese-owned companies (such as TikTok) for potential spying activities is resulting in reciprocal actions against the US. And because of our closeness to the Donald, some of our businesses are under fire.
I'm not saying China doesn't need a kick in the pants for behaviour unbecoming. However, when our Government plays hardball with the likes of Beijing, they return serve strategically. This could not only hurt targeted companies but also super funds and other investors, who are shareholders in these businesses.
I'm not sure we can win without losing our economic advantage of being China's number one supplier of many products and China being our number one customer.
The Business Council of Australia is getting nervously worried it's in the crossfire of a Trump trade battle that has been ramped up because the US President has an election to win and he's behind in the polls primarily because of his handling of the Coronavirus.
And the virus implications for this story can't be ignored.
The AFR says: "Hundreds of struggling businesses desperate for offshore capital have been waiting up to six months to receive foreign investment approval after the government lowered to zero the dollar value of every foreign bid that must be screened."
It's fair to argue that this was a COVID-19 emergency change of regulation to stop Chinese opportunists picking up Aussie assets dirt cheap. Before the Coronavirus came to town, the FIRB only got involved in giving a 'yes' or a 'no' if the dollar amount of the purchase was $275 million for outsider country buyers, or $1.2 billion for free-trade agreement partner countries in non-sensitive businesses.
The AFR says: "The FIRB has been swamped by a doubling in the number of applications to about 70 per week, and the addition of dozens of extra staff has so far failed to overcome the backlog.
"Now even car parks, bike lockers and storage spaces are being caught by the tougher scrutiny of commercial property. Business advisers are accusing national security agencies of scaring off investors."
This is an early stage in this political ping pong game and you have to hope that the stakes aren't raised, such that Beijing starts to look at our exports of iron ore to China. These exports are worth almost $80 billion a year (that's 30% of Australia's total iron ore production) and you wouldn't want to think about what would happen to BHP's, Rio's and Fortescue's share prices if they got caught in the crossfire.
Given the dividends these companies are paying nowadays, a lot of super funds would be crushed if China ramps up its hardball play against our iron ore giants.
Maybe the only thing stopping Beijing for playing this big shot against us is the world's biggest supplier, Vale, is based in Brazil and that country is struggling tragically with the Coronavirus.
It's great to see a feisty Treasurer showing we won't be bullied by the likes of China but we have to be careful that our toughness doesn't come back to bite us, investment-wise and with our Budget's bottom line.