Last week I was invited to a drinks get together at a leading accounting firm and I was put on the spot by my host to say a few words about the US election. I shared my favourite Trump story of Donald and Vladimir Putin walking into the Kremlin with Putin saying: "Donald J. Trump — what does the J stand for?" Donald replied: "Jenius!"
After I got my obligatory laugh I said I'd want to buy stocks on the day before the result because I suspected that provided the Democrats did not complete a blue wave winning the Presidency, the Senate and the House of Reps, then stocks should rise.
Got it right and chalk another one up for optimism and getting lucky but as the great golfers Gary Player and Arnold Palmer used to say: "The more I practice the luckier I get."
And history has shown you are more likely to be luckier with wealth-building by being optimistic rather than pessimistic. It explains why I practise optimism, within reason.
News.com.au business columnist Terry McCrann called me a "born optimist" in an interview I had with him this week on my Switzer TV Investing program. He and I don't totally agree on whether the recession is over or not and it led him to respectfully refer to my 'affliction' of seeing the positive more times than most of my media and economist buddies.
I'd like to argue that I'm not a born optimist but that solid analysis based on what wins, what's successful, history and my objective academic approach to analysing a proposition, have forced me to be positive in preference to being negative on most important things.
And all of that is pretty well true but I have to admit I think, possibly, I was born optimistic! Anyone who played rugby and rugby league and put his head into far too many scrums, and thought it would end up OK, has to be an optimist!
I bet on the Melbourne Cup and seriously believe I can consistently pick the winner, though I'm less of a believer of that excessive belief in myself. History will do that. I often believe people with leopard-like spots can change those blots on their lives and with that I have copped the odd disappointment, but even with those experiences it hasn't taken me away from believing, with a lot of important matters, optimism pays off better than pessimism.
My favourite chart for stocks is a huge influencer on me having faith in stocks, generally.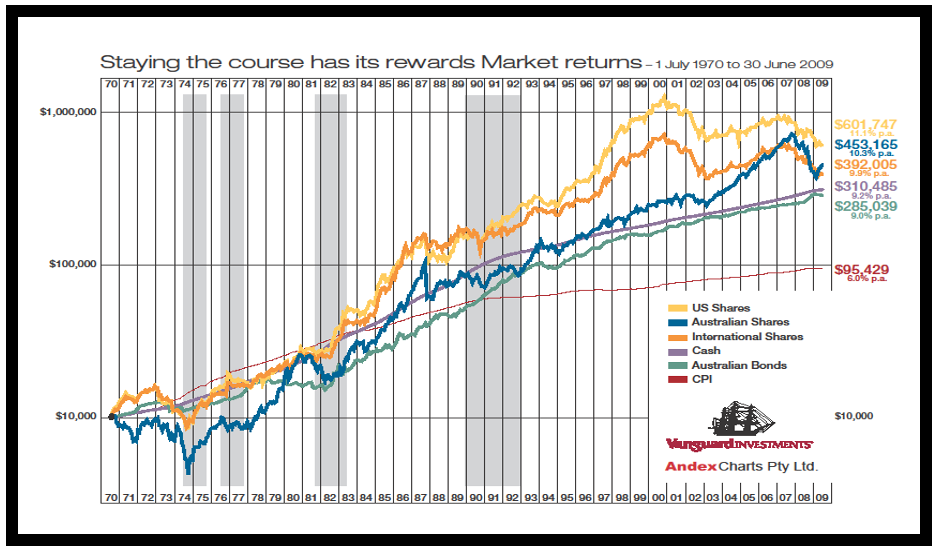 This chart is appropriately labelled: "Staying the course has its rewards…" This shows $10,000 invested in 1970 in something like an exchange traded fund for our top 200 stocks turned into $453,165 by 2009, which was just after the GFC market crash wiped 50% off the stock market's overall market value!
The blue line plots what happens to $10,000 in the Aussie market but in the US market, the final sum would've been $601,747. So in the most optimistic country in the world the pay-off was even greater. That figures.
The pessimist would have got out after the crashes or might never have got in at all but either way, would be poorer for it unless he or she was optimistic on property.
Have a look at how the stock market responds to world epidemics and see another reason why I give into optimism.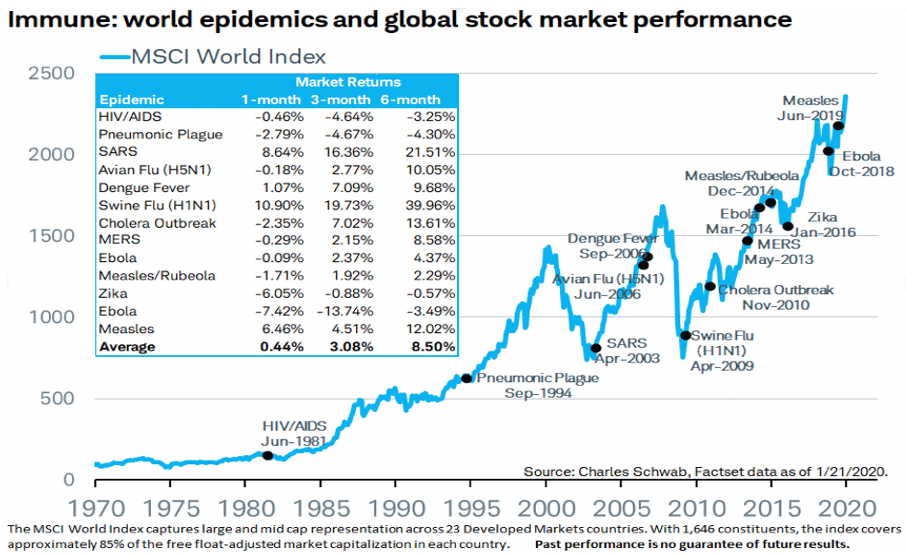 Let's see if the property market gives me any reason to be long-term pessimistic.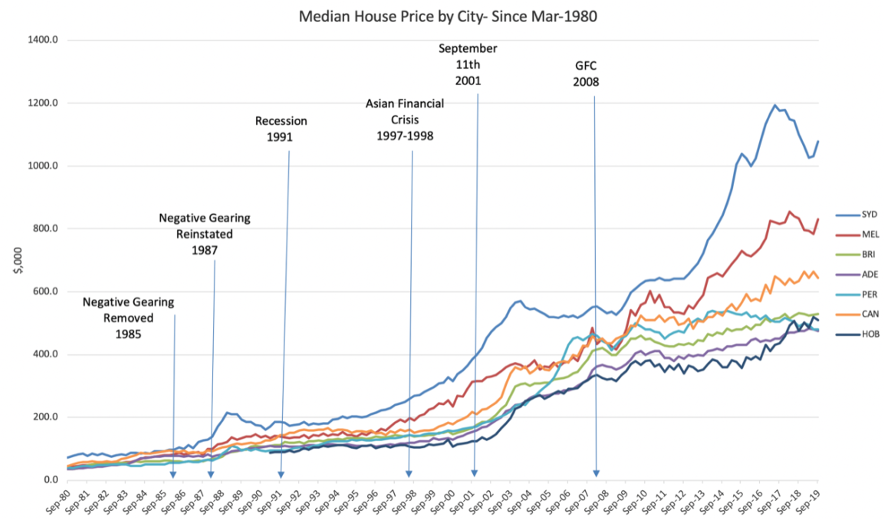 History says we in Australia have rising property prices then we have a small fall, we go sideways and we take off again.
Being really optimistic when others are pessimistic has been rewarding and it's why the famous investor Warren Buffett has advised us to be "fearful when others are greedy, and greedy when others are fearful." And at another time, arguably one of the best investors ever has argued: "For 240 years it's been a terrible mistake to bet against America, and now is no time to start."
The bottom line is that the pessimist can be right in the short-term but in the long-term optimism is by far a better bet in most matters of importance.
Personally I add that if you restrict your more risky behaviour whether it be investing, lending to others or making a commitment to a person, if you only do it with quality performers the optimistic play is highly likely to pay off.
Have a look at betting on CBA dividends, as an optimist versus a careful person who simply depended on term deposits. Here you got a consistent return for playing safe but it was a small return. The optimistic thrill-seeker has done miles better.
The chart below shows how dividends (in blue) grew and so has an investor's return over 1992-2020 compared to a steady but low return from a term deposit (in red).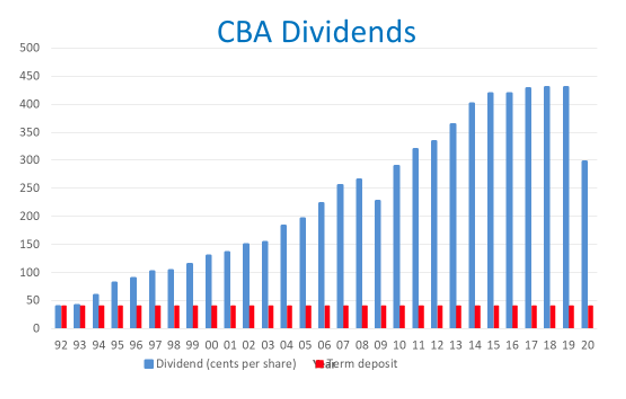 Sure the capital does not go up and down, like it would with a stock but let's look at what has happened to the CBA share price over that time.
CBA 1992-2020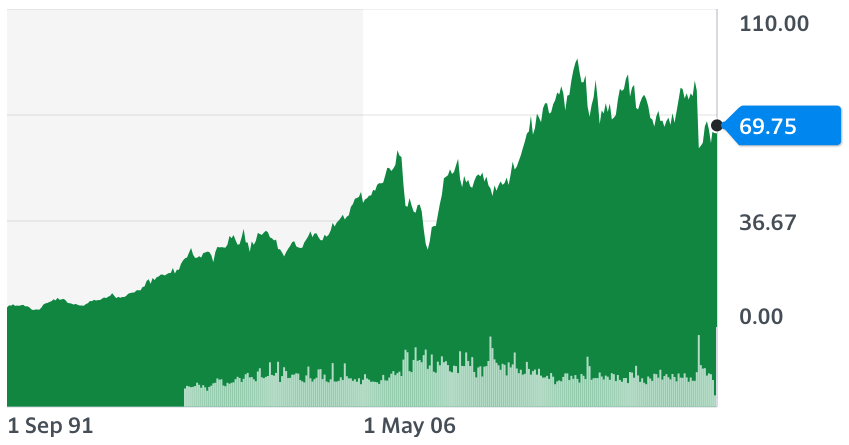 Over that time the share price and therefore the capital went up and down but mainly up and that's the real lesson about quality stocks. In 1992 the stock price was around $8 but by 2020 it was closer to $70.
That means say $8,000 invested in the CBA in 1992 was worth $70,000 while your term deposit would still be worth $8,000!
Pessimism and excessive safety comes at a high price!
To be even-handed I should point out that pessimists might point to good old gold which they always say is a great standby and while it can deliver sometimes, it can be a hard investment to keep believing in at times.
To be fair the price of gold did go from $US251 an oz in 1970 to $1,223 by 2009 but because it doesn't pay dividends like stocks and it doesn't have capital gains of 10% per annum over a decade. it doesn't get the compound interest that stocks have historically delivered.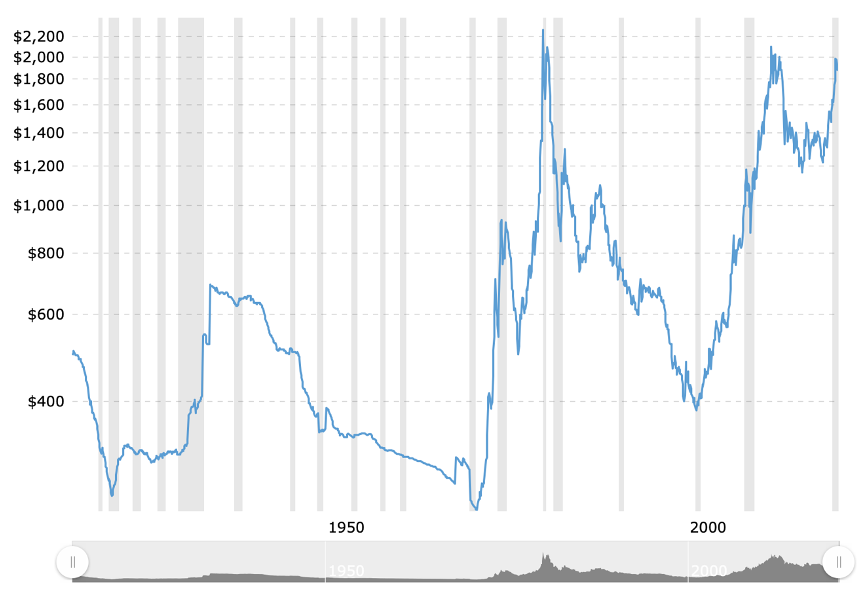 The gold investor turned $10,000 into $38,700 between 1970 and 2009 while the stock market investor saw $10,000 turn into $453,166!
Did I say it pays to be optimistic?
And the chart above shows how with gold the pessimist has to be optimistic he or she will be right eventually. In 1980 the price of gold hit a ripper $US2,268 an oz but it fell for 21 years to $US383. It then took 12 years to get close to that old glittering level of $US2,268!
Some gold-loving pessimist who bought gold in 1980 would've had to wait 32 or so years to get their money back!
It's the consistent and reliable upward trend of stocks, which really is mirroring the upward trend of humankind endeavours, productions, innovations and entrepreneurship, sometimes helped by intrusive governments with stimulus and central banks who use interest rates and money supply changes to keep the show on the road — onward and upwards — that explains that money-making trend line.
All Ords 36 years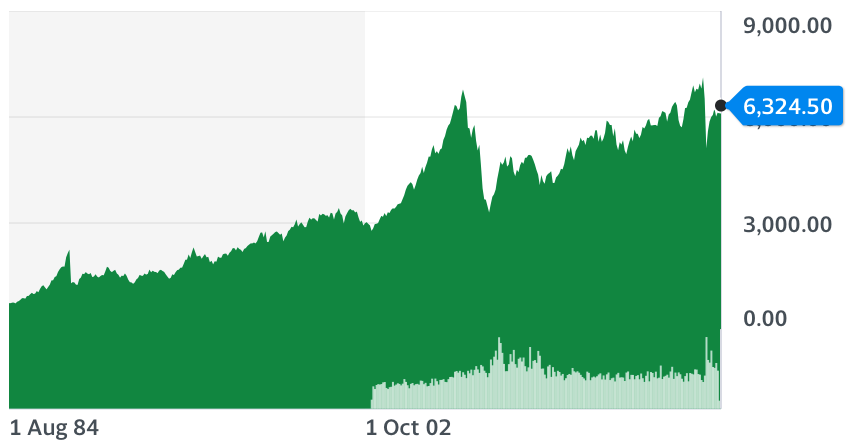 There is that slope that optimists love and this shows how fleeting the high points are for pessimists. Some are really smart pessimists who short the stock market and buy gold at the right times but they number a very small band of smarties!
It's easier to play the optimist's hand and get rewarded.
My mantra for investing, which I have shared with my subscribers to the Switzer Report over the past 10 years has been buy quality companies when the market locks into a big sell-off. It's a buy-the-dip strategy that works out if you buy quality and you have 15-20 stocks to make sure you don't become a victim of a silly CEO or a bad government policy decision.
I might have been born an optimist but the reality of the investing world has convinced me not to fight my genes, just like I don't fight the Fed when it wants to make the US economy great again!