I've always believed that legendary performers, whether they be in business, the arts, sports or where ever, leave clues to why they are above average.
And there's no end of work on the Internet from academic and coaching types telling us about the characteristics of exceptional people.
Many of these works are compiled by largely unknown people who might be more like travel agents in the world of success. Why travel agents? Well, in his speeches, the exceptional John Maxwell (author of mega-selling books on leadership, including The 21 Irrefutable Laws of Leadership) talks about leaders who are like travel agents talking about places they've never been to before!
He says he'd rather be advised about what to do in Paris by a tourist guide who actually takes tourists around his or her city. This analogy came back to me as I contemplated my podcast with the prolific entrepreneur of tech companies, Bevan Slattery. When my producer, Jon Bragg and I started to think of the headline for podcast after we'd listened to him for over 30 minutes (which seemed more like 10), we came up with "Meet Bevan Slattery, Australia's most successful serial tech entrepreneur."
But this title to the podcast didn't do him, and what he revealed, justice. So I hope this reflection on what he shared with me will.
I threw in "serial" because maybe Atlassian's Mike Cannon-Brookes and Scott Farquhar might argue the toss with me on success, if they use turnover and enterprise value for assessing tech company greatness. But when it comes to being serially committed to creating great businesses, Bevan looks to be in a class of his own.
Why? Well he started NextDC, Megaport, Pipe Networks, Superloop, SUB.CO — and I bet a whole lot more. And I was surprised this week when I was interviewing the CEO of intelliHR, Rob Bromage, for the Switzer Small and Microcap Conference, that Bevan was used as an explanation for a spike in the company's share price.
When I was curious why the share price spiked in July from 6 cents to 28 cents, Bromage said it coincided with the market finding out that Bevan had invested in the company!
IHR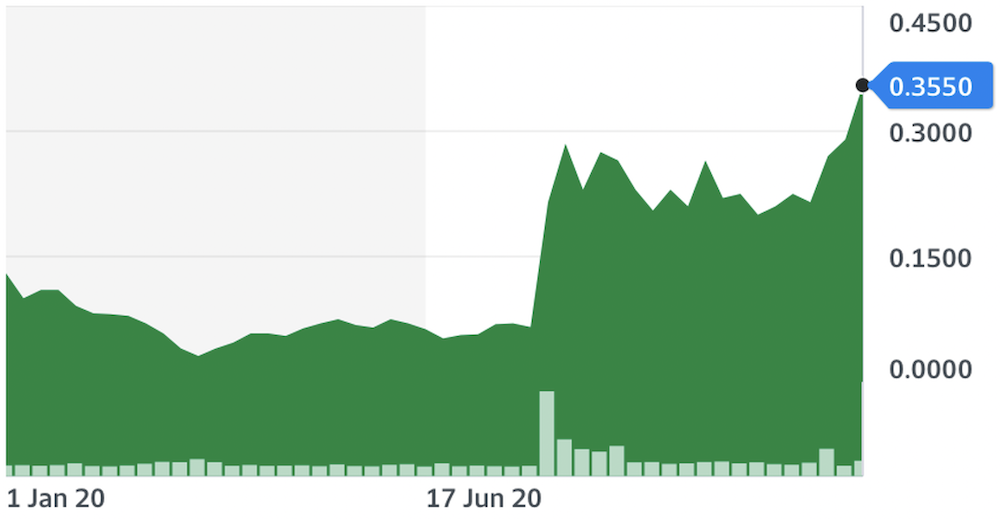 And to my surprise, one day after me asking that question, the share price spiked again, rising 22% on Thursday to 35 cents!
But don't think this is simply my take on someone who I rate as exceptional. In 2016 Bevan took out the prized EY Champion of Entrepreneurs Award, the National Charles Todd Medal, the Pearcy Foundations Benson Award and was inducted into the Commsday Hall Of Fame.
The tech industry sees him as legendary. And the AFR's Rich List calculated his net worth at $564 million this year, but when I interviewed him we didn't touch on any of this.
There was a serenity that underlines his quiet confidence in himself, undoubtedly reinforced by his long list of achievements. And it's funny because one of the first inklings I had about this guy as he shared how he sees life and then responds with business ideas so methodically, I wondered if he'd started off as an accountant?
Well, he didn't start that way, as he started his working life in a computer store — where else would a tech guru kick off? But like a bee to honey, he ended up doing accounting, which is a skillset that comes in handy when you want to become a serial company creator!
And his achievements are pretty impressive, especially when he confessed he's never read a book! That came out following my suspicion that this ordinary-looking kid from Rockhampton must have had an innate savviness about what the world needed and how tech could deliver it. And I thought he must have been inspired by people like Steve Jobs, Bill Gates or say Richard Branson. But no, as he said (without intention to be boastful): "I've never read a book."
And boy didn't that get me more interested to see what explains his plain-to-see greatness in his chosen field of creating companies like NextDC, which should have been the domain of monopoly operators such as Telstra!
And let's look at each company's share price over a similar timeframe.
NextDC
Over a five-year period, NextDC has gone from $2.50 to $11.50, while Telstra went from $5.63 to $3.03. How did a telco/tech company not see the potential of the cloud, like Bevan did, when he founded NextDC? In many ways, it's what entrepreneurs see that big companies miss, and it confounds me why the leaders of big companies don't simply think 'outside the square' and headhunt the hundreds of Bevan Slattery-types out there and let them spin gold like Rumpelstiltskin!
Telstra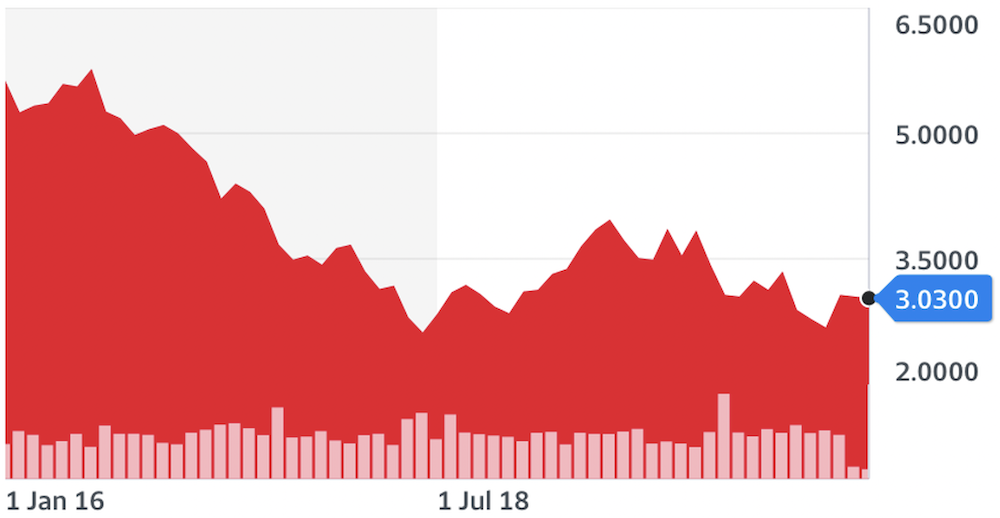 In the early 2000s, I interviewed Alan Moss, who was CEO of Macquarie Bank when it earned the tag "the millionaire's factory." I asked Alan the secret of this bank's success. I've never forgotten his answer.
Alan explained that Macquarie encouraged their people to think and see opportunities like entrepreneurs but unlike so many 'outside the square' business builders with great ideas, this bank gave these people capital and infrastructure to ensure success.
And this underlines the strength of Bevan Slattery's achievements, as he's done what he's done without a BIG MAC helping him succeed.
So how did he achieve so much? And what's his secret? I think he has many that he shares with other great business builders but he gave us one important inside info clue.
I actually asked him: "What's your strength?" And he said: "I see opportunities and then try to see how to turn that into a business."
But this was the really interesting revelation: "To see an opportunity in business first, you have to be in business," he said.
Many of the businesses he has created have come out of problems in a previous businesses. "In Pipe Networks I thought it would be great if there was a national independent data centre, and that's what NextDC came out of," he said.
He also says, though he hasn't been a great reader, he's be lucky enough to hang out with really smart people like his CEO at NextDC, Craig Scroggy and ex-Telstra MD, Ted Pretty.
Bevan Slattery is a quiet achiever, who, like so many exceptional people, is doing what he likes and is relentlessly persistent in getting things right.
He is a living breathing example of what former US President, Calvin Coolidge said about what leads to success: " "Nothing in this world can take the place of persistence. Talent will not; nothing is more common than unsuccessful people with talent. Genius will not; unrewarded genius is almost a proverb."
If you want to be a success, learn from the exceptional people like Bevan Slattery. Check out my podcast…if you want to be a success!