I'm on my way home from Italy and writing this in Doha airport, where I've noticed that European stock markets were up on Monday. While I like a bit of positivity, I suspect we'll be in this negative stock market trap until some really good news comes along.
In the interim, however, I still suggest you look for the positive and turn down negative noise.
Ideally, China announcing no more lockdowns would be great. However, the best news would be that the Ukraine war is over, but we might have a longer wait than we'd prefer.
That said, if hostilities end later this year, it will be great for the Ukrainian population, stocks, businesses, and consumers because oil prices would dive big time.
And while I'd love a really big positive piece of news to turn around this stock market negativity and give tech stocks a big shot in the arm, I suspect we're going to have to simply watch the slow drip of economic data over the next two months, hoping it will show that inflation's easing.
If that happens, then gradually market influencers might say, "Hey, we were too negative on how high interest rates will go," which would be good for consumer and business confidence, economic growth, property markets and stock prices.
So the question is: has there been any positive news to report? The answer is, yes! Check these out:
1. The AMP Inflation Pipeline Indicator below shows that inflation in the US is easing.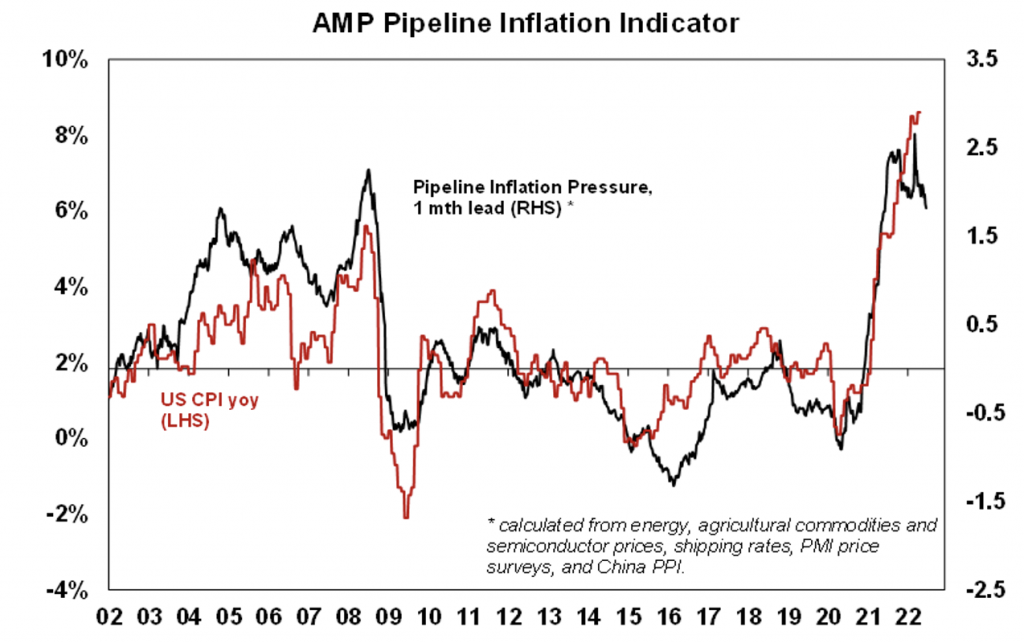 2. CommSec observed last week that in May, provisionally there were 651,060 overseas arrivals to Australia – the most since Covid-19 international border restrictions were imposed in March 2020. And there were 663,970 overseas departures from Australia last month – the most in over two years. This is good for tourism and hospitality businesses and the potential supply of foreign workers.
3. US economic indicators are starting to become less bullish, which could be an early sign that inflation will fall over the coming months, which might make the Fed less aggressive with its interest rate rises. These 'potential' rises are spooking the stock market right now.
4. While those US economic readings are weaker, they're not screaming that a recession is coming.
5. There are more indications that the US jobs market may be starting to cool a bit, with jobless claims drifting up and indications wages growth may have peaked. This may take pressure off services inflation, which has been picking up.
6. According to Dr Shane Oliver at AMP: "Chinese economic activity data improved more than expected in May as covid restrictions eased … [and] despite the return of some restrictions in Shanghai, China's effective lockdown index has continued to ease".
I concede that my above list of good tidings is small but I believe they'll accumulate over the next two months. In the meantime, have a look at what Shane Oliver says about stock sell-offs like this and his six key things for investors to bear in mind:
1. Share market pullbacks are healthy and normal.
2. In the absence of a recession, a deep and long bear market in shares may be avoided – but relying on short-term forecasts to drive a long-term investment strategy is fraught with danger.
3. Selling shares after a fall locks in a loss.
4. Share pullbacks provide opportunities for investors to buy them more cheaply (and fortunately the Australian superannuation system does just that).
5. Shares still offer an attractive income flow compared to bank deposits.
6. Finally, to avoid getting thrown off, an appropriate long-term investment strategy (including within superannuation, which has to be seen as a long-term investment strategy for most), it's best to turn down the noise."