Right now, stock markets are going to give into gravity as Coronavirus second-wave infections start to become more worrying. And it's not helped by headlines like this in the AFR: "IMF paints bleak pandemic picture."
However, that headline did start with "Australia stars" and you have to like that!
Yep, the IMF has downgraded its global and individual country forecasts but Australia has been crowned the 'Muhammad Ali' of economies — the greatest!
For the world, the IMF tipped the global economy will contract at 4.9% in 2020 but in April it was only 3%. So on that calculation, the world's COVID-19 fallout problems have worsened.
Then next year, the world economy is tipped to grow at 5.4% but in April the IMF's growth guess was 5.8%.
The IMF downgrades growth when it thinks consumer demand, job creation, profits and businesses investing in the future are going to be worse than expected.
That said, a 5.4% rebound still tells me that if you're planning to go to Europe next winter, which is when I hope it's safe to travel overseas, things in the old world will be starting to look up. I suspect going to Europe now would be pretty ordinary.
For two weeks in a row, we've tried to interview colleagues who moved to Barcelona to enjoy European life and to leverage their business off being located in the middle of the EU in Spain. It's been a shocker for them with the Coronavirus crisis. And for two weeks the international telephone service out of Barcelona has made it impossible to sustain a phone call longer than two minutes!
To Australia and the IMF expects our economy to shrink by 4.5% in 2020 but in April it tipped a huge and worrying 6.7% contraction!
And then the forecasts suggest we'll grow by 4% in 2021, which is huge compared to recent experience. Trading Economics says "Through the year to Q1, the economy grew 1.4%, after a 2.2% expansion in Q4". So a 4% surge next year would be a ripper.
The IMF is ruling out a V-shaped recovery for the world, where the rebound is similar to the collapse of the economy, so it goes up and down like a V.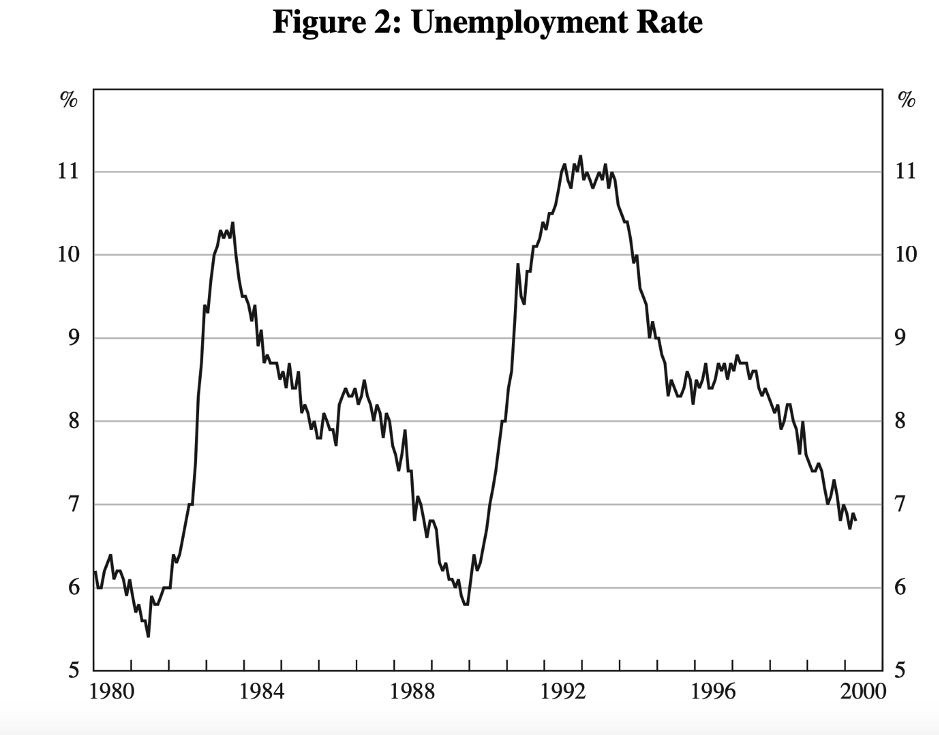 We're more a chance of having a V-shaped recovery but predicting this stuff isn't easy. My long memory going back to the 1991 recession reminds me that the economy did rebound quickly after only six months of negative growth but unemployment stayed high for a long time, as the chart above shows.
And note how after the 1982-83 recession spike, it took five years for unemployment to fall from around 10% to 6%. Then in the 1990s, unemployment snuck over 11%. And even after seven years, the jobless rate was just under 7%!
I don't think our jobless rate will go above 8% because of the Government's stimulus programme, which is huge at about 10% of GDP. But the Treasurer can't play Ebenezer Scrooge and penny pinch on spending when JobKeeper payments end in September.
Like most governments of the world, these guys have shocked economists like me with the magnitude and the pace at which they got their stimulus packages going and into the economy. But that was the easy bit.
The hard bit is managing the recovery and those long tails of unemployment falling so slowly in the 1980s and 1990s are an important lesson for Josh Frydenberg to note very well.
We Aussies are very proud of our sporting achievements on the world stage and even our champions of the arts are standout performers. But after 29 years of continuous growth (without a six-months period of contraction of the economy until now), our economy gives us the record as the greatest grower of all time — the Muhammad Ali of economies!
However, it means little if unemployment stays high for too long. And that's the challenge ScoMo and his team have to beat.
Go Australia! (For the record, South Korea is the only economy that's expected to contract at a slower rate than Australia, so let's call them the Smokin' Joe Frazier economy. But South Korea has never gone 29 years without a recession! As Bart Simpson would say: "Eat my shorts, South Korea".).