Hold that thought! How often have you heard that? Well, as we get to hear today how we're going to be released from effective home detention to gradually throw off the social restrictions that have hamstrung our lives, businesses, our income earning and our spending since March 22.
In case you've lost count, it has been seven weeks. I remember it well as I did my last and final speech in Canberra two days before. The group had a lot of dropouts — attendees and speakers — with many Zooming or Skyping into the conference.
The world was getting used to the odd life we were about to lead and even my interview on Studio 10 had me on Skype in my Canberra hotel room and Kerri-Anne Kennerley and Joe Hildebrand equally isolated, while the host Narelda Jacobs presumably at the desk in the studio.
I realize now that I did that TV interview as if it was radio!
Two days later, the Department of Health put out a press release that said: "The Prime Minister, the Hon. Scott Morrison MP, announced new measures and restrictions to protect the Australian community from the spread of coronavirus (COVID-19) on 22 March 2020."
And our lives were set to change forever. Or that's what the new breed of Coronavirus 'experts' were telling us. You've had to be staggered at the number and the level of knowledge that the 'experts' in our midst, who'll tell us that:
We will never travel like we did before we were introduced to the word coronavirus. This curse from hell will live on as a hate-rival for Adolf Hitler!
We'll never shop like we did before. Jeff Bezos of Amazon-founder-fame would have been glad to hear that.
We'll never use cash like we did before. This week we learnt the amount of cash we've taken out of ATMs has dropped by a third since the virus lockdown was imposed. And an RBA survey showed how much we've changed, with cash payments down to 27% last year compared to 69% in 2007!
People wanting to work from home will escalate post-COVID-19 and employers will support it.
I could go on but you get my drift. There's a huge potential for us to be changed as a consequence of the Coronavirus. Possibly it's only a temporary switch for many of these expected changes.
The average human isn't renowned for changing a lot, as the sunbaking and non-social distancing on Bondi Beach proved. Two weeks ago, I joined the crowd dying to swim at Coogee and the promenade was like the footpaths of Venice Beach LA with runners, roller-skaters and cool (as well as uncool) people all ignoring the 1.5 metre rule as they celebrated going back to normality!
And once a vaccine shows up, I reckon the queues to jump on a plane to Europe or Bali will be as long as those lining up to get into the MCG or the Olympic Stadium.
Sure, 'tap and go' will be a big challenge for cash, especially now that the new limit is $200 before you have to remember your pin. Hang on, what is my pin?
You can forget a lot in six weeks when you get out of practice, but one thing we seemingly haven't forgot is how to get confident, despite all the media-preoccupation with the world's death count seemingly always on the rise.
Thankfully our infection/death rate story is seen as one of the best in the world. And the US-based Brookings Institute says our economic stimulus programme is amongst the best three in the world because our Federal Government had swung the Budget into a near surplus.
Throw in this gradual easing of restrictions and we're starting to see reasons why one economic statistic is worth reporting. I'm sorry I can't get excited about reporting bad stats, like the fact that the AiGroup Performance of Services index fell by 11.6 points in April – the largest monthly decline on record – to a record low of 27.1 points (lowest since 2003).
That's a crap number but you have to expect this when the Prime Minister closes down a huge chunk of the economy.
The same goes for the AiGroup's Performance of Construction Index, which fell by 16.3 points to a record low (since September 2005) of 21.6 points in April. These readings tell us what we know: the economy now is crap too!
I even don't get excited about this good number, which tells us that our trade surplus rose to a record high $10.602 billion in March (consensus: $6 billion surplus) from a surplus of $3.865 billion in February (previously: $4.631 billion). This great result should be KO'd in April and May, as the Coronavirus impact hits really hard.
But I do have an economic number worth crowing about.
The weekly ANZ-Roy Morgan consumer confidence rating rose by 5.3% to 89.5 points. Sentiment, and more importantly this reading on our improving positivity, has lifted for five successive weeks and is up 37.1% since hitting record lows (lowest since 1973) of 65.3 points on March 29.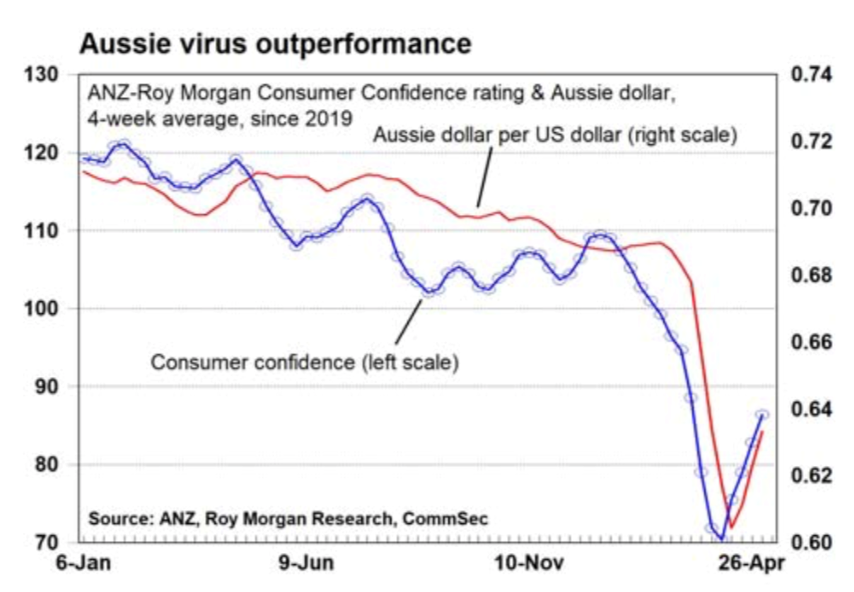 This chart is worth seeing as it shows that we can beat the negativity of the Coronavirus and maybe we aren't going to be so changed forever.
So what has been driving this resurging consumer? It has to be our success in beating the virus. It also has to be the gradual easing of restrictions. And it also has to be that the PM is no longer talking about a six-month hibernation of the economy, which many thought meant we'd be locked up and closed down for virtually a half-year.
There aren't many really great stats out there right now like our consumer confidence readings, but I do like the rebound of the US stock market. It now has comeback 28% since the March 23 lows and is now only down 15% and is out of bear market territory.
And that's without a success rate of beating the virus like we have. The Yanks are loving the reopening of the economy and continued good news on progress towards treatments and even vaccines in a shorter-than-expected time. Optimism is prevailing and that's great, but we now have a two-month wait to see if a second-wave threat comes along to undo all the positivity that prevails in the US at the moment.
Our stock market has only rebounded 18% but what the PM says today could change that and will either take this number higher or lower.
For the sake of consumer confidence and the stock market, I hope he hits the mark with what he tells us today.