In a message that will shock many homeowners with big mortgages, who are currently struggling with their loan repayments as interest rates are being hiked at a pace Usain Bolt would be impressed with, the RBA thinks we could cop a 3% rise in rates!
This message was delivered yesterday by Deputy Governor of the Reserve Bank Michele Bullock, who said she had bank research to back her claim. My worry is this: was it done by the same mob at the RBA who told Governor Dr Phil Lowe that rates won't have to rise until 2024?!
Now to be precise, that 3% was an estimate made before rates started rising in May. The hikes so far add up to 1.25%, which has taken the cash rate of interest, controlled by the RBA, to 1.35%.
On Ms Bullock's figuring, 3% minus 1.25% equals 1.75% and that last number is the size of rate rises we might have to cop by mid-2023. That's the size the bank's experts think we can endure before a repayments crisis results in a recession or severe slowdown, where unemployment surges higher.
But let me intervene rapidly here — I don't think this amount of rises will happen. The Reserve Bank might be teasing us by an academic calculation of what we could endure but mightn't have to.
In fact, Ms Bullock could be engaging in a bit of sneaky RBA jawboning to frighten us to cut back our spending to help them beat inflation down. Actually, this story from me doesn't help because I might be making you less scared, but if we do keep spending and not push back against big price increases for goods and services, then the RBA could slug us with a 3% rise in the cash rate by mid-2023.
That's what the RBA thinks we can handle — a total 3% rise in the cash rate (and therefore home loan rates) from May this year (when the rises started) to mid-2023.
In dollar terms, if someone was on a $500,000 home loan and rates go up by say another 1.75%, the monthly repayments rise would be $466 or $5,592 a year!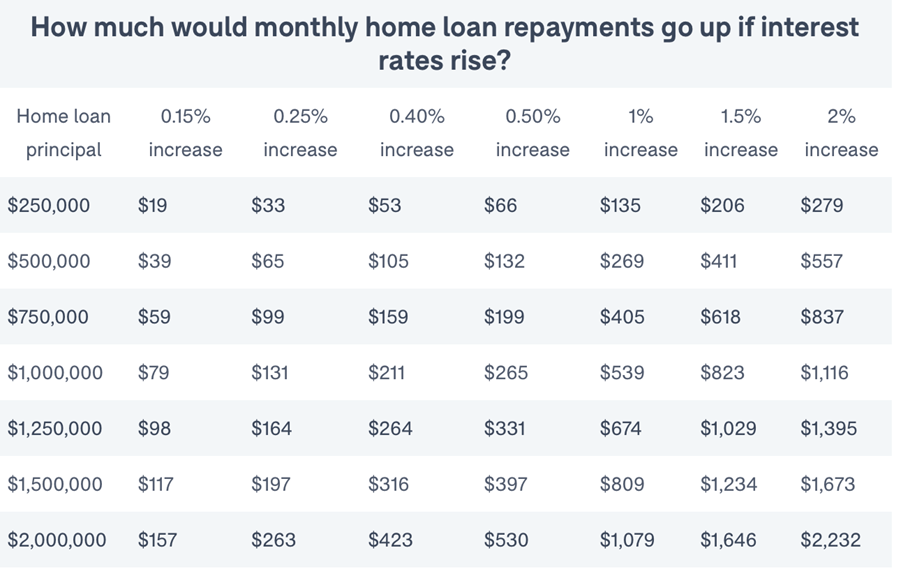 That would KO a lot of borrowers. Imagine if they had borrowed $1 million. In this case, the extra annual repayments would go to nearly $12,000.
I hope the cash rate doesn't rise by as much as the RBA says we can cope with. I reckon inflation will fall by year's end and that will hose down the fire the RBA has in its belly to raise rates.
Of course, the end of the Ukraine war would help bring down petrol and energy prices and that would bring inflation down. That would mean the RBA could give us a break!