House prices are set to surge. Share prices are in for a really good year. The prices of our key exports are spiking to historical highs and a resources boom is expected. So is it right to be optimistic about 2021?
Of course there'll be winners and losers this year when the economic wins and losses are tallied up, but that's always the case in any economy. But after taking the negatives from the positives, should you embrace 2021 with optimism?
Well, the numbers and the believable stories say YES with a capital Y!
Taking a look at the AFR today, the headline stories reinforce my positive take on the year ahead.
Here's are 5 strong reasons that back my positivity:
The Reserve Bank says house prices could rise 30% over the next three years.
The big miners Rio, BHP and Fortescue have iron ore prices at $US165 a tonne. That's over a 100% rise since March!
Iron ore price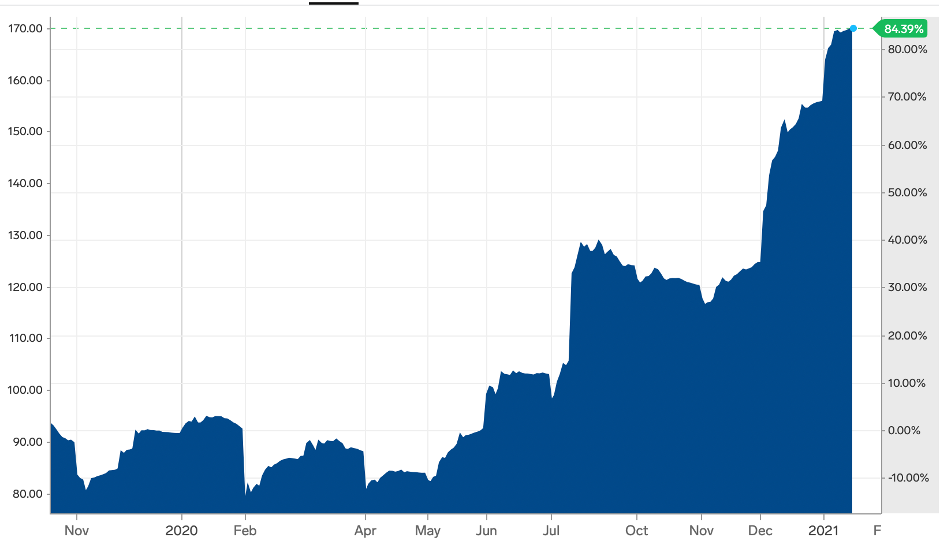 The Aussie dollar is 77US cents and heading higher.
The Morrison Government is considering letting us take our super as income, which will help the economy grow.
And Deloitte Access Economics has given our economic recovery a huge thumbs up.
To quote the AFR: "At the start of the final holiday week before the traditional post-Australia Day return to work, one of the leading economic and business forecasters in the country has issued a bullish outlook for the national recovery from COVID-19 in 2021."
This respected economics outfit thinks we can grow at 4.4%, which is better than the latest guess for US growth, which over the weekend was put at 4.3%. Meantime, AMP Capital's Shane Oliver thinks we'll grow at 4.5%, while the RBA has a 5% number out there, but that was before we had the reclosure of borders. This aberration could peel back our growth forecasts to a small degree.
Understand this: any growth number over 3% has historically brought the unemployment rate down.
Every Saturday in my Switzer Report (which is for subscribers who like to buy stocks), I look at what I liked or didn't like from the economy and markets. Here are some of the big news stories that reinforce my view and Deloitte's positive view on the Oz economy. Here goes:
Retail trade rose 7.1% in November, to be up a huge 13.3% on the year.
Job vacancies rose by 23.4% to a record high of 254,400 available positions in the three months to November. (Note: record "biggest ever" job vacancies.)
The latest reading of the measure of whether it was a 'good time to buy a major household item' rose by 3.3% to 20.1 points – the highest level since 23 February 2020.  
CBA credit and debit card spending in the week to January 8 lifted by 13.1% on a year ago, which was before the Coronavirus came to town.
On the flipside, I don't like the fact that the weekly ANZ-Roy Morgan consumer confidence rating fell by just 0.1% to 108.9 last week. And I also don't like that sentiment has fallen for two consecutive weeks after hitting a 13-month high of 111.2 on 13 December 2020. But confidence is still up by 66.8% since hitting record lows of 65.3 on March 29.
This was linked to the border closures, following the outbreak of infections in the northern beaches region of Sydney.
One of the great economic influencers of 2021 will be an economy's ability to beat the Coronavirus. It's why our economy has done so well so far. When the pandemic was declared and the economy was virtually closed down, economists thought unemployment would go to a scary 10%, but it's only 6.8% and is expected to fall even more this year.
This correlates with the fact that we're the third best country in beating the virus behind New Zealand and Taiwan. This is another reason for us to be happy with our past economic comeback and to be positive about our future.
Throw in the pluses from vaccinations and we have to be poised for a very good year for the economy, company profits and share prices. Of course, some companies that do well with a lower dollar, won't do as well as those that love a higher dollar. But economies and profits are swings and roundabouts.
So how do we make money out of this potential positivity?
Well, Goldman Sachs thinks US stocks will rise by 13% this year and Shane Oliver thinks we'll do better than the Yanks. Simply buying the stock market index via an exchange trade fund could net you 10% plus dividends of 3% to 4% plus franking credits.
Last year was an historical shocker on so many levels. But 2021 looks set to partly make up for a lot of the misery that a virus from Wuhan in China imposed on the world. You can only hope that the leaders of the world have learnt an important lesson!
That said, be negative at your economic and financial peril! And at the risk of sounding commercial (forgive me, I do own a business!), if you want to make money then consider watching my Switzer TV Investing show as a New Year's resolution – it's good "free" information about the stock market.  Work with me to help you make money from this positivity.