One of the world's best conferences for getting richer was held in Australia last week, virtually, and I want to share the money-making insights that came from that get-together of some of the world's best fund managers and investors.
So it's timely for me to ask: "Who wants to get richer?" If this isn't you, then stop reading. But if this is you, which means you've thought about being poorer or richer and you've given the nod to being richer, then read on.
For normal people the best avenues to getting richer is via property or shares. Above normal people will build riches via their job promotion or by starting businesses, but for 'normal' people, becoming a good investor can really make these individuals richer than the average Aussie.
One thing the average Aussie, Pom or Yank doesn't get is how you build riches in investment areas like property and stocks. Why? Well, they don't do sufficient work to get the knowledge to give them a competitive advantage to build wealth.
They don't hang out with the right people to show them 'stuff'. They don't pay for advice or insights. They don't read the information that will make them money-making savvy and then, if they do all this, they fail to execute or take actions.
Let me give you a simple way that someone could have got richer this year playing one of the safest investments in town, called the top 200 companies in Australia. After March 23 this year, the stock market started to rise. If you'd borrowed say $20,000 and put it into the exchange traded fund IOZ, that $20,000 would now be worth $26,600. That's a 33% gain in eight months.
If you had a million dollars in your super fund and had the guts to invest in the top 200 companies in Australia, which IOZ is based on, you would've made $330,000! That's getting richer at a rate of knots, using a pretty safe investment vehicle.
Of course, normal people with a million in super would never put their million dollars into one investment. But someone with $5 million in super could have played IOZ for a million dollars and made $330,000, showing being rich makes it easier to get richer. As my wonderful grandmother used to say "Them that's got, get!"
Building wealth can be compared to a snowball effect but the initial push of the ball of wealth has to come from you and your desire to learn and take actions.
And once you see how information from the smartest people you can access can help you get richer, you then are always on the lookout for more smart people to learn from. And that's why I love the Hearts & Minds Investment Conference.
What happens here is that fund managers from here and around the world give their best investment ideas for the year and these roll into a fund on the ASX that you can invest in. And part of the profits go to charities.
This year the star attraction was American Bill Ackman, the CEO of activist hedge fund Pershing Square Capital Management. He told the conference that 2021 would be a great year for stocks because of low interest rates, lots of government stimulus, huge infrastructure spending, banks with lots of money and a vaccine will be important.
Here are 14 stocks the experts liked, with four Aussie-listed stocks at the top:
CSL
Fischer & Paykel
Temple & Webster
Treasury Wine Estates
T-Mobile
Ping An Healthcare & Tech
Nintendo
Shenzhou International Sportswear
Yeahka — a Chinese payments business
Bill.com
Target — in the US
Hellofresh
Slack
Teladoc Health.
The top four are interesting local plays, while seeing well-known overseas names such as Target and Nintendo on the list shows how it can be smart to buy businesses you know and that lots of us use.
On last night's Switzer TV Investing programme, I asked Jun Bei Liu of Tribeca Alpha Plus Fund to rate these four local companies. She actually presented at the virtual conference last Friday and likes Treasury Wine Estates (TWE).
If you want to get richer, find time to check out the show and see why she thinks TWE is a good buy, despite China playing hardball with the company and its wines. I also asked her about the other companies, whether she likes them or not. You'll be interested in her answers.
One final word. If you're the type of person who can't stand making losses — investing in shares isn't for you!
Take a look at this chart of CSL — one of the best companies in the world.
CSL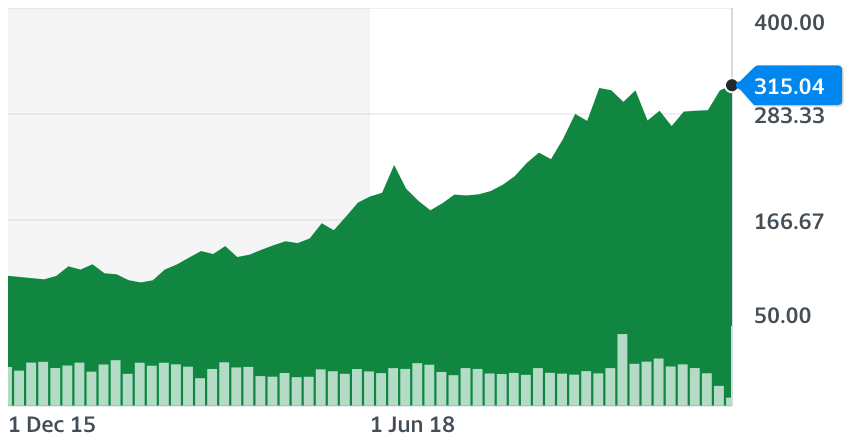 Imagine you bought into CSL in September 2019 for $233 and saw yourself get richer by 17 February 2020 with the share price at $336. But then came the Coronavirus and you lost $66 a share, as the share price fell to $270.
If you did nothing and believed in the company, you now hold shares worth $315. And you haven't made up those temporary losses but you are up $82 a share since you first invested in the company.
With investing in quality companies or funds you should be mature enough to cope with short-term losses but expect to make good medium- to long-term profits, over time. If this is you, I bet one day you'll be richer than most. Let's hope our stock market can open today, unlike yesterday, when a data problem crashed the ASX, so we can get started on getting richer.