2020 was a remarkable year for Australian shares. Who could have thought on 23 March, at the height of the Covid-19 meltdown that had seen the overall market fall by 37% from a high of 7,163 on 20 February to just 4,546, that it would almost fully recover the loss and end the year in the black? In fact, with dividends included, it returned 1.4% for the year.
It was also remarkable for the divergence in the performance of the different industry sectors, reminding us of the old adage 'it's not a stock market, it's a market of stocks".
On the back of Afterpay, Xero and others, information technology starred, returning a staggering 57.8% for the year. In the December quarter alone, the sector added 24.8% and it also topped the December monthly returns.
At the other end of the spectrum, energy was the worst performing sector with a loss of 27.6%. But if you got into the likes of Woodside, Santos and Oil Search at the right time, you could have enjoyed some fabulous returns. In the December quarter, the sector enjoyed the highest return with 26.3%.
Performance of ASX Sectors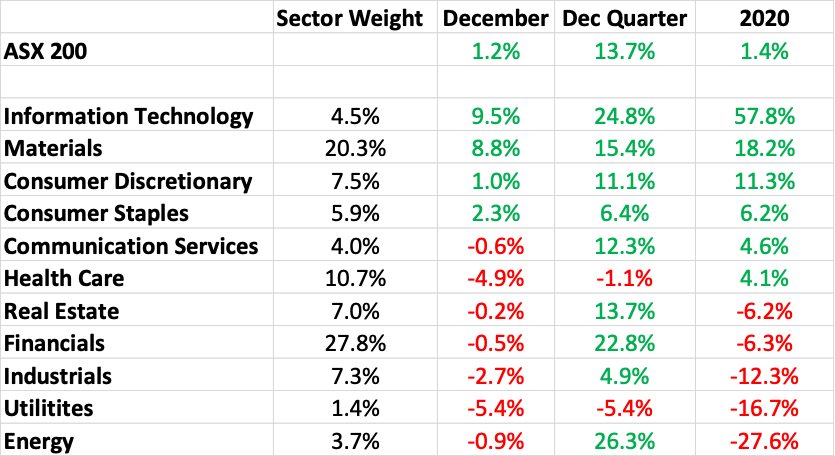 The biggest sector on the ASX, financials, which by market capitalisation makes up 27.8% of the ASX 200, had another tough year as dividends were slashed and banks and insurers increased provisions to cover for Covid-19 losses. Overall, the sector gave up 6.3%, notwithstanding a positive return of 22.8% for the December quarter.
Interestingly, the two consumer focussed sectors delivered positive returns, highlighting just how much cash consumers have enjoyed due to the impact of governments stimulus programs.
So, do 2020 returns provide any clues for thinking about the winners in 2021?
History shows that the best performing sector from one year is rarely the best performing sector the following year. This is no doubt a function of two factors – firstly, that macro trends aren't tied to calendar years but can be multi-year or for just part of a year, and secondly, mean reversion, that is the tendency for prices and returns to revert to the long-run average level of the entire dataset.
But, some of the trends from 2020 will continue into 2021. Here is my assessment of the likely performance of the 11 industry sectors (listed in descending order of market weighting) and how you may wish to bias your portfolio:
a) Financials – Index-weight
While 2021 should be a better year for the major banks as they write back Covid-19 provisions, enjoy a small increase in volumes as credit growth returns, stop having to make customer remediation provisions, and get a little tougher on costs, revenue growth will still be challenged.
Investors will enjoy higher bank dividends, not back to 2019 levels but towards the middle of those paid in 2019 and 2020. With capital ratios looking comfortable, capital returns from the CBA and possibly the ANZ cannot be ruled out.
I continue to prefer the major banks over the regional banks. Macquarie goes from strength to strength, while a recovery in some of the underperforming insurance stocks such as IAG is on the cards. While strong equity markets should be a positive for fund managers and performance fees, a rising Aussie dollar will act as a headwind to funds growth for the likes of Magellan and Platinum.
b) Materials – Over-weight
The surprise of 2020 was the strength of the iron ore price. Strong demand from China was met with constrained supply as the biggest producer in the world, Brazilian miner Vale, struggled to resume full production. BHP, Rio and Fortescue were big winners, and while the iron ore price should ease in the medium term, it is hard to bet against these companies in the short term.
Copper, nickel and other non-precious metals have also been rising in price as the US dollar eases and economic growth gets a boost, and this trend is expected to continue.
Elsewhere, non-ferrous material producers such as packaging companies Amcor and Orora, and construction material suppliers Boral and James Hardie, should get a boost from stronger economic growth and stimulus spending. Against this, most have material revenue streams outside Australia and will be impacted by a higher Australian dollar.
Gold will benefit from a weaker US dollar, but with the US election out of the way and the vaccine rollout underway, Aussie dollar gold miners will find life harder on the ASX.
Moderately over-weight.
c) Health Care – Index-weight
The best performing sector over the last many years, it has enjoyed the tailwinds of an ageing population, increasing demand for health services and increasing expenditure by governments.
However, so many of our great health care companies (CSL, Resmed, Cochlear, Sonic and Ramsay etc) are internationally focussed and are exposed to a rising Australian dollar.
I am not ready to be short the sector, but very wary of the impact of the currency on their Australian dollar profits and share prices. Index-weight.
d) Industrials – Under-weight
Normally, stronger economic growth would be a positive for a sector like this. However, rising bond yields (which could affect the "bond proxy" stocks such as Transurban), and a rising Aussie dollar, will dampen sentiment.
Under-weight, although because of the variety of companies the sector covers, it is largely a stock by stock proposition.
e) Consumer Discretionary – Over-weight
Largely a stock by stock proposition, one of the better performing sectors in 2020 and one that should benefit from very low interest rates, an improving housing market and a strong uptick in consumer confidence.
f) Real Estate – Under-weight
This sector was badly hit in the Covid-19 market meltdown, before pulling back later in 2020. But I am not sure that this is the end of the pain as the trends of working from home and online shopping develop permanency. Ultimately, softening demand will impact rents and valuations. Rising bond yields could also hurt.
g) Consumer Staples – Over-weight
Although a defensive sector, this sector could again surprise in 2021. The big supermarkets were winners in 2020 as consumers "stayed at home" and competitive pressures eased. But there will also be some residual benefits in 2021 and many of the additional Covid-19 costs will dissipate. Further, there looks to be value in stocks such as a2 Milk and Treasury Wine Estates.
h) Energy – Index-weight
The OPEC+ group seems to have a good handle on balancing the production of oil with demand. While stronger economic growth (and the mass return of air travel) should be positive catalysts for the oil price, there is considerable unutilised production capacity and my sense is that the price will remain relatively stable in the US$40 to US$50 per barrel range. Index-weight.
i) Information Technology – Over-weight
While very much a "stock by stock" proposition, the macro divers say this is a sector to be over-weight. Stay with the quality, as many of the stocks are hideously expensive. This will also protect if rotation in the USA continues (out of "tech' and into "value") and the Aussie market follows in its wake.
j) Communication Services – Under-weight
The sector delivered a positive return in 2020 largely due to the performance of REA Group (now the second biggest stock in the sector), but otherwise, telcos continue to find it hard to increase earnings. Under-weight.
k) Utilities – Under-weight
This sector underperformed in 2020 and 2019, and despite ultra-low interest rates, downward pressure on wholesale electricity prices will make it hard for the sector leaders.