Love them or loathe them, short sellers are here to stay. Theoretically, at least, they add stability and reduce volatility because they can be "buyers" when others dare not (reducing sudden dips down), and "sellers" when everyone else is stampeding to buy, which helps to cap sharp swings up. The academic research largely supports the proposition that short selling is a net positive for the market – and that's why ASIC allows it in Australia.
Of course, short selling is selling something that you don't already own. A short seller profits from a falling price – selling at a higher price first, and then buying back at a lower price. It is the exact opposite of normal trading.
To short sell a stock, something that you do not own, you need to be able to "borrow" the stock to settle the transaction and effect delivery on the ASX. This is where the major fund managers and large superannuation funds come in – they lend the stock to the short sellers. In return, the short seller secures the loan by giving the super fund cash. When the short seller closes the position on the ASX by buying the stock back, he/she returns the stock to the super fund and gets their cash back. The super fund gets paid for lending the stock by taking a fee.
Not all super funds lend stock – but many do, so if you don't like short selling, join a campaign to tell the super funds to stop. They will argue that they are boosting the returns for their members.
But let's move on from the debate about whether short selling is good or bad and look at what we can learn from their actions. Firstly, it is useful to reflect on the "types" of short selling.
Broadly, there are four "types". The first type is just a simple outright short sale – "company ABC is a dog of a company" – so the short seller sells ABC. Secondly, the relative short sale. This involves being "long" one company from an industry sector, and being "short" another company in the same sector. Essentially, the short seller is saying that company A will do better than company B. Examples could be to buy Woolworths and sell Coles; buy Fortescue and sell Rio; buy QBE and sell IAG; or buy CBA and sell ANZ etc. By being long one stock and short the other, the short seller is not taking market or industry risk, just relative performance risk.
The third type is a sector position, where companies from a particular industry or sector are sold because the short seller thinks that there are significant headwinds, or that they are over-hyped and over-priced. A recent example related to discretionary retailers, which were targeted by short sellers when Amazon announced that it would be launching in Australia and many feared that local retailers would be wiped out. As it turned out, the short sellers got this spectacularly wrong. More recent examples have been banks, lithium miners and rare earth producers.
The final type, which some argue is "good" short selling, relates to market makers and other professionals hedging derivative positions such as exchange traded options and warrants, or catering for settlement mismatches. Occasionally, a short seller may arbitrage the futures markets, resulting in widespread short sales of physical stocks.
Short sellers are required to report details of positions opened to ASIC, who then collate the data and publish a daily report. The sellers aren't required to report the reason for taking the position out, so in reviewing the data, what we look for are unusual positions and how they are changing. This is further complicated by the reality that most stocks have some level of open short positions, so again, we need to be careful in rushing to judgement.
Listed below is the table of the twenty most shorted stocks on the ASX. Tasmanian salmon and prawn farmer, Tassal Group (TGR) , which has been hit hard by Covid-19 and the collapse of export sales, is the most shorted stock. 27.5 million shares out of a total share base of 211.3m shares are short sold, or 13.03%.
Travel group Webjet (WEB) is a close second, with 41.0m or 12.11% of its total share base short sold.
In contrast, healthcare leader CSL came in 375th place with 0.9m shares short sold (0.19% of its base). Commonwealth Bank is in 246th place at 0.64%.
Twenty Most Shorted Stocks – as of 3 March 2021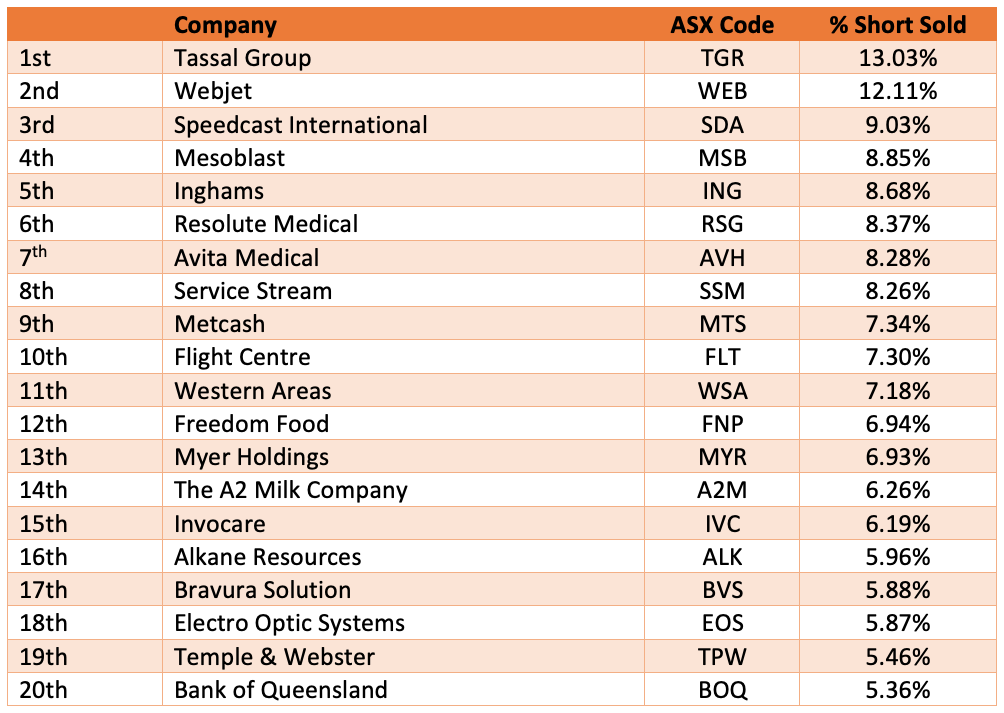 What can we learn from the short sellers?
Here are some current observations:
The short sellers don't quite buy the hype about "recovery stocks" (or see them as being fully priced), particularly as it relates to travel. Webjet is the second most shorted stock, while Flight Centre (FLT) is in 10th place at 7.30%,
For several years, the short sellers have been down on some of the major retailers. Metcash (MTS) in 9th place and Myer (MYR) in 13th place are the obvious candidates. But there are still reasonable positions in Temple & Webster (TPW) in 19th pace, JB Hi-Fi (JBH) n 23rd place and Super Retail (SUL) in 31st place;
Old "favourites" such as Inghams (ING), Western Areas (WSA) and Invocare (IVC) still feature prominently on the list. To this group, you can add A2 Milk which is in 14th place;
Mesoblast (MSB) punters should be wary of the short selling interest in the stock;
Regional banks are largely on the outer. Bank of Queensland (BOQ) is in 20th place with 5.36% of shares sold short, while Bendigo (BEN) is in 29th place at 4.59%. There are no material short positions in the major banks. ANZ at 1.12% is ranked 170th, CBA at 0.63% is ranked 246th, NAB at 1.16% is ranked 166th and Westpac at 1.09% is ranked 174th.
The short sellers don't always get it right. But they are investment professionals, so you would expect them to get it right more often than they get it wrong. Knowing how they are positioned can be an important data input into investment decisions.