Plumbing and heating supplies group Reliance Worldwide (RWC) is the latest company to announce an upbeat earnings surprise. It follows companies such as JB Hi-Fi, Super Retail Group, Michael Hill, Premier Investments, Bapcor, Nick Scali and Accent Group issuing buoyant sales and earnings updates.
Late January is known as the "confession season", a time when companies tell the market and broker analysts that their earnings forecasts are wrong (in other words, the company is going to underperform or outperform). Once audited, detailed financial results will be announced during the company reporting season in February, but by mid to late January, the headline numbers are in. Under the continuous disclosure rules, Boards are required to advise the market whenever they are aware of something that could be materially price sensitive – and financial data outside market expectation qualifies.
Normally, "misses" outnumber "beats" because bad news weighs heavier in the mind of most directors. However, 2021 has been quite an exception, with a string of upbeat announcements and almost an absence of "misses". This is a very positive sign for the company reporting season ahead, and bodes well for across the board profit growth (and higher share prices).
As Covid-19 restrictions are easing, the Australian economy is booming and company profits are soaring. This is particularly the case for consumer facing companies such as discretionary retailers. Australia's major miners are winners on the back of improving commodity prices, as are the banks who over-provisioned for the effects of Covid-19.
Globally, the IMF is forecasting economic growth to be 5.5% in calendar 2021, up 0.3% since its last forecast in October. It has also reduced its estimate of the contraction in global economic growth in 2020 to just 3.5%, 0.9% better than its October estimate. At a macro level, when you add in the impact of ultra-low interest rates and ongoing government stimulus programs, it is not hard to see why global equites markets are at all-time highs.
With Reliance Worldwide, on sales growth of 17% in constant currency terms, it said that it expected EBITDA in the range of $164m to $167m for the half year. This is an increase of 30% compared to the December 2019 half.
Sales growth in Reliance's key market, the USA, which is responsible for about 55% of sales, was up 22% on a constant currency basis. This was driven by demand from the repair and remodel sectors, with growth in retail and hardware channels. Reliance's SharkBite and Speedfit plumbing fittings brands, the former made of brass and the latter plastic, give it the number one position in the USA in push to connect plumbing fittings.
In the UK and Europe, sales were up 11% in constant currency terms with a strong recovery following the relaxation by the UK Government of Covid-19 restrictions at the start of the period. In Reliance's smallest market, Australia, which is more dependent on new home construction, sales were up 8%.
Then privately owned by Jonathan Munz and family, who had built the business up from a small Australian focussed operation in the mid 1980s to be a global player, Reliance listed on the ASX in April 2016 following an IPO at $2.50 per share. It traded all the way up to hit a high of over $6.00 in mid 2018, before a progressive selldown of the 30% holding the Munz family had retained, plus concerns over the company's $1.22 bn acquisition of the UK based John Guest plumbing supplies business, took their toll. A disappointing trading update in February 2020 and the impacts of Covid-19 saw the shares plunge below $2.00 last March, before recovering to sit around $4.10. Yesterday, the shares rose by $0.27 to close at $4.37, up 6.6% on the day.
Reliance Worldwide (RWC) – April 16 to Jan 21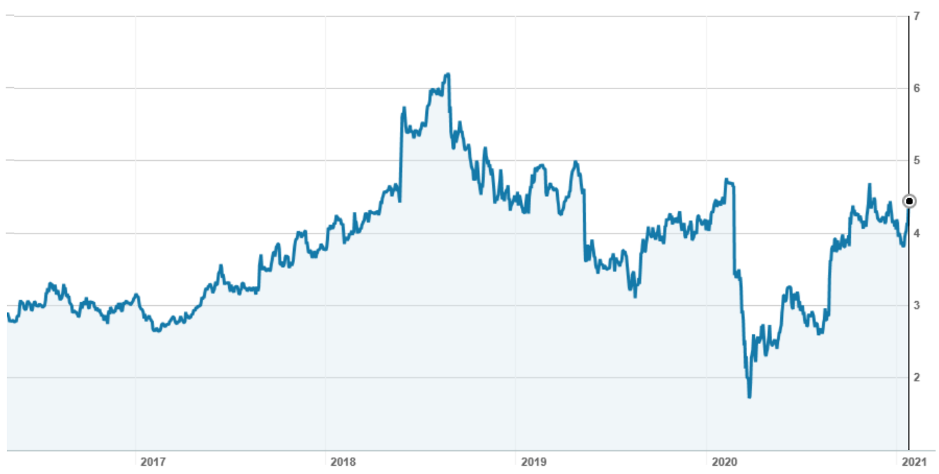 Before yesterday's surprise update, the major brokers were reasonably positive on the stock with 3 buy recommendations, 2 neutral recommendations and 1 sell recommendation. The consensus target price according to FN Arena was $4.31, with Morgan Stanley the low at $3.70 and Credit Suisse the high at $4.75. The major headwinds were the impact of an appreciating Australian dollar, and the rising cost of key ingredient copper. The ongoing lockdown in the UK was also cited.
Offsetting this was the buoyancy in the US housing market (there is a strong correlation between plumbing repairs and maintenance and home values), and in Australia, an expected surge in new home construction. A strong first quarter sales performance was matched by the performance in the second quarter.
Looking ahead, we are likely to see a small increase in broker target prices. Reliance has cautioned against extrapolating its first half sales performance for the full year due to the uncertainties of Covid-19, and acknowledged that copper cost increases will negatively impact earnings in the second half. Currency translation impacts may also adversely impact reported earnings.
But it is a strong report from a company with market leading positions in particular US, Australian and UK plumbing markets, supported by the tailwind of an ageing stock of homes that will need plumbing repairs and re-fits. The balance sheet is stronger, with debt down and cash generation higher, and cost reduction initiatives have improved margins.
On a forecast price earnings multiple of around 20 times, Reliance is not expensive. It's not cheap, but there is a long term track record to back. For the growth investor.