One of my favourite stocks is accounting software provider Xero (XRO). So much of a favourite that it is my preferred way to play the "IT boom" that is sweeping equity markets. In a recent article in The Switzer Report, I also nominated it in "the best of the best – cornerstone stocks for your portfolio". However, like every stock, there is a price and investors are now asking whether Xero is too expensive?
On Wednesday, Xero closed at $93.69. It has risen 17% since the start of 2020 and over the last 12 months by 50%. Over five years, the stock has more than quintupled in value.
Xero (XRO) – 7/15 to 7/20 (Source: nabtrade)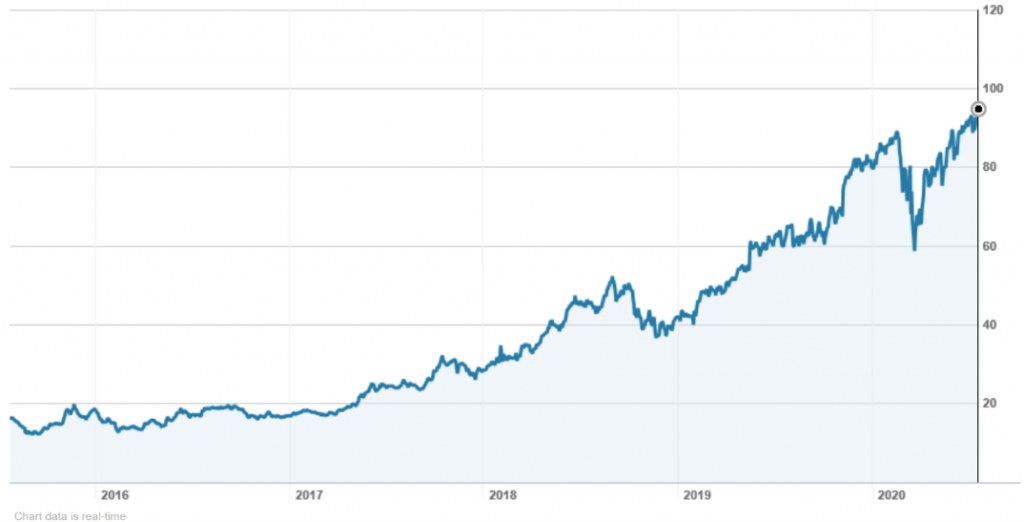 A New Zealand company by origin, Xero is the leader in cloud accounting software in Australasia. Talk to any small business owner or their accountant, the chances are that they will sing the praises of Xero. It went to the cloud first and left established competitors, including MYOB and global player Intuit (QuickBooks), in its wake. With 914,000 subscribers in Australia (up 26% on the previous year), it is now the largest player.
It has also been expanding offshore, with 613,000 subscribers in the UK and 241,000 in North America. Overall, it grew subscribers in FY20 by 467,000 to 2.285m.
In the year to 31 March 2020, revenue grew by 30% (29% in constant currency) to NZ$718.2m, ARPU (average revenue per user per month) was up 2% to NZ$29.93 and EBITDA was NZ$64.6m higher at NZ$137.7m. Somewhat surprisingly for an IT "high flyer", Xero actually made a profit, recording a maiden contribution NZ$4.8m.
The things I like about Xero are that its core product, accounting software, is incredibly sticky – typically accountants (and their clients) do not like change and churn is relatively low. It is cloud based which makes the business very scalable. You might be forgiven for thinking that this wouldn't be much of a competitive advantage in 2020, yet remarkably, 80% of the accounting software in English speaking markets outside Australasia doesn't sit in the cloud.
Finally, Xero has a great history of innovation and it is using this to drive its small business platform. This is the provision of services in addition to accounting such as bill paying, e-invoicing, access to capital, data leveraging applications etc. Ultimately, Xero is trying to build an eco-system around the accounting software that allows it to grow ARPU.
Xero's challenge is to keep growing customers and revenue, and as it saturates the Australasian market, it has to head offshore. Because it is "priced for perfection", expectations are high, so metrics such as LTV (lifetime customer value) and CAC (cost of acquisition), and the ratio LTV/CAC, become pretty critical (what is the value of a customer, and how much will it cost to acquire). Another key metric is the ARPU – and again, the trend is critical.
If you are a fast growing company, you have to keep growing. The growth doesn't have to be profitable in the short term, but it does have to be profitable in the long term, so this is why it comes back to key metrics such as the LTV/CAC ratio. The net contribution or margin also needs to be heading in the right direction.
So far, Xero is ticking all the boxes on these fronts.
The broker analysts, who have in the main been big supporters of Xero, have been struggling to keep up with the recent share price appreciation. According to FNArena, there are 2 buy recommendations, 2 neutral recommendations and 2 sell recommendations. The consensus target price is $73.92, some 21.1% below Wednesday's closing ASX price. UBS is the lowest with a target price of $58.50, while Credit Suisse is the most bullish at $88.00. All brokers like the company, but are worried about the pandemic impacting Xero's ability to drive business platform income in Australasia and in international markets, subscriber growth.
Using conventional metrics (price to earnings), the brokers have Xero trading on an "eye-watering" 377 times forecast FY21 earnings and only 191 times forecast FY22 earnings! Putting these to one side (because the market has abandoned PE as a metric for IT growth companies), on a multiple of enterprise value to revenue, Xero is trading at 22.2 times.
Compared to the likes of Amazon at 5.3 times or Netflix at 10.1 times, Xero is expensive. However, compared to Atlassian at 27.3 times or Afterpay at 91.5 times, you can make a case that Xero is not so bad.
But a key difference is growth rates. Afterpay grew last year at more than 100%, Xero at 30% and Amazon around 18%.
So, where does this leave Xero? My two bob's worth – great company, great business but currently too expensive. Market dips are the opportunity.