Magellan Financial Group (MFG) has been a fabulous Aussie success story. From a standing start, the high conviction funds management company now manages $113bn of retail and institutional monies. Founder Hamish Douglas and his former partner Chris Mackay have become regulars in the Australian Financial Review's 'Rich List', making it into the exclusive billionaires' club in 2019.
But times have changed and Magellan shares have copped a beating. In fact, they are down almost 40% this year, closing yesterday at $32.44. From their peak in late 2019, they are down around 60% and are traversing the Covid-19 crash low of March 2020.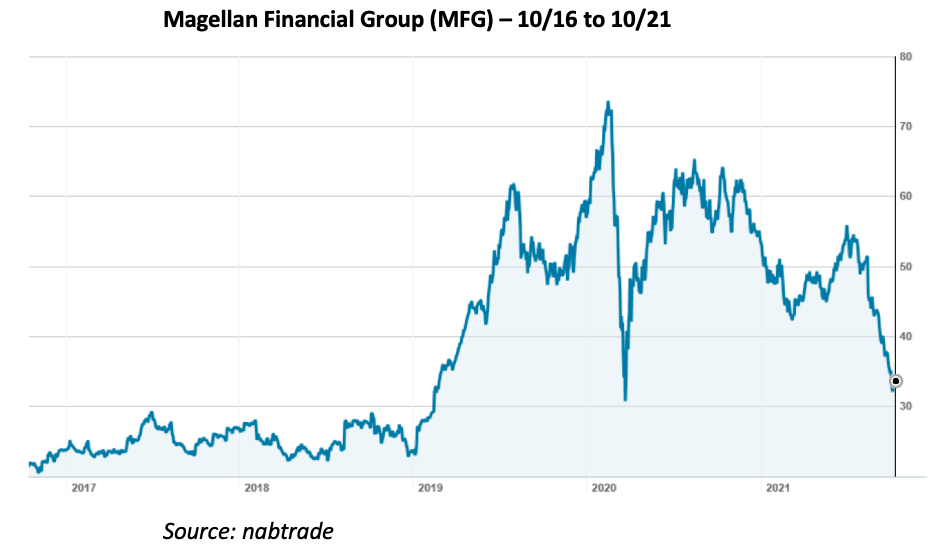 Magellan Financial Group (MFG) – 10/16 to 10/21
Source: nabtrade
The main reason for the fall has been waning investment performance. After several years at the top of the investment management performance league table, Magellan missed the big rally after the coronavirus crash (being too bearish), made some bad calls on the Asian tech giants, and missed the major move into cyclicals. If you are a "high conviction" manager with a portfolio of 20 to 40 stocks, when you get it wrong, you pay the price.
In the 12 months to 30 September, Magellan's flagship Global Equities Fund has underperformed its benchmark index by 20.25%, returning just 7.57% compared to the index's 27.82%. Over every time period out to 7 years, it has underperformed. Magellan is still marginally ahead over 10 years (16.43% pa compared to the benchmark's 16.07% pa, and ahead overall since it started in July 2007).
Underperformance has translated into funds outflow. It is not big, but it is building. In the September quarter, Magellan suffered net outflows of $1,527m on a base of $113bn. While $910m were institutional outflows, $617m came from higher-margin retail clients, as financial planners switched their clients' monies into other higher-performing managers.
The lack of performance has also ruled out the chance of any performance fees.
But there are other reasons for the disquiet about Magellan. Some in the market feel that it has moved away from its knitting by forming a new division called Magellan Capital Partners and making a $103m investment in unlisted fast food chain Guzmen y Gomez (akin to private equity), a $20m investment in FinClear and a $156m investment in new investment bank Barrenjoey Capital. The latter is a rival of the major brokers (UBS, Morgan Stanley, Credit Suisse etc) and has caused quite a stir since opening last September.
The broker analysts, who are managed on an arm's length basis and operate independently from their firm, are relatively neutral on Magellan. According to FN Arena, there are two buy recommendations, two neutral recommendations and two sell recommendations.

The consensus target price is $37.03, about 14.1% higher than yesterday's close of $32.44. But if you remove the outlier, Morgans, who has a target price of $54.85, the consensus drops to $33.45.
Interestingly, the brokers seem a little more upbeat when it comes to Magellan's earnings. They have it trading on a very respectable multiple of 13.5 times FY22 earnings and 13.0 times forecast FY23 earnings. As Magellan has a payout ratio of around 95%, they expect it to pay a dividend that puts Magellan on a yield of 7.1% for both FY22 and FY23. With 75% franking, this takes the grossed up yield to 9.4%.
It is always dangerous to pick bottoms – the old adage "Don't catch a falling knife" survives for good reasons. So, I am not ready to put a "buy" on the stock just yet. However, it is certainly on my watch list and in the right circumstances, I could jump on board.
Further, retail monies tend to be pretty sticky and while outflows are concerning, it is by no means a calamity for Magellan. Considering its long term investment track record, Hamish Douglas and his portfolio managers deserve to be backed and will not struggle to find backers. One thing I do know – yield hunters are going to find that 7.1% yield very tempting. This isn't a mining company that depends on volatile commodity prices – revenues for Magellan are relatively predictable.
For your watchlist.