CSL, Australia's leading and best healthcare company, has a habit of surprising on the upside. Yesterday, it did it again when it reported profit for the full year (in constant currency terms) of US$2,307m. This was ahead of its own guidance in the range from US$2,170m to US$2,265m, and expectations from most broker analysts.
Shareholders are used to upside surprises from CSL, and that's one of the reasons that over the long term it has been one of Australia's best performing companies. Those lucky enough to invest in the privatisation in 1993 of what was then known as Commonwealth Serum Laboratories paid an effective $0.77 for each of their shares. Yesterday, the shares were trading at $293.56, representing a return of 38,000% - and that's not counting the dividends.
But over the last 15 months or so, CSL has been an underperformer. Exactly twelve months ago when CSL was announcing its FY20 financial result, the shares were trading at $305.00, and that's with the benchmark S&P/ASX 200 around 6,100. Now they are trading at $293.56, notwithstanding that the market index is up by 23% to around 7,500.
CSL has been living with the "too expensive" tag. More specifically, the market has been concerned by a high Australian dollar (CSL earns more than 90% of its revenue outside Australia) and the negative impact of Covid-19 on blood plasma collections. Typically, plasma donors tend to be lower paid working class Americans. They are paid to donate, and in times of lockdowns, restrictions on movement and government support payments, are less willing to participate.
The company published the following chart which shows (red line) that the number of donors in July was still down on the same month in 2019 (grey line), but up on 2020 (black line). Overall, CSL's plasma collection volume in FY21 was down 20% on FY20.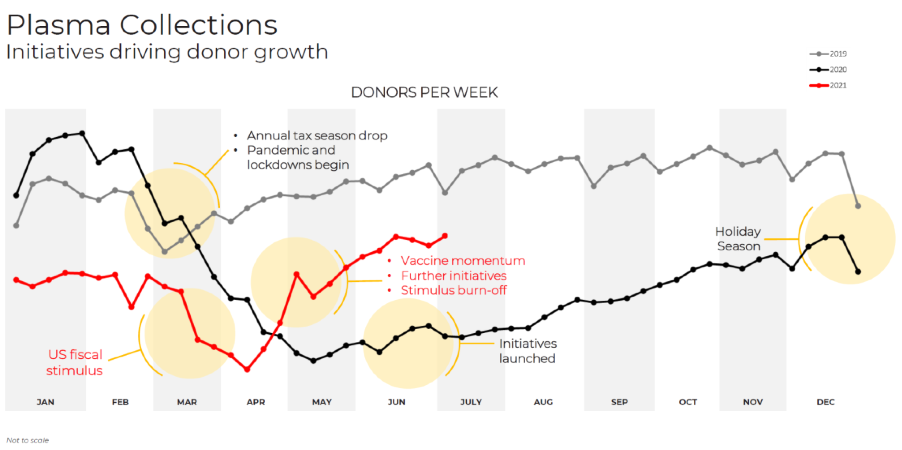 Blood plasma is the key ingredient for many of the products made by CSL's largest division, CSL Behring, and with no shortage of demand for the products and long manufacturing lead times, availability of plasma can have a material impact on revenue. In constant currency terms, revenue by CSL Behring in FY21 rose by 6% to US$8.57bn.
In FY22, CSL expects to open 40 new plasma collection centres compared to the 25 centres opened this year. But despite this, it expects increased blood plasma collection costs to negatively impact CSL Behring's gross margin.
And this led to the surprise for some market participants – for the first time in memory, CSL guided to negative profit growth. On the back of revenue growth of 2% to 5% in constant currency terms, CSL expects FY22 NPAT to be in the range of US$2,150m to US$2,250m. On a midpoint of US$2,200m, this is a fall on FY21 of 4.6%.
The low single digit group revenue growth can partly be explained by the success in FY21 of CSL's influenza business, Seqirus, which was a huge beneficiary from Covid-19 due to a surge in demand for the influenza vaccine. Revenue from season influenza vaccines rose by 41%.
But that all said, a fall in profit is hard to swallow for a company trading on a PE (price earnings) multiple of 44 times earnings.
What do the major brokers say?
Going into the result, the major brokers were largely neutral on the stock. According to FNArena, there were 2 'buy' recommendations and 5 'neutral' recommendations, with a consensus target price of $301.44. The range was tight, from a low of $271.00 by Morgan Stanley through to a high of $330.00 from UBS.
Wednesday's result beat expectations for FY21, but the forecast for FY22 came in just short of consensus. There was some good news about what CSL is doing to drive blood plasma collections, but the fact that collections are still below 2019 levels and that the virus appears to be spreading in the USA is unlikely to alleviate this concern. Overall, I don't expect material revisions to broker target prices.
What do I say?
On CSL's guided midpoint of NPAT of US$2,200m, CSL is trading on a prospective multiple of 44.0 times earnings. This is a heady number, even for a stock of the calibre of CSL. In the USA, Yardeni Research says that the average forward multiple for a S&P 500 company in the 'Life Sciences and Tools' sub-sector is 32.6 times. In Australia, other global leaders such as Resmed and Cochlear are trading on prospective multiples of 44.3 and 55.0 times respectively.
I am encouraged by CEO Paul Perreault's description of FY22 as a 'transitional year', saying: "We see FY22 as a transitional year as we continue to invest and deliver against our long term strategy."
CSL remains a core portfolio stock – a company I want to hold for the long term. It is rare for an Australian company to be the global leader, and I can't argue with its track record of "upside surprises". While I don't think this result will do much for its share price in the short term, if the market dips, CSL will be right up there on my watchlist of stocks to top up with.