CSL's strong result demonstrates yet again why it is Australia's best company. Despite the challenges of COVID-19 and currency headwinds of US$144m, CSL reported a net profit of US$2,103m for the year ending 30 June. This was marginally below its guidance range, but adjusting for movements in the currency, represented profit growth of 17%. Revenue was 9% higher.
Since peaking at $342.75 in mid-February and being somewhat of a market 'star' as the pandemic hit and the share market plunged, CSL has been under pressure. It has gone backwards as the market has soared. On 23 March when the S&P/ASX 200 sank to a post Covid-19 low just above 4600, CSL closed at $282.24. On Tuesday ahead of the profit result and with the S&P/ASX200 just over 6100, CSL closed at $293.29.
CSL in 2020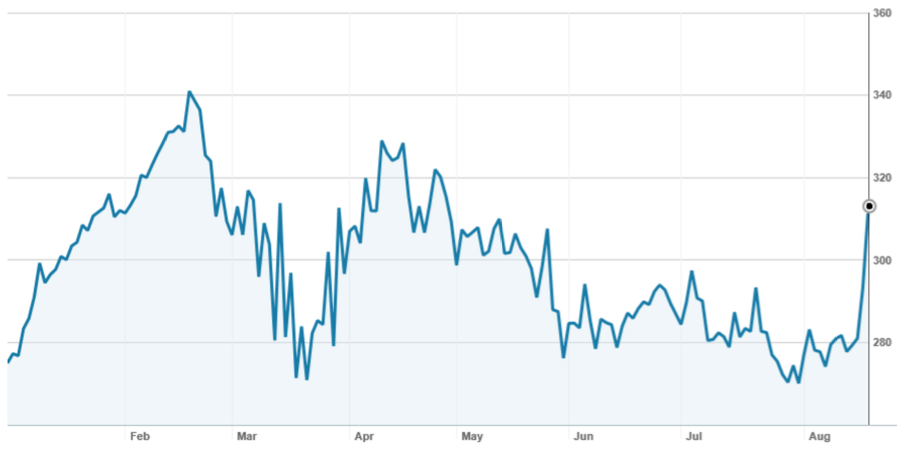 CSL has been out of favour for two main reasons. Firstly, due to a strengthening Aussie dollar and weakening US dollar. As a global company with 90% of earnings outside Australia, this translates to reduced earnings when measured in Australian dollars. The other concern has been the impact of COVID-19 on the collection of blood plasma in respect of both volume and the cost to collect.
Of CSL's 277 blood plasma collection centres, 261 are located in the USA. Collection centres tend to be located in less affluent urban areas where donors are paid and give blood on a regular basis. These areas have been some of the hardest hit by the virus and ensuing lockdowns and the market feared that this would lead to a material disruption in supply.
However, CSL's mitigating actions, which included getting the centres designated as 'essential critical infrastructure', changes to inventory control and implementing a number of measures to protect staff and donors, seemed to have worked quite well, with collection volumes only down 5% on FY19. This was less than the market feared.
Looking ahead, CSL has guided to revenue growth of 6% to 10% in FY21, and profit (in constant currency) of US$2,100m to US$2,265m. At the lower end of the range, this is zero profit growth – at the top end, growth of 7.7%. This was not as strong as expected, but there are some special circumstances and upsides.
On research & development, CSL expects to increase spending by more than US$100m in FY21 to over US$1.0bn. This is in response to the COVID-19 opportunity and to support new growth initiatives. With COVID-19, it is involved in collaborations on vaccines with the University of Queensland and others (which has led to a partnership to accelerate the development, manufacture and distribution of vaccine). It is also investing in four treatment options involving hyperimmunes (one in an alliance with Takeda) and others involving  monoclonal antibodies.
It is bullish on the demand for plasma and recombinant products, and expects COVID-19 to drive strong demand for influenza vaccines heading into the northern hemisphere autumn/winter season. While there will be additional plasma collection costs, it has multiple initiatives underway to mitigate the impact, including opening another 20 to 30 new collection centres in FY21.
So while on the surface FY21 looks a touch underwhelming, it is due to higher R&D costs (which are expensed) and higher costs in collecting plasma. The latter should prove to be temporary, while the R&D could result in a material revenue upside.
CSL's shares rose by 6.4% on Wednesday to close at $312.05. Adjusting for currency, the 2020 result was better than expected, while 2021 sets the company up for an even better 2022. That's why the shares surged.
Over the decades, CSL has a history of surprising on the upside and it did it again yesterday. For shareholders, it has been an absolute bonanza. Those lucking enough to invest in the privatisation of what was then known as the Commonwealth Serum Laboratories in 1993 paid an effective $0.77 for their shares. Yesterday, at $312.05, this translated to a gain of 40,523% - and that's ignoring the dividends that have been received.
CSL is recognised by many as Australia's best company and yesterday's result only acted to cement this position. If it is not a core stock in your portfolio, it should be.