Spare a thought for Australia's newest tech billionaires, Anthony Eisen and Nicholas Molnar. The founders of the leading buy now, pay later company Afterpay have been accused of "running for the exit" because they had the temerity to sell 10% of their shares at the same time as Afterpay was raising $800m in new capital.
The Australian Financial Review led the charge, accusing them of "dumping stock", pointing out that they had "pattern of behaviour" when it came to selling stocks after a strong surge in the share price. It also compared Eisen and Molnar to Warren Buffet and Macquarie Bank's Nicholas Moore, noting that they had never sold shares in their companies whilst on the payroll. The other daily of note, The Australian, was a little more measured, but still headlined its comment piece "It's founders keepers for buy now, pay later stars". Cartoonist Spooner had a crack, with Molnar and Eisen waving goodbye to Afterpay's expansion into the Canadian market saying; "Have a great trip…we'll just wait here till you get back".
Sure, it is never a good look to be taking money off the table at the same time as you have your hands out asking for more. But if your personal wealth was tied up in the roller-coaster of the sharemarket, wouldn't you feel like cashing a few chips in?
Have a look at the graph below. In February, Afterpay's share price peaked at $41.14. By 23 March, at the height of the pandemic panic, it had plunged by 81% to just $8.01. On Monday, just ahead of the capital raising, the shares closed at $68.00. In the space of five months, Eisen and Molnar have each seen their personal wealth in Afterpay fall from $840m in February to just $164m in March, and now rise to almost $1.4 bn.
Afterpay (APT) in 2020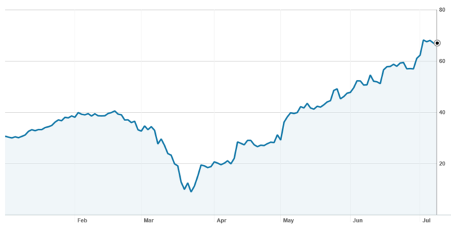 And the disclosure of the sale, which came at the same time as the raising was announced, didn't seem to have any impact on the institutional investors who strongly supported the raising. They could not get enough Afterpay shares, paying $66.00 for the new shares which was well above the underwritten floor price of $61.75 and a paltry discount of 2.9% to the closing price. Normally, capital raisings of this size are conducted at a discount in the range of 5% to 12% to the last traded price.
Rumoured to be supporting the raising and increasing its share was tech giant Tencent, the world's largest video game company and operator of WeChat, effectively making it the Chinese equivalent of Facebook. Tencent announced on 1 May that it had purchased 5% of the shares in Afterpay.
Eisen and Molnar will each retain 18.4m shares in Afterpay, making them the company's largest single shareholders with holdings of 7.0%. They say they remain "supportive and committed investors" and have undertaken not to sell any further shares until after the Company's AGM in November.
Each has $1.2 billion worth of reasons to be really committed to Afterpay. Sounds like a case of "sour grapes" from the journalists' union.
Where to now for Afterpay?
It is adding a staggering 20,500 customers per day and will shortly top 10 million. The USA now accounts for 5.6 million of these customers. For the year just completed, underlying sales grew by 112% to $11.1bn, active customers grew by 116% and active merchants by 72%. A turnover marker of $20bn that the company was targeting by FY22 could be in reach next financial year.
Afterpay is set to launch its Canadian business in the September quarter, while in the USA, it will shortly be available "in-store" with some key merchant partners. Afterpay is also exploring other markets and has flagged possible acquisitions to help accelerate expansion offshore.
The company says that it is now profitable on an EBITDA basis and will report earnings of around $20m to $25m for FY20. But a real profit, which includes items such as depreciation, amortisation and share based payments expense, is still some way away.
On the metrics that are used to value fast growing tech companies (typically a multiple of enterprise value to gross income or enterprise value to gross profit), Afterpay is among the most expensive companies in the world. Based on preliminary full year FY20 numbers, these ratios are 37.0 times and 50.0 times respectively.
But the faster the growth rate, the higher the multiple, and there aren't too many companies growing around "triple figures". While growth will inevitably slow and competition put pressure on the margin Afterpay charges its merchants (its source of revenue), it does help to explain why the market has placed such a premium price on Afterpay.
The broker analysts have been upgrading their price targets. According to FNArena, the six major brokers now have a consensus price target of $55.09 on the stock, 16.5% lower than last night's closing price of $66.00. UBS, who has warned that Afterpay has a capital-intensive business model, is the most bearish with a target price of $27.00. Macquarie is the most bullish with a target of $70.00, while Morgans raised their target to $68.58.
Judging by the institutional response to the capital raising, dips are going to be bought. The market is not about to give up on Afterpay, notwithstanding the noise about the founders' share sell down. It doesn't see it as "running for the exit".