The ASX200 closed nearly 1% higher on Thursday, ending the day at 7592 points. The week's strong performance leaves the ASX within a whisker of its 12 month high, set back in August 2021 during reporting season. Investors have shrugged off concerns about higher inflation, higher interest rates and higher oil prices, which are likely to dampen consumer demand and put pressure on company earnings.
Australian Quarterly CPI figures are due out next week – nab's economists are anticipating a quarterly trimmed mean of 1.7% and an annual rate of 3.4%, well above the RBA's target band and a likely catalyst for interest rates to rise from their current historical low. Despite this, investors continue to find opportunities – trading volumes remain steady in a traditionally quiet period over the Easter break.
ASX200 (XJO) over twelve months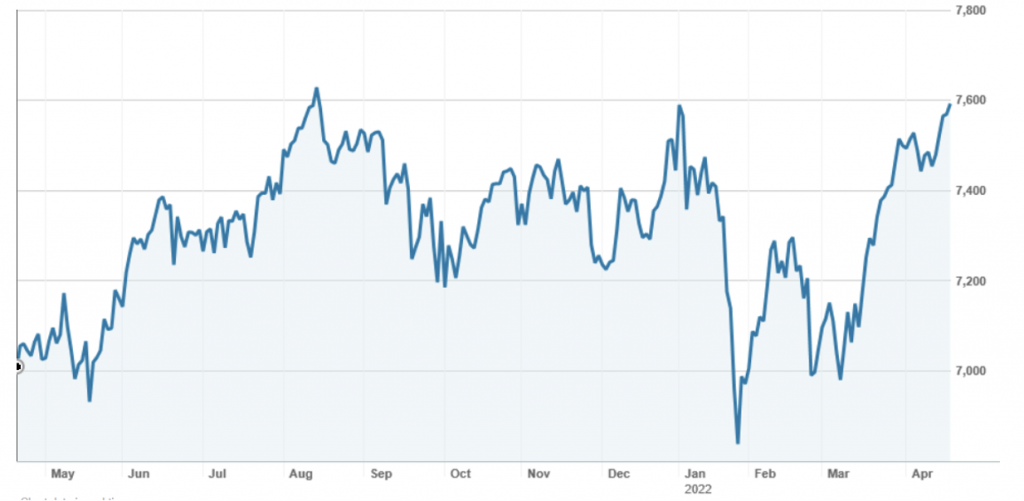 The materials sector has weighed on the benchmark over the last five days, falling over 2%. Despite this, the sector is up nearly 12% year to date, so investors have been making hay. BHP (BHP) fell 3% on Thursday, attracting the interest of many who had recently been trimming as the share price rose. Fortescue Metals Group (FMG), despite having a much smaller market capitalisation, remains the big fish in the pond for traders, seeing enormous volumes of relatively mixed trades. In the mid $21 range, FMG is off its recent highs but more than 50% higher than its late 2021 lows, so traders have done extremely well. The iron price remains above $US150 a tonne, continuing to defy expectations that it would fall to its long run average of around $60. Rio Tinto (RIO) has also traded on strong volumes, but without a clear trend.
Financials also continue to attract attention, with Macquarie Group (MQG) sold heavily above $210. Despite remaining below its 52-week high of $217, investors have done well out of Macquarie's recent run; the share price is up 8% in a month. Bank of Queensland (BOQ) has been heavily bought after a disappointing result saw the share price fall below $8 last week. The share price remains above the 52-week low reached in early March, but investors latched onto a favourable broker report from Goldman Sachs to validate their hopes of a better year ahead.
Bank of Queensland (BOQ) shares over twelve months

At the other end of the performance curve, nab (NAB) and Westpac (WBC) shares are performing strongly after a period of underperformance. Nabtrade holders are locking in profits in large volumes. Westpac shares are still down over twelve months, while nab is up more than 25%. Commonwealth Bank (CBA) shares are closing in on their record high of $110, currently trading around $108, which is clearly making investors nervous; they are also trimming.
On international markets, the big news during the week was the contraction in Netflix's (NFLX.US) subscriber numbers, which it partly blamed on password sharing between households, and its withdrawal from Russia. The stock fell over 35%; nabtraders were enthusiastic buyers, albeit with relatively small trade sizes. Two single sells in Alphabet (GOOG.US) offset more than all the buys in Netflix.
Netflix (NFLX.US) share price over twelve months