The ASX200 continues to trade sideways, closing up 0.38% to 7407 points on Thursday. Trading volumes remain subdued as markets fail to break out of their range, with the exception of Tuesday, nabtrade's annual Charity Trading Day, when nab's online broking business donated 100% of brokerage to charity. This year we – and our customers – supported Unicef's Give the World a Shot campaign, bringing Covid-19 vaccines, treatment and supplies to communities in need, as well as the ASX/Refinitiv Foundation, raising $274,500 on the day. Thank you so much to those of you who found reason to trade – and to give the world a shot – on the day.
Inflation fears continue to weigh on international markets, despite – or perhaps motivated by - Joe Biden's reappointment of current Fed Chair Jerome Powell for a subsequent term, balanced against continuing strong data out of the US. Domestic data also continues to look strong, with payroll jobs now above pre-pandemic levels and Nab's Online Retail Sales Index up 21% YoY (albeit slowing).
After a brief slip during bank reporting season, Fortescue Metals Group (FMG) has returned to the top of the nabtrade trading data, with enormous volumes being traded this week. The iron ore price has rallied from its recent lows and closed above $US100 a tonne on Wednesday night on reports of an improved outlook for the Chinese property sector, increased infrastructure spending and a more dovish stance from China's central bank. Fortescue has soared from recent lows of $13.90 to close at $17.88 on Thursday and saw some trimming from investors banking recent gains. BHP (BHP) has also seen heavy volumes as it climbs off recent lows, mostly mixed. Short sellers are currently targeting BHP ahead of its delisting from the London Stock Exchange.
FMG shares over 12 months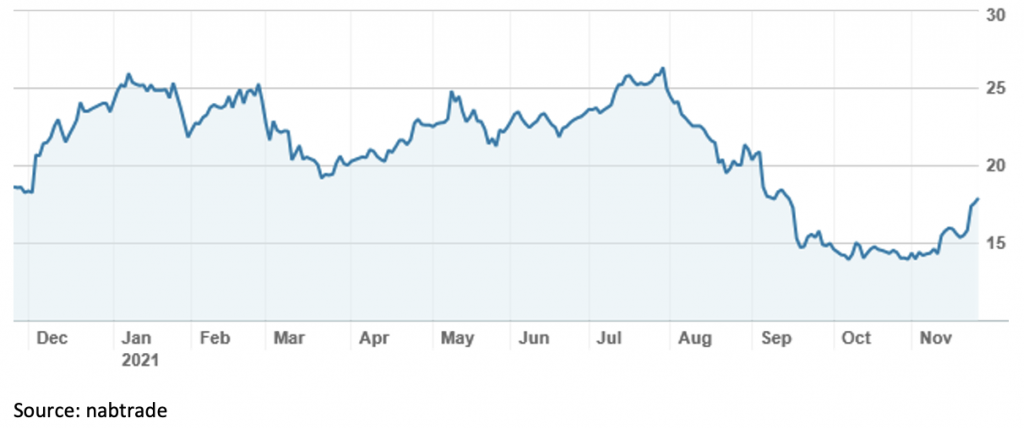 Of the banks, Commonwealth Bank of Australia (CBA) and Westpac Banking Corporation (WBC) remain relatively strong buys, albeit with less conviction than in recent weeks when they tumbled. Each has fallen more than 10% following market updates; Westpac was trading above $26 prior to its annual results on 1 November, while CBA touched $110 before its quarterly update which pointed to a significant deterioration in net interest margin despite growth in market share across all major segments. Westpac closed at $21.63 on Thursday, while CBA closed at $95.77. nab (NAB) and ANZ (ANZ) shares have held up well in comparison, and have seen lower volumes as a result.
Payments provider EML Payments (EML) had a stellar day on Thursday after a benign response from the Central Bank of Ireland to concerns about the company's PFS Cards Services (Ireland), allowing it to continue to sign new customers and launch new programmes while staying within 'material growth restrictions'. The EML share price closed up over 30% on the news, although it should be noted that it is down 1% over twelve months and at $3.61 is well of its 52-week high of $5.89. Nabtrade holders were enthusiastic sellers. Other sells include Telstra (TLS), which is consistently sold above $4, and CSL (CSL) which is closing in on its 52-week high (although well off its pre-Covid high of about $350).
On international markets, Tesla (TSLA.US) remains the most traded stock by number of individual trades, but solar energy company Enphase Energy (ENPH.US) is traded in significantly higher values overall. Local investors may know Enphase as the maker of micro inverters for solar panels, including many on Australian roofs; Enphase stock has had a stunning run recently and is attracting attention from those wishing to benefit from the rise of renewable energy stocks and the broader decarbonisation theme. Green hydrogen company Plug Power (PLUG.US) is also finding buyers of this trend.
Enphase Energy (ENPH.US) over twelve months