The ASX200 has lost nearly 6% over the last five trading days and is now down 7% over four weeks.
Globally, investors hoping for a reprieve when US inflation prints were delivered on Wednesday night were further disappointed, when both core and headline quarterly numbers were higher than expected. The S&P500 has now lost more than 15% year to date, and the Nasdaq is off more than 25%, as Fed and other central banks are forced to raise rates to fight persistent inflation and prevent the economy from (further) overheating. The broad-based weakness has resulted in high volumes on nabtrade, with consistent buying in exchange traded funds, primarily ASX200 (VAS).
No sector of the market has escaped the sell-off this week, with the ASX heatmap a sea of red. Materials have been punished as China's pursuit of zero Covid has resulted in widespread lockdowns, affecting demand for Australia's key commodities and pushing down prices.
ASX200 heatmap over five days to 12 May 2022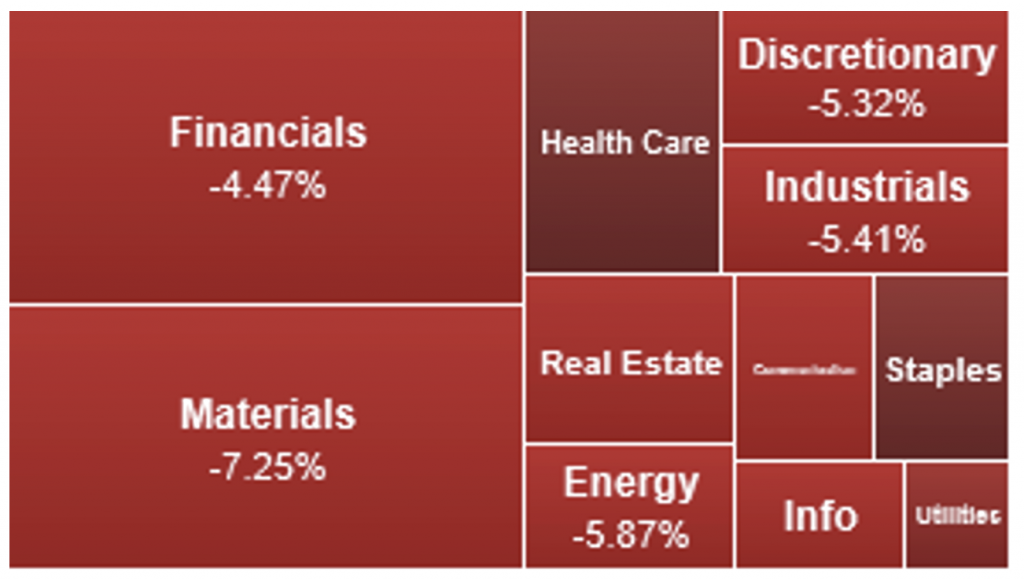 BHP (BHP) shares are down 13% over a month and are trading back at about $45, attracting many investors who were trimming their positions when the share price touched $53 a few weeks ago. Fortescue Metals Group (FMG) remains the high-value trader's favourite, with more buy orders than sells, but mixed trading by value. Rio Tinto (RIO) has somewhat fallen out of favour, with key lithium stocks regularly featuring higher on the most bought table. Core Lithium (CXO) remains a favourite, along with Sayona Mining (SYA), Liontown Resources (LTR) and Pilbara Minerals (PLS). Rather incredibly, Liontown is now among nabtrade's 20 most held stocks.
Liontown Resources (LTR) shares over twelve months
Three of the big four banks have recently reported half-yearly results, and Commonwealth Bank (CBA) gave a quarterly update on Thursday. Increasing interest rates should allow the banks to improve their net interest margins which have been crushed as rates have fallen close to zero; record low rates and a resurgent economy have however helped the banks keep bad and doubtful debts at extremely low levels. Westpac (WBC) remains the favourite among nabtrade investors, having been the most popular buy of the big four for nearly 18 months, however, its recent pop has seen considerable trimming. More popular recently has been Macquarie Group (MQG), a high conviction stock that enthusiasts will buy in a pullback. At less than $180, there have been plenty of enthusiasts for Macquarie this week; the stock was closing in on $220 in January.
Macquarie Group (MQG) shares over twelve months

The tech selloff prompted by rising rates has not been confined to the US; local tech stocks have also suffered. Former darling Xero (XRO) fell nearly 12% on Thursday after reporting a loss of $NZ9.1m, following a profit of nearly $20m in the prior year. Xero tends not to attract a large number of buyers at nabtrade but the bargain hunters feel it may have been oversold and were picking up stock on Thursday. Xero shares are down 45% year to date.
Xero (XRO) shares over twelve months

On international markets, the ongoing volatility is not attracting buyers from nabtrade. One investor was sufficiently confident to pick up a large value of Moderna (MRNA.US) stock; despite the company's success in bringing a Covid19 vaccine to market, the stock is down 50% year to date and has lost 75% of its value since its peak in 2021.
Moderna (MRNA.US) shares over twelve months