The reality that central banks may be unable to curb inflation and avoid recession struck home last week as nervous investors sent stock markets into a downward spiral.
In the US the Dow Jones Industrial Average and S&P 500 fell 0.9% and 0.73% respectively on Friday following a data release of wholesale prices that was higher than expected.
This week the US Federal Reserve is expected to increase interest rates by 0.50%, lower than the past three consecutive 0.75% increases, but still a burden for businesses and families struggling with the rising cost of living.
The US will also release latest Consumer Price Index numbers on Tuesday. The outlook it indicates for inflation will likely impact sentiment for the remainder of the trading year, but it is becoming clear central banks still have considerable work to do to tame inflation across the globe.
A bright spot for markets was the sudden reversal of zero-COVID-19 policies in China last week, increasing expectations the economic behemoth will increase its economic activity. However, the latest wave of COVID-19 infections is on the rise in key cities like Beijing, and it is yet to be determined just how quickly spending patterns may normalise and whether Chinese firms will experience severe labour shortages as employees call in sick.
Optimism over China's reopening sent European markets higher on Friday, but it was insufficient for US markets to override fears on inflation.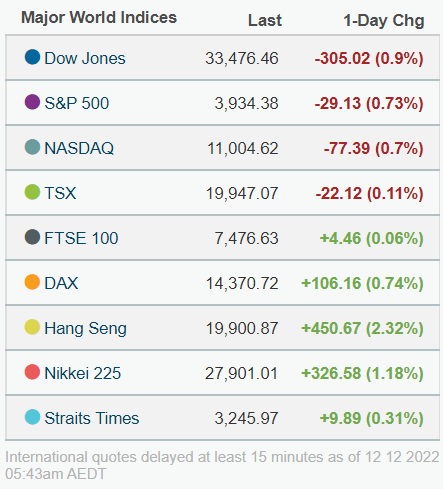 Source: nabtrade
Locally, there is no Reserve Bank meeting this month to set the tone on interest rates, so local markets will take the lead on inflation expectations from the US.
On Friday the S&P/ASX200 broke a three-day losing streak and notched up a 0.53% gain to 7213.20 points. However, over the week the index closed 1.21% lower.
Energy, financials and information and technology stocks were hit the hardest.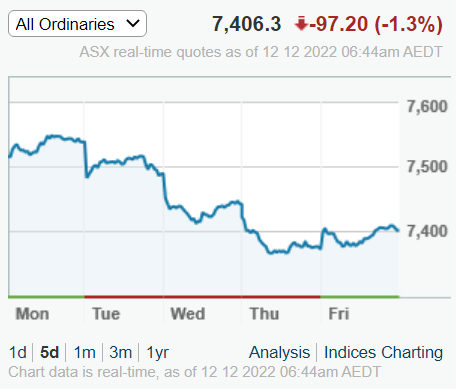 Source: nabtrade
Also, during the week lithium producer Pilbara Minerals (PLS) joined the S&P/ASX Top 50 index, while international property and infrastructure group, Lend Lease Corporation (LLC), was removed.
The share price of Lend Lease has collapsed 31.43% year-to-date. It hit an intra-year high of $12.25 in May but closed on Friday at $7.33.
It is not such a bearish picture in the materials space, despite growing expectations of a widespread global recession. Mining giant BHP Group (BHP) hit an intra-year low of S35.24 in September but closed on Friday at $47.48. Fellow miner Rio Tinto (RIO) followed a similar trajectory over the same period from a low of $84.74 to Friday's close of $117.16. The previously mentioned Pilbara Minerals was down at $2.00 mid-year and in November hit an intra-year high of $5.52. It closed Friday at $4.47.
The rise of the lithium stocks is a well told story, but it's been strength in the iron ore price and expectations of stronger Chinese consumption that have driven the global miners.
Source: nabtrade
In financials, the big banks are clawing their way back since lows hit mid-year but still have a way to go to reach intra-year highs achieved back in March-April. National Australia Bank (NAB) closed Friday up 7c to $30.19, while Westpac Banking Corp was up 15c to $23.44 and Australia and New Zealand Banking Group (ANZ) up 5c to $23.64.
In consumer stables, Woolworths (WOW) closed Friday up 14c to $34.45 but is down 10.45% year-to-date, while Wesfarmers (WES) closed Friday 7c lower at $47.92 and is down 20.16% year-to-date.
The market this morning is expected to open lower based on the ASX SPI 200 Futures trading down 35 points (-0.48%) to 7183.00 points.
Analysis as at 12/12/2022. This information has been provided by WealthHub Securities Limited ABN 83 089 718 249 AFSL No. 230704 (WealthHub Securities). WealthHub Securities is a Market Participant under the ASIC Market Integrity Rules and a wholly owned subsidiary of National Australia Bank Limited ABN 12 004 044 937 AFSL No. 230686 (NAB). Whilst all reasonable care has been taken by WealthHub Securities in reviewing this material, this content does not represent the view or opinions of WealthHub Securities. Any statements as to past performance do not represent future performance. Any advice contained in the Information has been prepared by WealthHub Securities without taking into account your objectives, financial situation or needs. Before acting on any such advice, we recommend that you consider whether it is appropriate for your circumstances.