Australian economic data remained strong last week with employment up another 50,000 and new home sales nearly doubling in December, pointing to a strong rebound in housing construction and consumer sentiment and business conditions, despite the mini coronavirus scare over Christmas/New Year. The continuing rebound in employment is particularly impressive. Nearly 90% of jobs and hours worked that were lost into May have now been recovered, making for a very Deep V rebound. This compares to only 56% of US payroll jobs that have been recovered.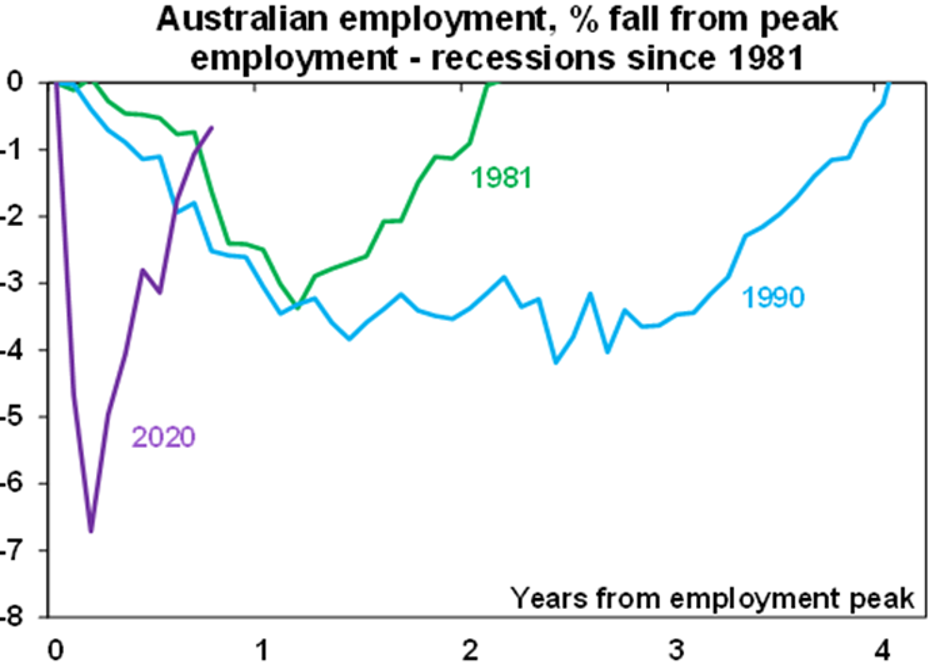 While retail sales fell 4.2% in December, this partly reflected payback after strong Black Friday sales and covid restrictions in NSW and Victoria in late December. Despite the pull-back, retail sales remain way above trend with real retail sales up around 1.9% in the December quarter and on track to contribute to December quarter GDP growth. Expect some slowing in retail sales this year though as pent up demand is exhausted and spending on services gradually recovers.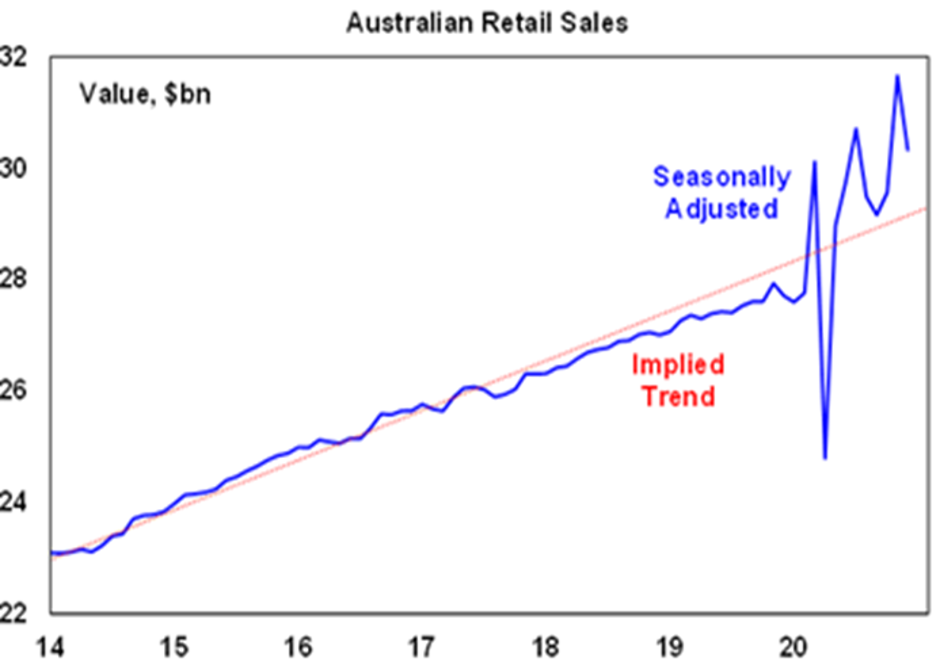 Will the continuing run of mostly strong Australian data shift the RBA from dovish to hawkish? Eventually – but it's still a bit too early for that. While the jobs market has improved faster than expected, we are still a long way from full employment, jobs growth is likely to slow a bit in the months ahead with some jobs (eg, travel related) taking longer to return and some (eg, in parts of retail) likely to never return again, the end of JobKeeper in late March will create a bit of apprehension (not that I expect much impact), coronavirus still has the potential to create upsets in the short term with uncertainty remaining how effective vaccines will be, the strong $A is maintaining pressure on the RBA to extend QE and a shift to hawkishness now would be inconsistent with the RBA's commitment to focus on the achievement of actual inflation sustainably at target. So we expect RBA Governor Lowe's speech on The Year Ahead on 3rdFebruary to welcome the good data seen lately but stay the course with a dovish bias. Given the passing of time the RBA may, however, drop the expectation to not raise the cash rate for at least three years and perhaps replace it with a reference to say a "before 2023."
Click here to subscribe to the Switzer TV channel on YouTube and keep up to date with all of our shows.