Here are 7 reasons why shares have broken higher recently – with US shares reaching a new record, Eurozone shares rising well above pre-Covid levels and getting close to breaking above tech boom highs, Japanese shares around their highest since the early 1990s, and Australian shares at their highest since February last year. The break higher has been driven by a combination of things:
1. Evidence that vaccines are working.
2. Optimism about reopening now or in the months ahead.
3. Extra US stimulus.
4. Mostly good economic data.
5. Ongoing earnings upgrades.
6. A pause in the rebound in bond yields; and central banks remaining patient and dovish with the Fed and RBA focussed on meeting outcomes for their goals as opposed to forecasts for them to be met.
7. European shares have already outperformed the tech heavy US share market this year and notwithstanding vaccination delays the Australian share market may be starting to play catch up with the pre-Easter Brisbane coronavirus lockdown scare quickly resolved, earnings forecasts continuing to be revised up with earnings growth this financial year now expected to be 37% (compared to +21% in mid-January) and the RBA remaining very dovish. Bond tantrums are likely to return - with higher-than-expected US and Chinese producer price inflation over the last week reminding that higher inflation is on the way in the months ahead - and coronavirus scares could still cause volatility but the rising bull market trend in shares remains on track. Our ASX 200 forecast for year-end remains 7200 but the risk is that this is exceeded.
The global recovery is continuing to gather momentum with the IMF revising up again its 2021 global growth forecast to 6%, with 2022 revised up to 4.4%. Most countries/regions saw an upgrade although the US was a standout. While the recovery is uneven across countries and sectors with vaccine access being a clear short-term issue, the global recovery is a positive for share markets for now which benefit from rising earnings and still low interest rates. Things will eventually become "so good that they are bad" – once underemployed labour and capital are used up but that's still some way off yet.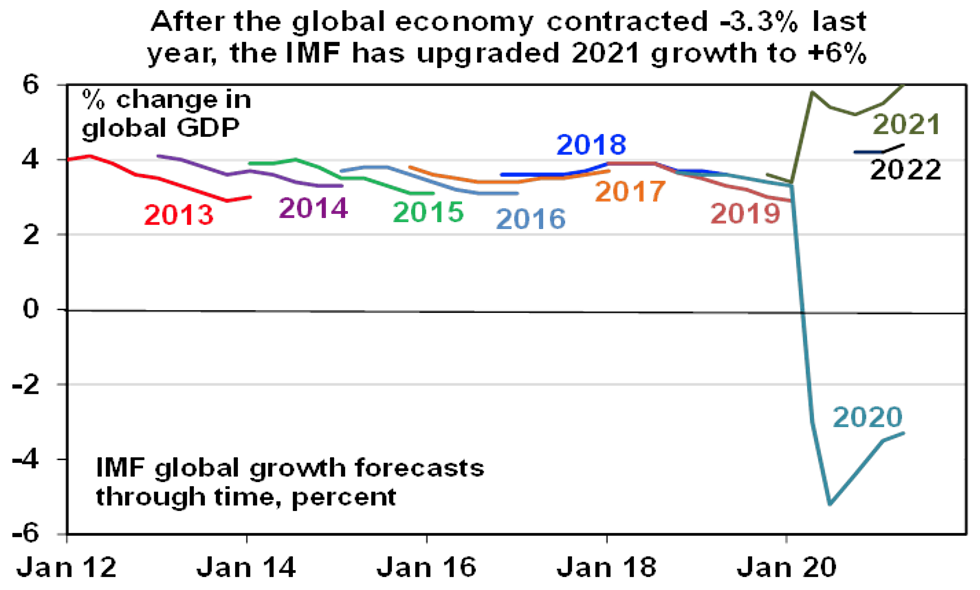 Covid update
New coronavirus cases globally continued to rise over the last week with a slowing in Europe and Brazil being more than offset by increases in other emerging countries notably India but also in Japan and Canada. US new cases are relatively stable and well down from their highs, but deaths continue to fall. While the US is rapidly vaccinating (with production schedules indicating it will be awash in vaccines by the September quarter) it still has several months to go to reach herd immunity so new Covid upswings there still can't be ruled out as distancing is relaxed in the interim.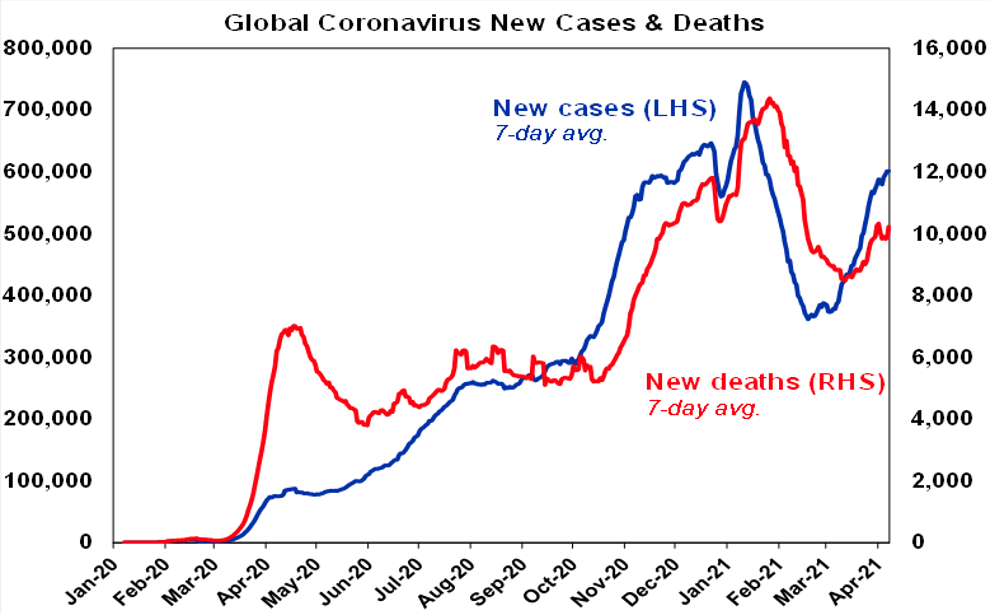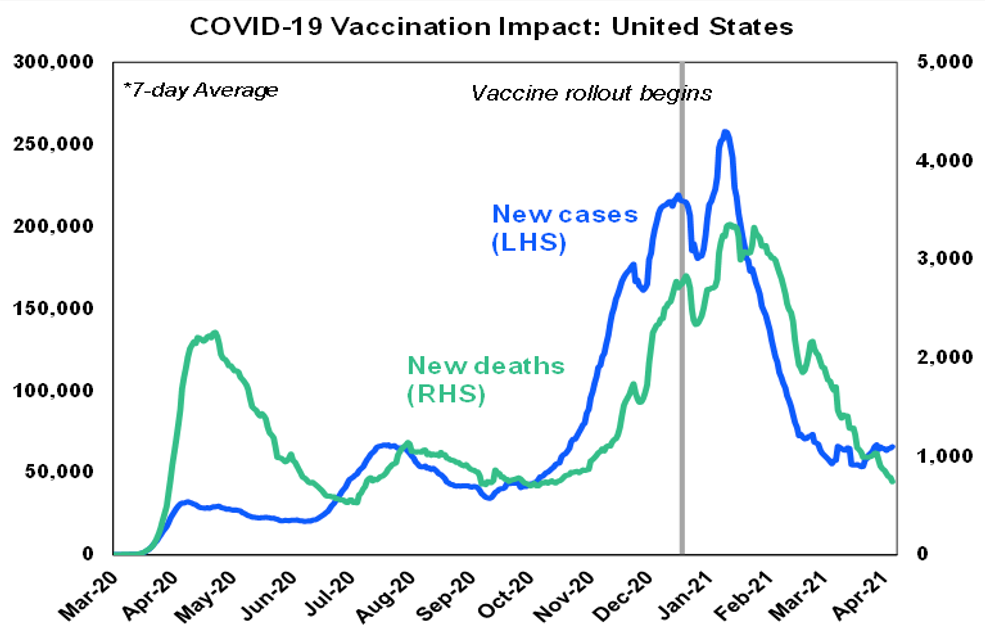 New coronavirus cases in Australia remain very low with the snap lockdown in Brisbane succeeding in snuffing out new local cases.
Vaccine rollout
Vaccine rollout continues with all the evidence indicating that they are highly effective, but the rollout remains very uneven across countries and rare blood clotting has become more of an issue with the AstraZeneca vaccine for under 50s. Around 5% of the global population has now received one dose of vaccine but this masks a huge divergence between developed countries at around 33% and emerging countries at around 4%. Within developed countries the UK is leading the charge at nearly 50% and the US is at 34% (and running at over 3 million a day) with Australia well behind at around 4%. Interestingly Israel seems to have stalled at 58% and the UK could be as well possibly reflecting less people showing up for vaccines – which could become an issue as they are well below herd immunity (which is probably 70% or more) which in turn will increase the odds of "vaccine passports" being introduced. While the clotting risk with the Astra Zeneca vaccine is seen as very low (at around 4 per million), various countries have imposed age restrictions or recommendations on its use and Australia has announced that the Pfizer vaccine is preferred for under 50-year-olds.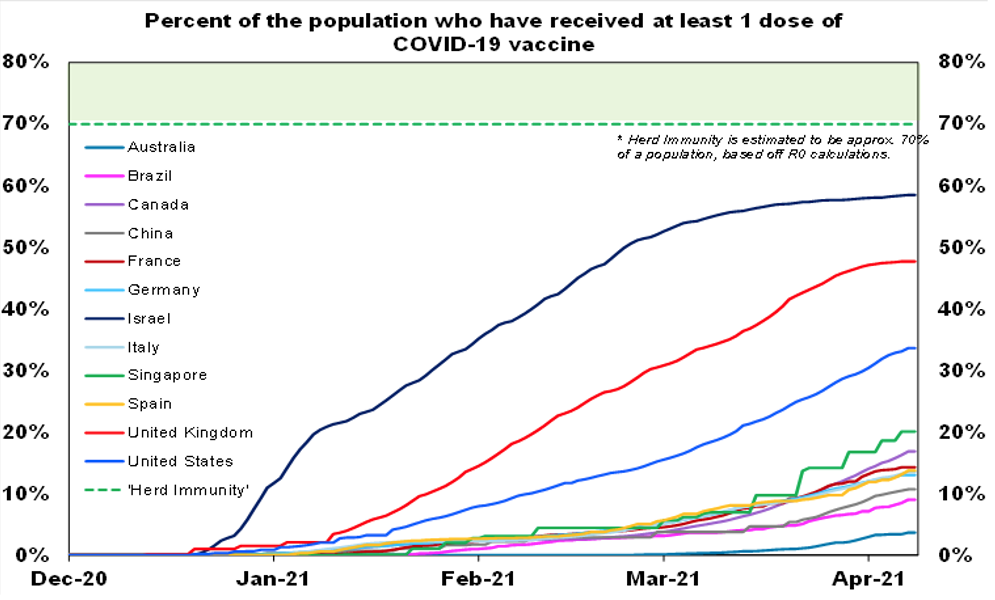 A switch away from AstraZeneca to other vaccines, along with the risk that the clotting issue leads to reduced public confidence in the vaccines generally risks slowing progress towards herd immunity but it's probably not enough to threaten the economic recovery. There are several other effective vaccines, production is ramping up and "vaccine passports" could be used to encourage the achievement of sufficient vaccination rates. The move away from the AstraZeneca vaccine in Australia will further slow the vaccine rollout in Australia, particularly given the heavy reliance on it which in turn poses a downside risk to Australia's economic recovery but overall, we see the risk as small and not enough to justify any changes to economic forecasts. First, production of the other vaccines is ramping up with the US and UK looking to be heading towards oversupply in the third quarter, so once it's time for under 50-year-olds to get vaccinated in Australia (after front line and at-risk people are vaccinated) there is likely to be plenty of the other vaccines available. Second, most of Australia has already reopened and has minimal restrictions. Third, there is negligible coronavirus infection in the Australian population. Finally, the vaccination delay is unlikely to impact the timing of the opening of international borders which we had assumed was at least a year away anyway (and don't forget that international tourism is actually a net negative for Australia). While a further delay in vaccine rollout in Australia risks more local coronavirus outbreaks from the hotel quarantine system particularly as winter approaches this risk should be minimised by vaccinating all quarantine workers and returning Australians, and Australia has been successfully containing outbreaks with snap lockdowns anyway. So, while all these vaccines issues are a concern, they are unlikely to be enough to derail the recovery which is why share markets don't seem too fussed.
Aussie/Kiwi travel bubble
The Australia/New Zealand travel bubble is good news for the travel industry and those looking to travel between the two countries (assuming plans aren't disrupted again by more snap lockdowns) but it's unlikely to change the economic outlook for Australia. Don't forget that pre covid Australia ran a trade deficit in tourism as we lost more from Australians travelling overseas than we gained from foreigners coming here.
Economic activity tracker
Our Australian Economic Activity Tracker fell slightly over last week and was probably impacted by the snap Brisbane lockdown, but it remains strong. Our US Economic Activity Tracker was little changed and remains down on a year ago and our European tracker softened a bit not helped by ongoing lockdowns.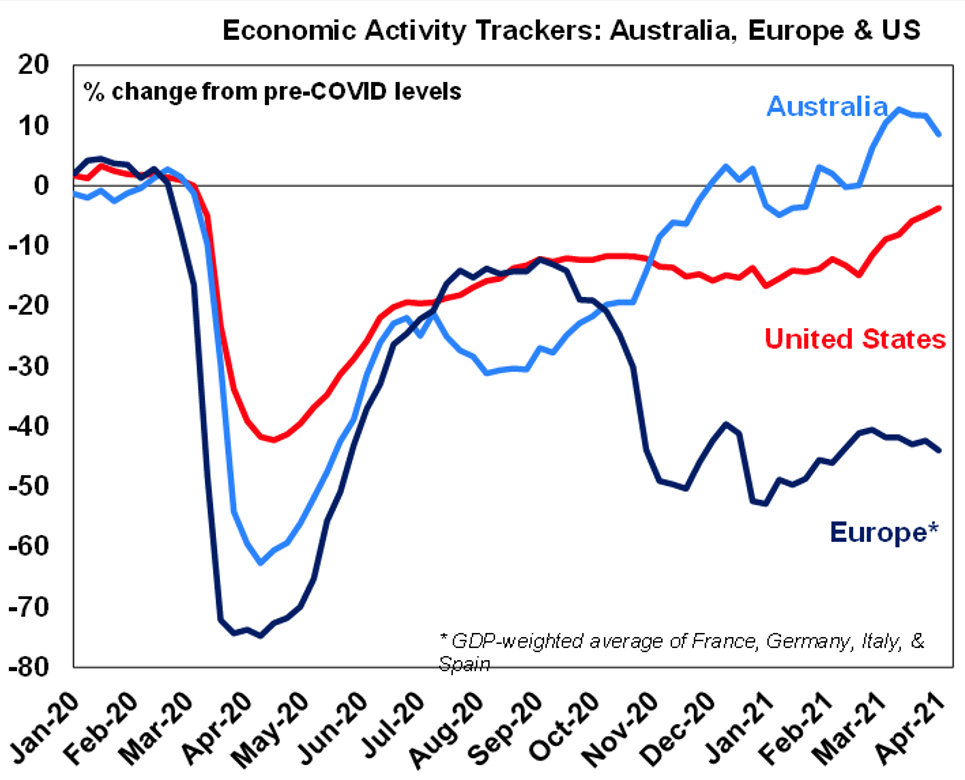 Back in the mid-1970s when glam rock was big the Ted Mulry Gang had a bunch of hits like Jump In My Car and Darktown Strutters Ball. Only years later did I discover that Ted Mulry used to do ballads back in the early 70s including Falling in Love Again which was written by the classic Australian song writing team of Harry Vanda and George Young.