Six months ago, Wall Street was tipped to be afraid of the idea of a President Joe Biden, but in the 11 weeks since he won the November 3 election, the S&P 500 index, which measures the stock price performance of the USA's top 500 companies, was up a spectacular 12.76%!
Meanwhile in what you might call an anti-Donald Trump media outlet, CNN actually has a leading story today with the headline, "Trump is handing Biden a booming stock market."
S&P 500

And despite the fact that this Biden Democrat administration will be higher taxing and very pro-green in its climate policies, it will be a big spending government. And bigger than Donald Trump would've been, which is why Wall Street is giving Joe a big thumbs up, for now.
Joe is coming with a $US1.9 trillion Covid-19 relief plan that will produce more economic growth for the USA and the world.
As an exporter nation, this is good for us but there is a negative for our exporters. When the US government goes mad with money, spending like there's no tomorrow, pushing its budget deficit into the stratosphere, the greenback falls and our dollar rises.
Australian dollar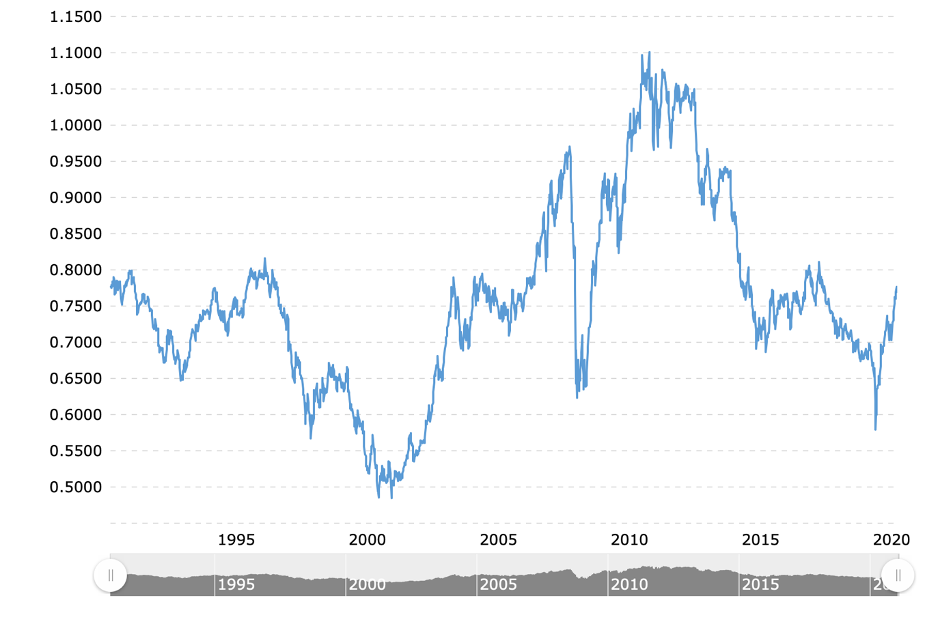 This chart reminds us how the US budget deficit that came out of the GFC, weakened the US dollar and sent our currency soaring. I took my old Sky Business TV show to the States then and an Aussie dollar that was exchanged for 110 US cents made shopping very attractive!
Eventually the Democrats higher tax policy and greater reliance on regulation, compared to Donald Trump's Presidency, won't be welcomed by Wall Street. But for now, the really big issues are to beat the virus with vaccinations and better social distancing policies and putting money into the hands of US consumers and small business.
One intriguing Biden policy play going forward will be how he handles China. The Australian Strategic Policy Institute recently wrote a piece headlined: "Trump talked the talk but Biden may prove tougher on China."
Kurt Campbell, a former Obama team member, has been recruited by Biden to lead his Asian policy moves.
Campbell recently wrote the following: "Although Washington remains bitterly divided on many issues, a rare area of apparent consensus across the political aisle has emerged around the need to pursue a more robust approach when it comes to China" he wrote.
And Biden's incoming national security adviser, Jake Sullivan, recently told CNN "that the incoming American president was in no hurry to roll back the tariffs, but was looking for 'a clear-eyed, leverage-based approach to bring China to the table and get them to alter or amend their most problematic trade practices that harm the American economy'." (ASPI)
It's hard to work out how it will affect us, but there is a feeling that Biden won't wimp it with China, but maybe engage in less public negotiations, rather than the Trump public naming and shaming, might work better to take the heat out of the China-US trade fight that has backfired on us. We are seen by Beijing as the USA's deputy sheriff in South-East Asia and it in-part explains why our coal, wine, barley and lobster producers have been hit with bans and tariffs recently.
Under Joe Biden, I expect the US to grow stronger in 2021 and 2022, which will be good for the world economy and us as exporters. It's why the share price of local company, Woodside Petroleum, in the oil and gas space has seen its share price go from $16.80 in October to $27.40 today.
Woodside (WPL)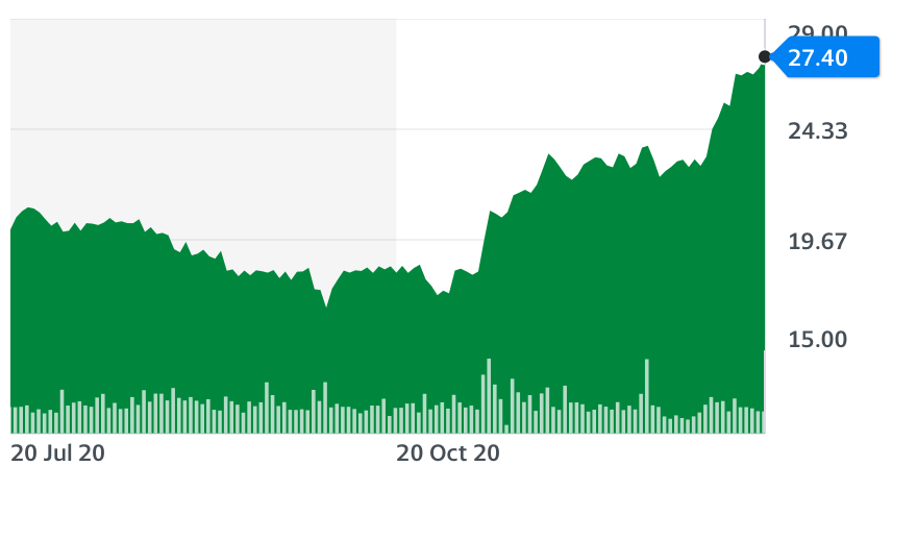 And it's why BHP's share price has spiked recently.
BHP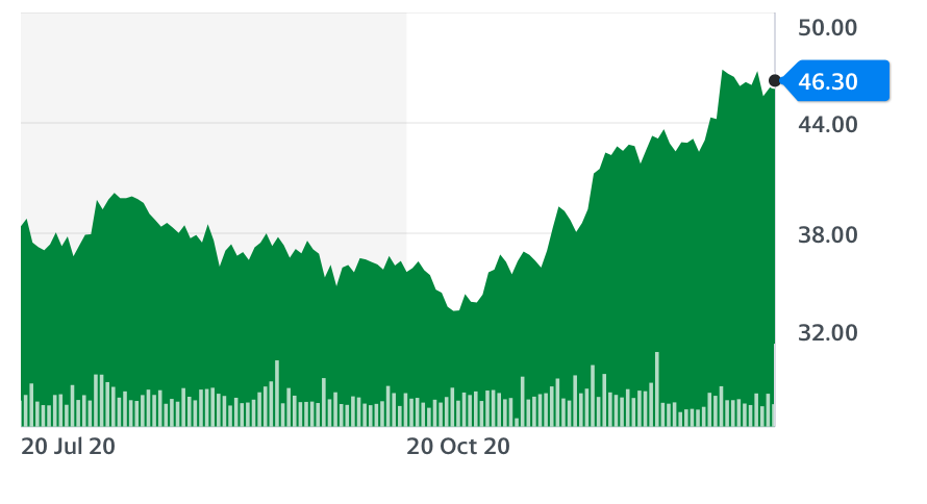 Wall Street loves Biden's spending plans and will be watching what he does with taxes and climate change policies, but the smarties in the market might be hoping that the new President's more 'lefty' views could be tempered by a few months as the number one man at the White House.
A former Democrat President, Bill Clinton, showed that when you're in charge, the need to prioritize what's really important, does lead to new thinking and utterances like this one Bill made famous: "It's the economy, stupid!"
If Biden wants to unify Americans, which is clearly needed (given those attacks on the Capitol in Washington), he'll have to make sure the economy delivers better for more US citizens. If he doesn't, Wall Street could make life very difficult for him and his administration.
I've said it before and I'll repeat this from Winston Churchill: "You can always count on the Americans to do the right thing, after they have tried everything else."
If Biden gets it right, the US economy will surge in 2021 and 2022, stocks will keep rising and our super funds will be delivering us some very good news.