While Melbourne and Adelaide are out on conditional parole, Sydneysiders have four more weeks of incarceration. But what gives with Gladys not wanting to pressure ScoMo and Josh for JobKeeper support?
Paul Keating once advised "never get between a premier and a bucket of money". Well, we know Gladys has shown herself to be a very different Premier, but that was based on her rational approach to the Coronavirus. However, the Delta strain has lowered the boom on our Premier.
It doesn't seem rational that she isn't bellyaching for more federal spending support. In many ways, it's one of the main jobs of a premier to play hardball to get a better deal for their state.
And God knows there are small businesses and employees who could really do with a temporary boost from a rerun of the JobKeeper programme.
Because of the better economic growth that's happened, Josh has more money than he expected a year ago. A large part of that was driven by Gladys's NSW economy, which she kept open, working and growing. Isn't she entitled to payback?
New South Wales has the largest economy in Australia and contributes 30.8% of the national GDP. If Gladys played the lockdown and 'borders are shut' game that other premiers have persisted with, then our GDP would be smaller and unemployment wouldn't be 4.9%. And the Federal Budget Deficit wouldn't be as reduced as it is, compared to expectations.
This time last year, economists were tipping the jobless rate could be 10%. Even the delayed October Budget of last year had a forecasted unemployment rate of 7.3% for the financial year that ended on June 30 this year. Instead it was 4.9%. Even by June 30 next year, it was forecasted to be 6.5%, which now is an 'off with the pixies' guess.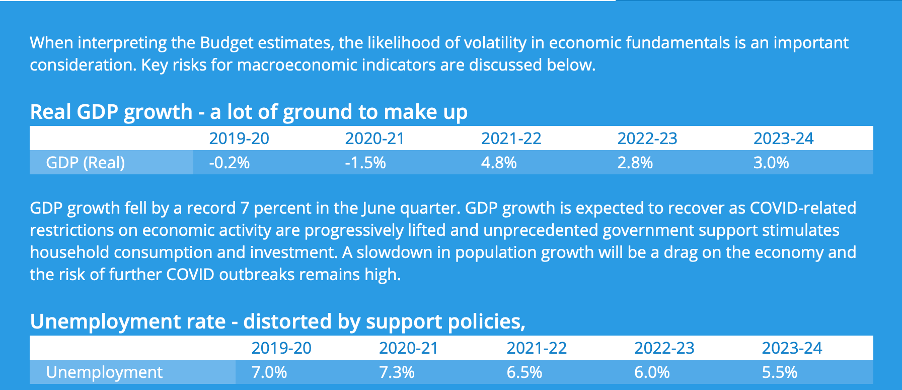 Josh and ScoMo have done a great economic recovery job but Gladys and the NSW economy have been a big help. Western Australia has too, but most of it has come from the unbelievable demand from good old China and its demand for iron ore.
I'm not interested in talking up appreciation for Beijing but I think NSW, as the greatest recipient of infected people who have flown in from overseas (which is at the heart of our current lockdown drama) deserves a bit of Federal help right now.
Afterall, as an economist I know whatever Josh spends on NSW to help us through this extra lockdown will come back in spades when the economic recovery booms, after vaccination rates get to very high levels by Christmas.
Right now, we know there are mad rioters out there who wouldn't vote for Gladys. And then there are rusted on Labor lovers, who are in the opposite camp. But now there are a lot of small business owners doing it tough and their employees or ex-employees would be finding it hard to show voter love to the once gold standard Premier.
I have one bit of advice for the Premier: Get griping Gladys for JobKeeper or you could fail to keep your job!
And she could lose it to a guy nobody knows right now. That would be a pity. By the way, the new Labor leader in NSW is Chris Minns. I bet he's got a spring in his walk this morning.