I don't usually do gossip but when it involves a guy worth about $134 billion splitting with his wife and they have been the founding drivers of a company of Microsoft's significance, it becomes a business story as well. And after all this we might find out how much of this $134 billion is actually his wife's.
And the plot thickens when you learn that the once seemingly forever-couple are now lawyering up and as there was no prenup, you can only think this could get ugly!
For market-caring types, since the news has gone public that Bill and Melinda Gates were divorcing, Microsoft's share price has dropped 3.6%. However it's fair to say that tech stocks have copped it because Treasury Secretary Janet Yellen had a brain explosion and talked about rising interest rates, which are poison for tech/growth stocks in silly places like Wall Street.
Happily for tech stock investors, Janet clearly had copped a stern talking to, probably from the President's advisors if not by Joe himself or by Jerome Powell, who actually is the interest rate controller, being the chairman of the Federal Reserve.
That said, while other tech stocks rose overnight, Microsoft dropped another 0.53%. The chart below shows the slide in the company's share price since the news got out, even before we heard it on Tuesday.
Microsoft (MSFT)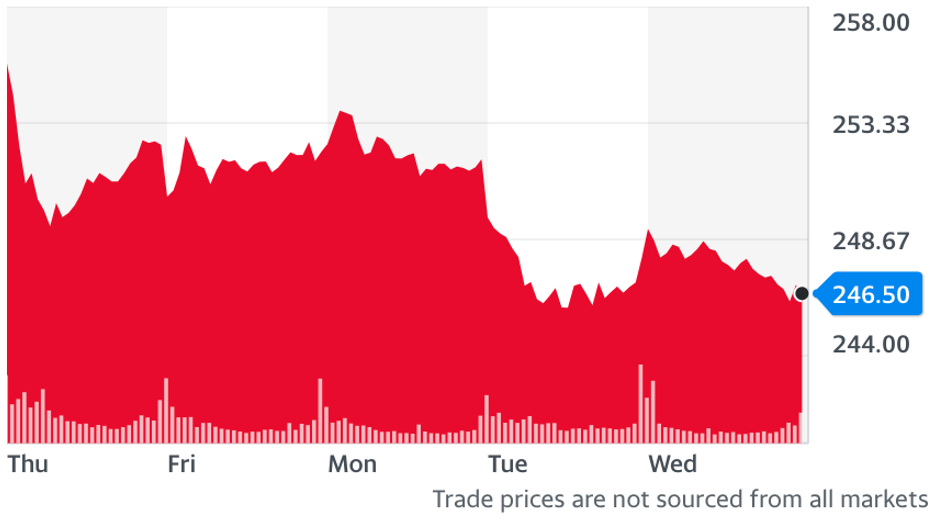 But this could be a stupid reaction because Bill only owns 1.37% of the company. Investopedia says the top shareholders of Microsoft are Satya Nadella, Bradford L. Smith, Jean-Philippe Courtois, Vanguard Group Inc., BlackRock Inc. (BLK), and State Street Corp.
In fact, the arrival of its current CEO Satya Nadella in 2014 coincided with a real turnaround for a company that struggled for a long time after the dotcom bust and GFC.
The chart below shows how its share price did nothing from 2001 to 2013, when Bill had a lot more influence and his Harvard buddy Steve Balmer was CEO, but it took off in 2014. Bill was possibly past his 'use by' date by then or else the current CEO just got lucky. Not!
Microsoft

To be fair, Bill and Steve were one of the first to talk about how the computer world was heading for the cloud, which partly explains why MSFT has seen its share price go nearly vertical since 2014. Steve actually first told me about this when I interviewed him in 2009 at Sydney's old Regent Hotel (now called the Four Seasons) to a room of 500 business and tech people.
But let's get to the juicy gossip bits, if I'm going to have to do gossip.
CNBC says "Bill and Melinda Gates have hired big-name lawyers to represent them in their divorce proceedings, two of which helped negotiate the split of Jeff Bezos and Mackenzie Scott, according to reports." That 2019 split was the most expensive divorce in history! "Scott received US$38 billion, making her the third wealthiest woman in the world. Bezos on the other hand remains the world's richest man,"Jianne Soriano of Tatler tells us.
When Bill broke the news, it looked like an amicable split was on the cards. "We no longer believe we can grow together as a couple in this next phase of our lives," Bill and Melinda Gates wrote in a joint statement. The two said they'd continue to work together at their non-profit Bill and Melinda Gates Foundation.
But getting seriously lawyered up doesn't look good.
Bill is the fourth richest person in the world behind Jeff Bezos (Amazon), Elon Musk (Tesla) and Bernard Arnault (LVMH Moët Hennessy – Louis Vuitton SE).
After jettisoning Bezos out of her life, MacKenzie ended up as the third richest woman in the world with a current net worth of $US53 billion. The richest was Francoise Bettencourt Meyers of L'oreal business fame.
Melinda Gates was not even top 10, with our own Gina Rinehart taking that position. But given those were calculations of mid-2020, with iron ore prices in record high territory, she could be a lot higher on the list.
Interestingly, Bill Gates' poker mate Warren Buffett has an indirect role in this divorce. CNBC says "Ronald Olson of the firm Munger, Tolles & Olson, who is a director at Warren Buffett's investment group Berkshire Hathaway, is also on Gates' legal team."
Business and market-wise I don't think this split will affect Microsoft and its share price. And personally I hope the divorce doesn't get too ugly because Bill and Mel have been two of the biggest and most generous givers of charity the world's ever seen. "In a 2019 blog post, Gates wrote that the two moved $20 billion worth of Microsoft stock to the Foundation, and today, it has more than $51 billion in assets, according to a tax filing," CNBC reported.
Time will tell whether the Gates can end their life partnership with the same calibre they were able to live their life together.
Either way, if you're invested in Microsoft, I wouldn't be too worried about this divorce derailing your share price.