US Democratic candidate Bernie Sanders graced the cover of New York Times magazine this week. The Times released a 'Behind The Cover' video that explained the progression of the cover story and its challenges with timing.
"We sent Dan Winters to photograph Bernie Sanders on Feb. 23, the day after the Nevada caucuses, in which he did quite well. We got about five minutes with him and got a bunch of pictures of the senator smiling, looking happy. And when we first saw the pictures we thought those might be the ones we were going to go with."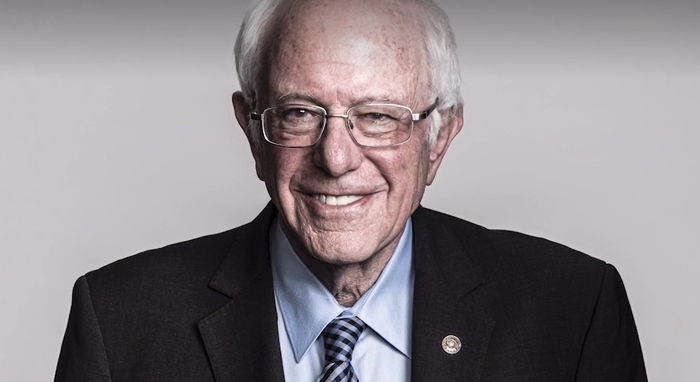 As the video continued, words like "The Radical", graced the cover of the magazine, with a smiling Bernie standing behind the bold white capital font.
The video then continued, with a change of tone.
"But over the course of time, some of the other pictures that Dan got during that shoot started to seem more appropriate. Body language can do so much to create a mood in a picture like this, and so we tried to capture some of the sense of what he might be facing in the cover line."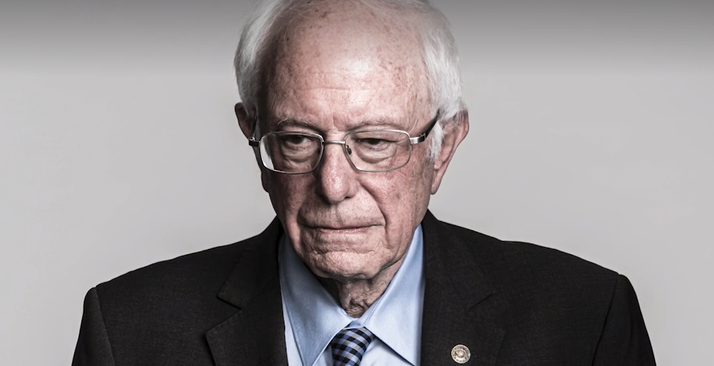 The text in front of Bernie's deflated stance changed to "Bernie Sanders believes America misjudged him. Did he misjudge America?"
Why has Bernie fallen behind?
The final two Democratic candidates that currently stand are Bernie Sanders and Joe Biden. Biden and Sanders are both competing to be named the leader of the Democratic Party that will take on current Republican President Donald Trump in the 2020 Presidential Election on 3 November this year.
On Tuesday 17 March, Joe Biden bumped up his delegate declarations to 1,181, while Bernie Sanders remained in second place with 885.
Since the state delegate elections of Tuesday 17 March, there was a strong prediction that Bernie Sanders would drop out of the candidate race as Biden gained the majority of delegates in Arizona, Florida and Illinois.
Business Insider wrote on March 5 that "if Biden sweeps these states, there will most likely be increasing pressure for Sanders to drop out".
Ahead of the March 17 delegation, House Speaker Nancy Pelosi made a rare comment about Sanders' place in the election.
"In case you were going to ask, no, I don't think Bernie Sanders should get out of the race. I'm a grassroots person. I know the enthusiasm of supporters for candidates, and they want to see it play out," said Pelosi.
When the state delegate count began around 3 February, Bernie Sanders was the front-runner. It seemed his strong fanbase had only grown since 2016, and his endorsements by youth influencers, celebrities and a number of popular democrats including Alexandria Ocasio-Cortez, meant more people were believing in his "radical" views.
So what is it that transitioned Bernie from a favourite to a drop-out?
Experts like associate professor in the Department of Political Science at Tufts University, Eitan Hersh, believes a time of panic, like the one occurring at the moment with the coronavirus, means people will retract to what is safe.
"I think on the Democratic side, there's a lot of Democrats, especially at a time when there's unease about a massive epidemic, there's less uncertainty about what Joe Biden will do…reinstitute the Obama administration, more or less," said Professor Hersh to USA Today.
The table below shows the states that Bernie and Biden secured the dominant votes in. It also integrates dates of major coronavirus associated announcements in the US. In the first 3 rounds, Bernie was strongly in the lead. As the voting went on, and coronavirus was more serious, voters leaned more toward Biden.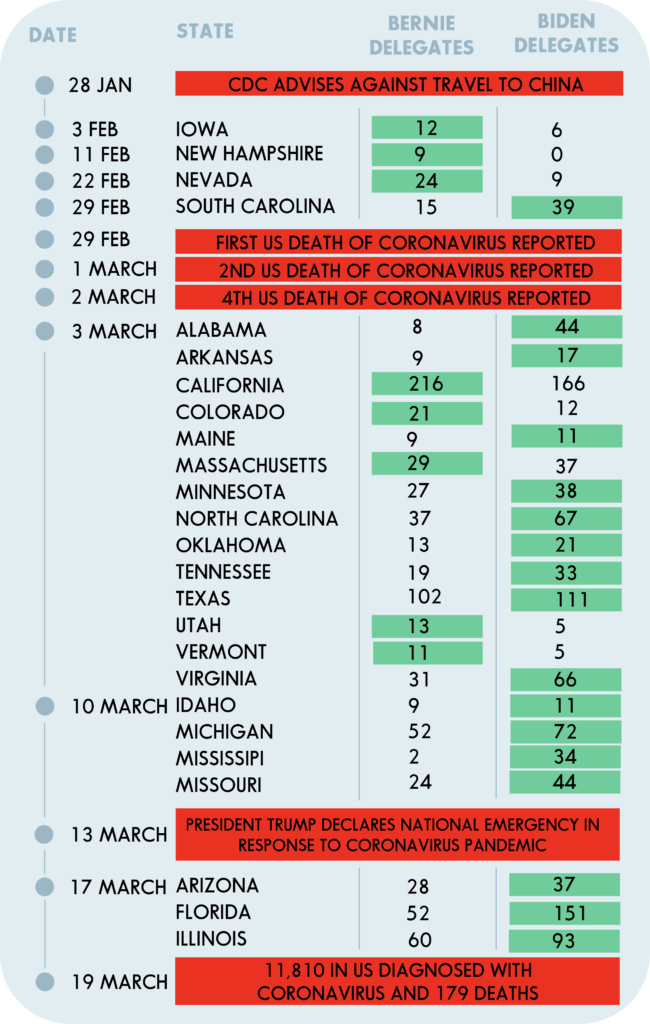 Bernie's "radical" policies are new movements that the US has never seen before. Sanders has an "anti-establishment" style that has remained constant over the years, gaining him a loyal fan-base. Throughout the years, Sanders has gained a younger following due to his policies, which include 'Medicare for All', a $15 minimum wage and tuition-free public college.
Both Sanders and Biden have been in the political sphere for a number of years, with 77-year-old Biden serving as vice president during the Obama administration and adopting many of Obama's political stances, predominantly including healthcare.
78-year-old Sanders has proclaimed himself a "democratic socialist", which lies in a grey area of politics. Ultimately, democratic socialists generally disagree with capitalism and want workers to control the means of production. Though, they do not support communism as they believe there should be a democracy.
Why do millennials love Bernie?
Sanders has also cleverly engaged younger audiences by reaching out to them in a language they understand.
For example, when Senator Sanders decided to sit down and be interviewed by popular rapper, Cardi B. You may know her as the lady who invented her own dialect in the English language that often only she understands, starting with words like "okurrrrr". Throughout this interview, Cardi asked questions that every day people are wondering, and Bernie was able to communicate in a light-hearted and simple manner, that was highly understandable and transparent to younger audiences.
He has also been endorsed by popular young female democrats labelled as "The Squad" by President Trump - Alexandria Ocasio-Cortez, Ilhan Omar and Rashida Tlaib. Democratic candidate Kamala Harris also endorsed Bernie Sanders after she dropped out.
Sanders has also gained the public support of celebrities like Ariana Grande, Miley Cyrus, and more popular influencers with a predominantly younger following.
Among 18 to 29-year-olds, voter turnout went from 20% in 2014 to 36% in 2018, the largest percentage point increase for any age group – a 79% jump, according to the US census, which is the highest jump in history.
Bernie's political language and core arguments were attractive to idealists, but ultimately, the current state of the world have had their rose coloured glasses darkened by a black swan. Despite #FeelTheBurn trending worldwide and many remaining hopeful for "a future to believe in", we retract back to the question asked by New York Times Magazine: Did he misjudge America?
America's political identity is extremely torn, and Bernie's ideals have remained a constant throughout his long political career, which prove his policies do not adapt to trends or popularities. He is optimistic, ideal, and a driver of change. But unfortunately, despite his increase in following, the Americans who may have warmed to the idea of change and adopted a more idealist view of US politics could not risk vulnerability during a pandemic of this scale.