It's said that "humans don't like change". The fact that every single human being on the planet at the moment has had to change their daily life and routine is something that has never occurred, of this magnitude, in modern times. Often, without even realising, we correlate our systematic routines with our productivity and self-esteem. Due to the unprecedented impact of COVID-19 on our work, economic and social lives, many people are struggling to find the structure, balance and 'comfort zone' that they created in their routines. This has resulted in feeling lost, unproductive and without structure. A feeling of "the days all merging into one" has been popularly described, and visually mapped out in the social media initiative by Liz Fosslien and Mollie West Duffy, authors of "No Hard Feelings" who run the Instagram account @lizandmollie shown below.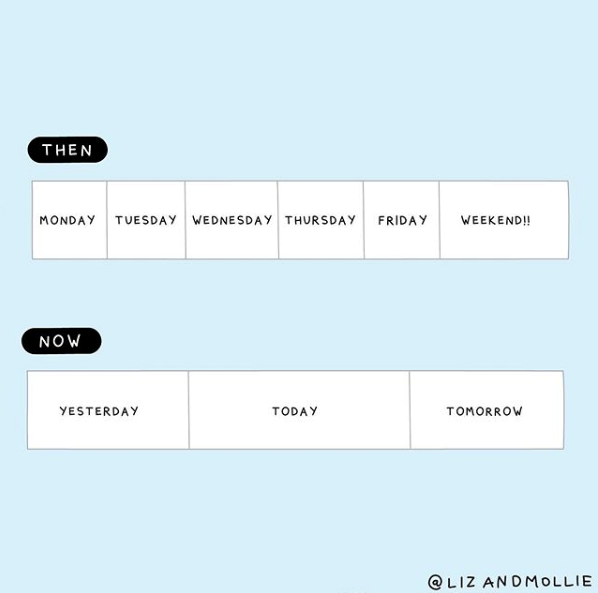 Do humans really not like change?
From a scientific perspective, Dr Kieran Kennedy, a medical doctor and Psychiatry Resident, says "humans don't like change" is an apt saying at the moment that transcends beyond common clichés and actually has very strong scientific foundations.
"Change acts as a significant stressor, and the science around the area shows that while 'negative' or difficult change is inherently stressful, so too can 'positive' changes be a challenge to our mental health," said Dr Kieran.
"We've seen changes to how we socialise and interact with others, and how we think about the inherent safety in the world outside the house. Mentally, these changes can create a lot of stress, anxiety and impact – and this isn't necessarily abnormal or wrong."
Dr Kieran says common reactions to changes, like the ones we've experienced lately, include tension, anxiety, change in sleep and changeable emotions. An increase in irritability and distraction is also common.
Can you identify your own struggle?
Last month, BeyondBlue, an Australian non-profit organisation that addresses mental health issues, reported a 40% increase in contacts. Dr Kieran says this result means two things are occurring: unfortunately: it reflects how stressful things are at the moment, but on a positive note it also means that more people are reaching out for support.
"Traditionally there's been a tonne of stigma and negative stereotyping around mental health, mental illness and what it means to need help for them," said Dr Kieran.
At the moment, it is important to note the distinction between loneliness and isolation. According to Dr Kieran, isolation is more of a situation whereas loneliness is a feeling. Though, the two are quite interlinked.
"Isolation often flows onto feelings of loneliness, but at its core feeling, lonely is an emotive sense of being deprived of close or intimate connection. A sense of loneliness and social disconnection can be a risk factor for mental health struggles, but also comes as part of them," said Dr Kieran.
Research that has emerged over recent months discusses whether being an introvert or an extrovert would impact how affected someone is by social distancing.
"I wouldn't say this is the case and we know that social contact and connection is important to everyone," says Dr Kieran.
The removal of social contact has had an impact on everyone, so it is important to be able to identify whether you may be struggling at the moment.
Dr Kieran says some signs that things may not be going well with our mental health are:
Noticing significant changes have occurred to the way you feel, think or act on a day to day basis.
Feeling significant distress by what we're going through on a daily basis and/or when we can no longer do or enjoy the things we normally would.
The presence of any thoughts about self-harm, suicide or harm to others (which is a signal for urgent need of support).
Notable changes to sleep, diet, energy levels or levels of concentration.
Positivity is bred during uncertainty
At this point in time, we may be feeling all of these things because of the uncertainty we are living through. According to Dr Kieran, research shows that out of all our stressors, uncertainty is one that often hits us the hardest.
"Our minds are built to predict, manage and problem solve – so feeling that something is out of control or that there's no end date in sight can be incredibly confronting," said Dr Kieran.
"One of the hardest things right now can be a sense of a loss of routine and direction, so I've been encouraging people to really focus in on what they can control right now – even if it's purely little things."
The loss of routine is particularly confronting for many of us living in cosmopolitan societies, as our work, our job titles and our productivity are often inherent on how we define ourselves and our self-worth. Something positive that has come out of COVID-19 is that people are realising the dependency we place on these things, and that when they are stripped away, our self-worth is not fully encompassed by the work we do.
"Recent changes have really challenged us when it comes to our daily routines and access to the things that frame our identity, our usual means of coping and our sense of freedom," said Dr Kieran.
Many people are now realising that our work lives and our social lives do not fully encompass our identity, and it is important to seek our sense of purpose, freedom and self-understanding elsewhere.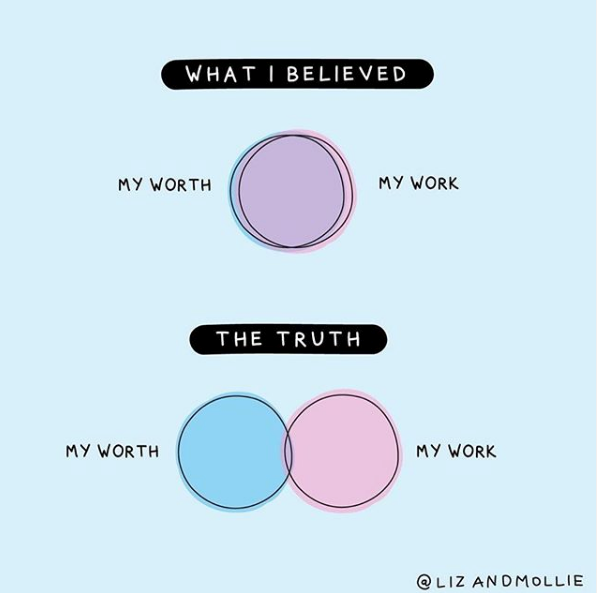 "The human mind (and body) is incredibly resilient…History, and the science, shows that humans are incredible adept at adjusting, moving through and coming out on top of change too," said Dr Kieran.
This positive move toward creating a distinction between our work, our productivity and our self-worth is another example of how adaptable human beings are to change. This is being proven during the COVID-19 pandemic, despite the fact that it may be challenging to process these changes to form productive lessons when we come out the other side of adversity.
What should you do if you're not feeling your best?
Dr Kieran has shared a number of practical tips that anyone who may be finding things tough at the moment can implement:
Acknowledge things – this is always the number one step when it comes to mental health.
Keep our health foundations in check – particularly, sleep routine, regular meals, regular physical activity, monitoring alcohol intake and making a schedule for the day.
Social support and talking it out – make contact with friends or family part of your daily routine. Schedule a call, a Skype chat or watch a movie together at the same time from a different house with the phone on speaker.
Reach out for support – all our normal mental health services and supports (as well as your GP) are still in place right now. Make that appointment with the GP, call the helpline or (if things are really concerning) reach out to emergency services if needed. Other support services right now include Lifeline and BeyondBlue. BeyondBlue has put out a dedicated and specific helpline surrounding anxiety and mental health struggles related to COVID-19 in particular. If things are starting to feel really intense or there are any concerns around safety, suicide or other risks, then hospital and emergency based services for acute mental health support are still functioning. Phone your local crisis service, attend your local emergency department or google the name of your local area + "mental health service" can be a way to access urgent support.
Download these apps – Dr Kieran is a fan of apps like 'Calm' and 'Headspace' that offer great content around mental help and (in particular) helpful daily practice like mindfulness and meditation. Studies show that these techniques done consistently can have some significant and beneficial impacts on our mental health and coping.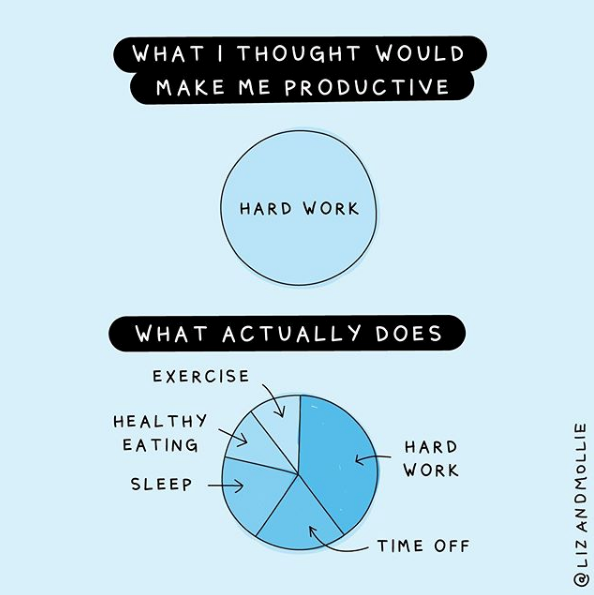 Remember, our productivity is not inherent in our work alone. Just because your routine has been changed from your norm, does not mean you cannot adjust your productivity to suit a new routine. Search for your motivation from within and don't look to compare what others are doing with their isolation time. Your productivity is defined by you alone.
If you are looking for some inspiration, watch this video from Peter Switzer:
You can contact Dr Kieran Kennedy at any of the platforms below.
Website: https://www.drkierankennedy.com
Instagram: @drkierankennedy https://www.instagram.com/drkierankennedy/