Looking for new inspiration in isolation this weekend? Here are some entertainment suggestions from the Switzer team.
TV: Windows to the World
World Vision Australia has launched a new online series called 'Windows to the World'. The first episode premiered on Youtube and Facebook on Thursday 14 May at 7pm.

'Windows to the World' is a news programme hosted by Melissa Doyle that will give viewers exclusive access to underreported stories, and reveal the impacts of COVID-19 on the world's most vulnerable.

Windows to the World aims to "highlight the hope and humanity" found in all corners of the globe through a series of interviews with national and international guests
Netflix: Unorthodox
The Netflix mini-series was one of the most talked about productions on Netflix at the start of lockdown. So if you haven't seen it yet this is your sign that you should!

The series follows the story of a young woman living in an extremely traditional Jewish community in Brooklyn. She decides to escape and flee to Germany, but her past soon follows her.

The series is based off the true story written by Deborah Feldman, 'Unorthodox: The Scandalous Rejection of My Hasidic Roots', where she describes her escape from the religious community
Quote of the Week
"The best investor in your business is the one who holds you accountable" - Mark Bouris
Photo of the Week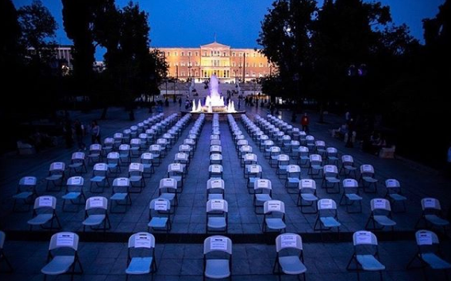 Restaurant and cafe owners in Athens, Greece joined the 'Empty Chair Movement' to protest the government's social distancing response, which will only allow restaurants to operate at 35% capacity even after lockdowns are lifted. Image via Instagram/@savvaskarmaniolas
Keep up with the Switzer Life column on the homepage of www.switzer.com.au
Click here to subscribe to the Switzer TV channel on YouTube and keep up to date with all of our shows.