Looking for new inspiration in isolation this weekend? Here are some entertainment suggestions from the Switzer team.
TV Shows
STAN: Bloom
The all-star Australian cast that make up the Stan exclusive Bloom make it worthy of becoming a household name in Australian television series'.

The series is set in a small country town in Australia, a year after a devastating flood that impacted everyone in the town. The premise of the show centres around a plant that has the power to restore youth. But this is merely the surface level concept, as the show delves into deeper issues of self-discovery, love, family and community.

The six-part mystery was released on 1 January 2019. The series stars Bryan Brown, Jacki Weaver, Phoebe Tonkin, Ryan Corr and more. A second season aired on April 9, 2020
AMAZON PRIME: Upload
The recent TV series exclusive to Amazon Prime has people talking around the office.

The series has been renewed for another season after the success of the first season that launched in May 2020.

Upload is set in the year 2033 where humans are able to "upload" themselves to an afterlife of their own choosing through virtual reality.

The story follows the death of computer programmer, Nathan, who selects a wealthy town as his afterlife, but soon comes to regret his decision. It touches on futuristic themes in the tone of comedic satire.
Quote of the Week
"I've suffered a great many catastrophes in my life. Most of them never happened." – Mark Twain
Photo of the Week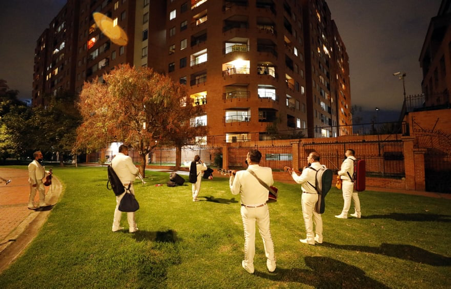 Members of the mariachi band Viva Veracruz in Bogota, Colombia, perform outside apartment buildings and around popular neighbourhoods amid the coronavirus pandemic.
Click here to take a free 21-day trial to the Switzer Report, a leading investment newsletter and website for self-directed investors.