Looking for new inspiration this weekend? Here are some entertainment suggestions from the Switzer team.
STAN: BILLIONS
Billions is a complex drama about power politics in the world of New York high finance. Shrewd, savvy U.S. Attorney Chuck Rhoades and the brilliant, ambitious hedge fund king Bobby "Axe" Axelrod are on an explosive collision course, with each using all of his considerable smarts, power and influence to outmanoeuvre the other. The stakes are in the billions in this timely, provocative series.
Most seasons plot lines are "ripped from the headlines" by mirroring real-life prosecutions of financial crime by federal authorities. The series was inspired by the investigations undertaken by Preet Bharara, the U.S. Attorney for the Southern District of New York from 2009 to 2017, from which Giamatti's antagonist originates. The Southern District's prosecution of hedge fund manager Steve Cohen of S.A.C. Capital Advisors in 2013 loosely influenced the first season while Salomon Brothers' manipulation of U.S. Treasury bonds in 1991 inspired the second. The series also interweaves various subplots with Wendy Rhoades (Maggie Siff), a psychiatrist turned performance coach, Taylor Mason, a market analyst, and Mike "Wags" Wagner (David Costabile), Axelrod's right-hand man.
BOOK: AGE OF UNCERTAINTY
The 1977 book that Peter Switzer says is a must read for any investor was also adapted into a television series.
Written and presented by Harvard economist John Kenneth Galbraith, this 15-episode documentary series covers all aspects of the book that questioned and influenced many ideas in economics and diplomacy.
Ideas of economists and social philosophers from ancient to modern times, inspire questions of the interdependency between the economic and the social.
The economic theories that built our system today are pulled apart and listed, making it an essential guide and starting point for all investors.
QUOTE OF THE WEEK
"When you start really respecting yourself, those you love and your money, the result is that you start having control over your money. What follows from that is control over your life." – Suze Orman
PHOTO OF THE WEEK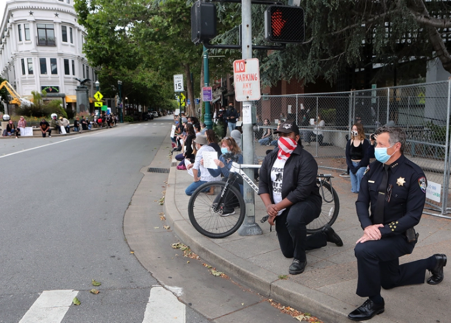 Santa Cruz Police Chief Andy Mills takes a knee along with hundreds honouring the memory of George Floyd. Protests have spread across the US after a police officer in Minneapolis pinned his knee against Floyd's neck until he could not breathe. The act has triggered a global response protesting racism. Image via Shmuel Thaler – Santa Cruz Sentinel.