If there's one thing 100% of humans can agree on, it's that a LOT can change in just 3 months! The COVID-19 pandemic has united every human being on the planet and shaken up our lives with things no one could have expected. Business closures, economic lockdowns and something called "social distancing", which has become ingrained in the vocabulary of almost every human being are now the new norm. One thing is for sure - we certainly miss "precedented" times!
At Switzer, we have been committed to sharing a message of positivity over these past few months, while maintaining factual reporting on economic news and assessing market drops and rises in a rational and logical manner.
Our Switzer Fear, Greed & Hope survey launched in February 2020 and is released every quarter by Switzer Financial Group. It aims to discover what Australian investors fear, what they're greedy on and what gives them hope in the economy and financial markets.
The comparison between the results of our Q1 survey in February and our Q2 survey in May give rare insight into:
How quickly the market can change.
The volatility of market opinions.
What areas remain a constant throughout a period of global hysteria.
Over 2500 respondents participated in our February survey and almost 3000 respondents participated in our May survey. Our data predominantly represents the demographic of male retirees and full-time workers over 50.
IN THE PROPERTY MARKET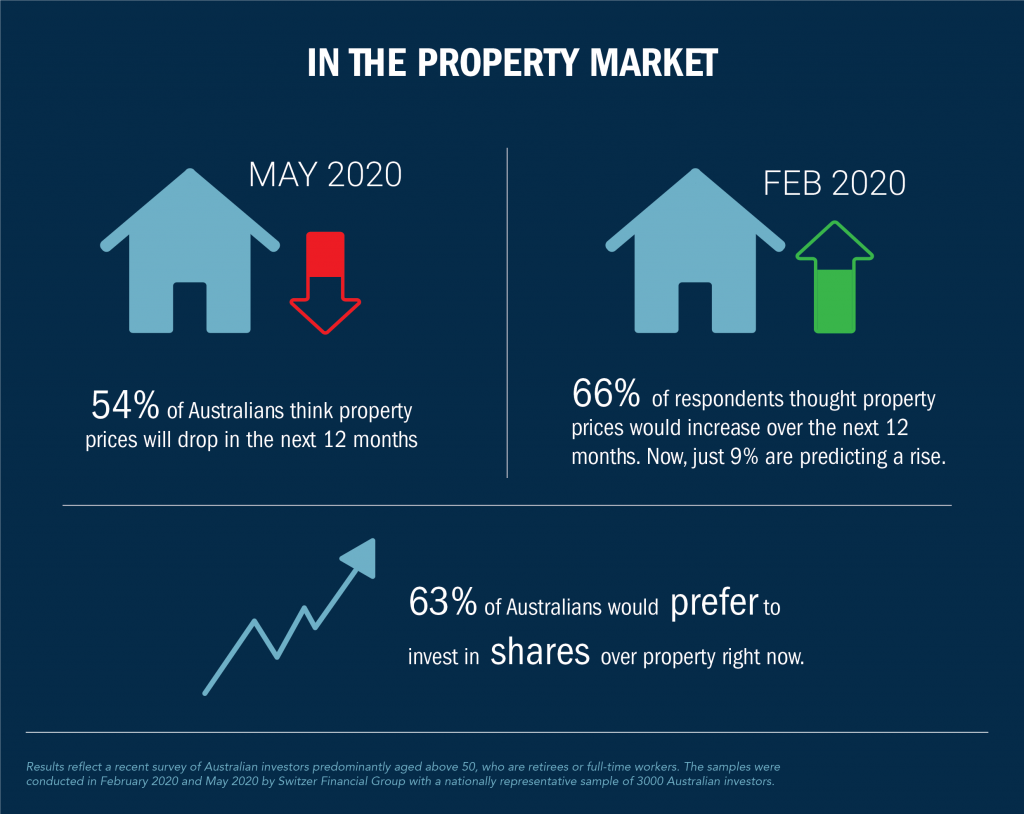 The truly unexpected impact of COVID-19 on our economies took everyone by surprise. The figures in our survey really show that. Our survey shows:
In February 2020, 66% of respondents thought property prices would increase over the next 12 months.
Now, 54% of Australians think property prices will drop in the next 12 months.
Property is no longer one of the top investment options for Australians. 10.59% would invest in property right now, compared to 62.79% in shares, 10.16% in term deposits and 16.45% in "other".
IN THE STOCK MARKET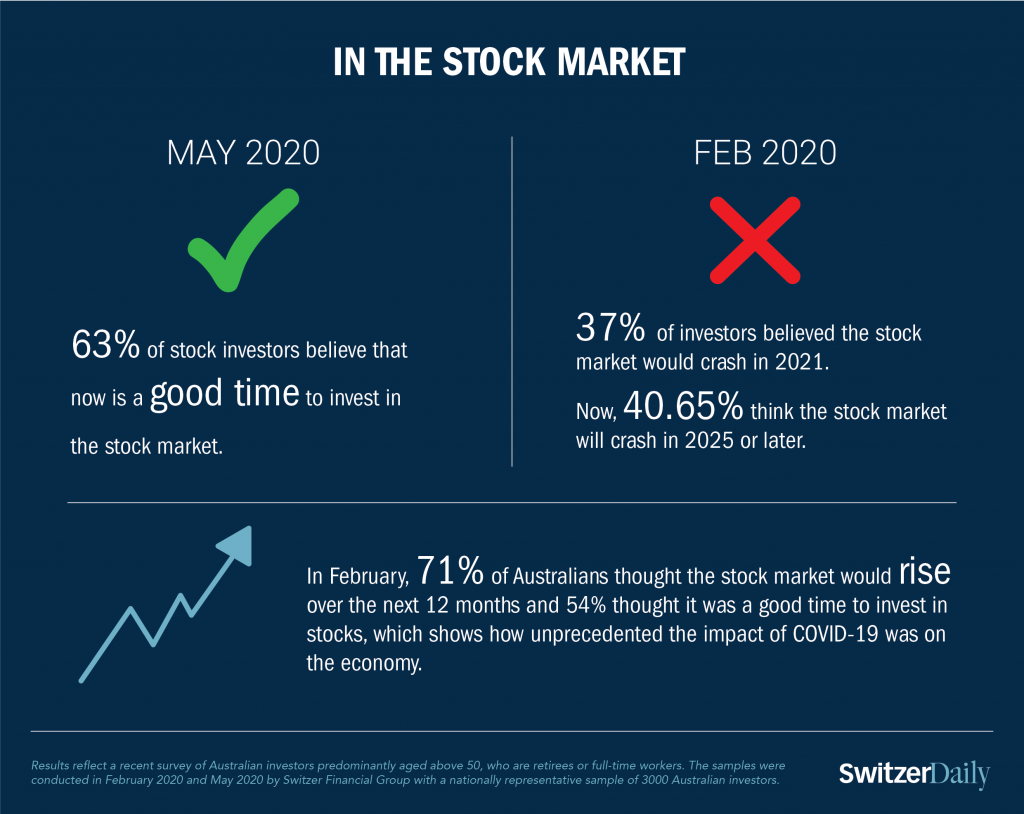 Aussies are increasingly moving toward stocks and away from property, according to our survey.
63% of stock investors believe now is a good time to invest in the stock market.
In February, 37% of investors believed the stock market would crash in 2021. Now, 40.65% think the stock market will crash in 2025 or later.
71% of Australians thought the stock market would rise over the next 12 months, showing how unexpected the impact of COVID-19 was on the economy.
40% of Australians say they have not changed their investing strategy due to COVID-19. 39% have become more conservative investors and 21% have become more aggressive.
Australians think CSL (CSL) and Macquarie Group (MQG) are the stocks that will perform best over the next 12 months.
When addressing specific stocks, respondents predominantly aligned with CSL and Macquarie Group in both surveys in February and May. The COVID-19 pandemic has not changed their faith in these stocks.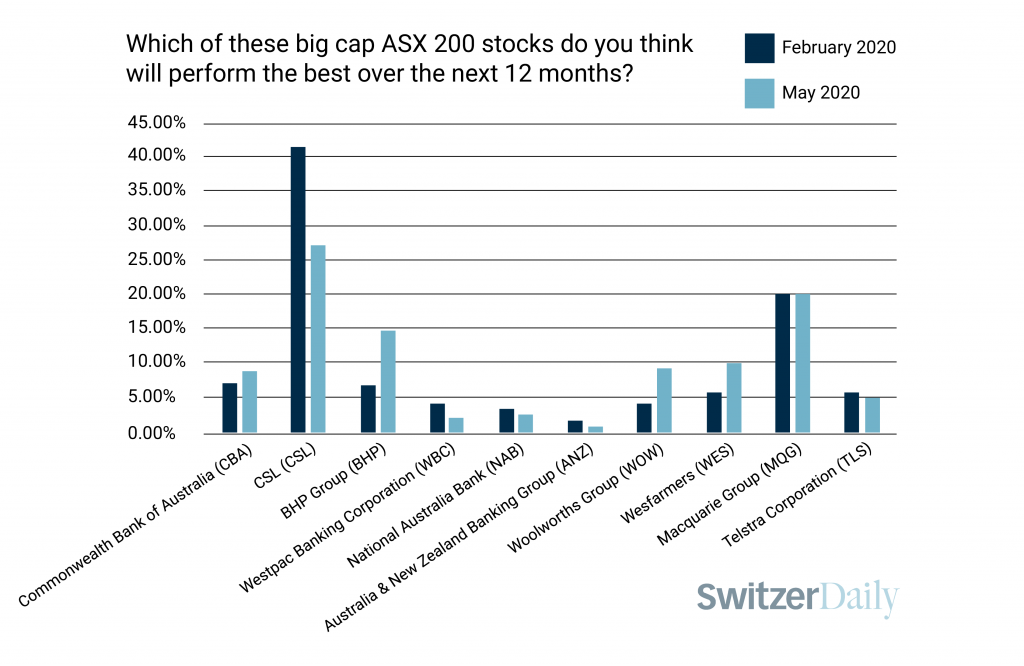 Peter Switzer believes "this shouldn't really be surprising as both these companies are world class and serious export-income earners. But it indicates that so-called 'mums and dads' (or retail) investors are becoming more sophisticated analysts of the share market."
IN THE ECONOMY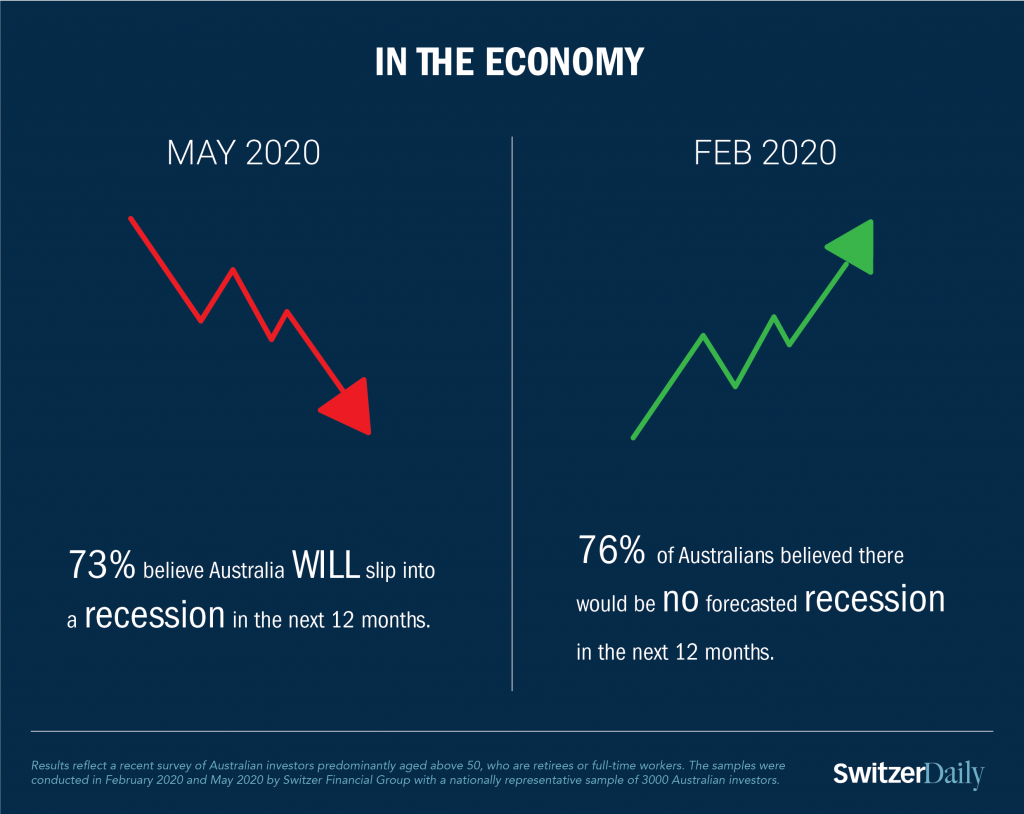 The majority of Australians think a technical recession is looming:
7/10 Australians believe Australia will slip into a recession in the next 12 months.
In February, 76% of Australians thought there would be no forecasted recession in the next 12 months, proving again how unexpected the Coronavirus Crash was to investors.
Despite predicting a technical recession, the majority of Australians still think our economy ranges from average to good shape:
In May, 37% said our economy is average and 20% of Australians think our economy is in "good shape".
34% of Australians say our economy is "in bad shape".
IN POLITICS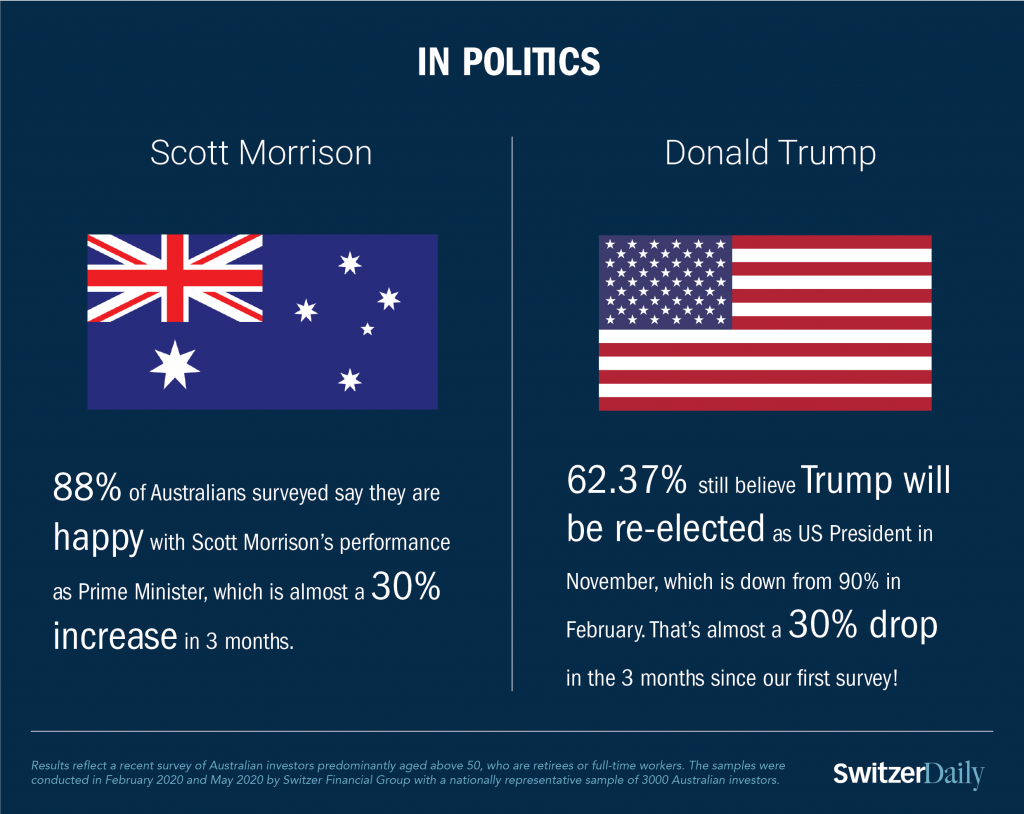 Political leaders have been truly tested during the COVID-19 outbreak, and it's had a significant impact on voters' impressions:
88% of Australians surveyed say they are happy with Scott Morrison's performance as Prime Minister, which is an almost 30% increase in 3 months.
The same cannot be said for Donald Trump, despite 62.37% still believing Trump will be re-elected as US President in November, this figure is down from 90% in February. That's almost a 30% drop in the 3 months since our first survey!
In regard to COVID-19 lockdowns, 64% of Australians believe lockdowns were lifted at the right time, while 18% equally believe restrictions were lifted too early or too late.
What do Australians believe the biggest threat to the economy is?
Australians have become rather balanced in what they believe to be the biggest threat to the local economy.
The majority of Australians now believe foreign ownership and control of our resources is the biggest threat, with 26% believing so.
25% of Australians believe a lack of investment by business and government is the biggest threat to the economy at the moment.
Too much borrowing is another major concern with 22% saying this is the greatest threat to our economy.
While 21% pin falling productivity to be the greatest threat to the Australian economy.
Just 6% think climate change is our greatest economic threat.
If you would like to call upon Peter Switzer to comment on the above data please contact Angus Fowler at (02) 9293 0300 or angus.fowler@switzer.com.au