"I think that is what everyone here has been doing….. baking. At some stage there was no flour or yeast in the shops and the newspapers were full of recipes what to do when you can't get a hold of yeast or flourless versions of cakes."
A postcard we received from the buzzing city of Berlin highlights some colourful realities of the German spirit during coronavirus shutdowns.
A friend from Germany attached an image of her very first "Osterzopf", which is a German version of a hot cross bun. Despite many bakeries suffering a drop in revenue (due to the home baking trend, our friend explains), Germans continued to purchase their favourite Easter treats in light of continuing traditions despite the looming global pandemic casting an eerie shadow over the festive holiday.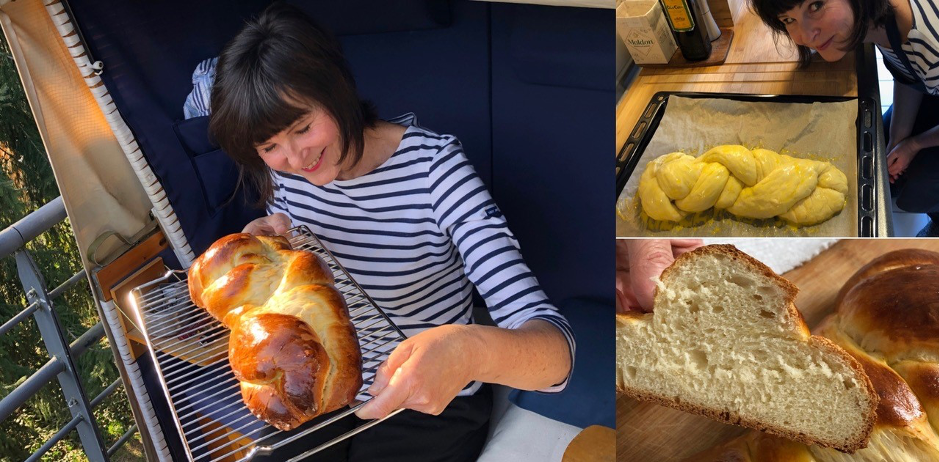 As pointed out in our postcard, the toilet paper pandemic has even reached the secluded mountains of north Berlin. "We have everything we need…including toilet paper. We are so lucky to live in the north of Berlin next to the forest and the lake on one end and the river on the other so we can at least go for regular walks."
As with most countries, out friend shares that, "sadly no one is spared in all of our beloved industries: travel, hospitality, culture…"
How has Germany been impacted by COVID-19?
At one stage, Germany was looking to have one of the highest numbers of coronavirus cases, with over 147,000 cases. To put it in perspective, Italy, which was branded one of the most severely affected countries in the world by coronavirus, has just over 181,000.
Though, Germany had one of the lowest fatality rates, logging 4,862 deaths and 91,500 recoveries. By comparison, Italy has had 24,114 deaths and 48,877 recoveries.
These figures have pinned Germany as one of the world's successful leaders in COVID-19 responses, with the world questioning how their figures have remained so low.
How has Germany responded to COVID-19?
The first case of coronavirus in Germany occurred on January 27, and the first fatality didn't occur until March 9.
Immediately after, as of March 13, schools, nurseries, major events and public gatherings were all prohibited. On March 22, state and federal governments ceased gatherings of more than two people and closed restaurants and other public services.
German state leaders were able to enforce stricter measures on top of those imposed federally. Regional autonomy also allows for more specific and targeted work with local healthcare systems. According to research conducted by voxeu.org, "average growth of COVID-19 has almost halved from 20 March on."
The federal response of Germany has been highly in line with the recommendations of the World Health Organization, which is to prepare, test and mitigate the spread of the virus. One of the biggest differences between Germany's response, and this is what experts source Germany's low fatality rates to, is their focus on widespread testing. As without widespread testing, containment of the virus is unable to be tracked and effectiveness of isolation measures cannot be adequately measured.
How has this response impacted everyday lives?
In 2019, Germany was ranked 4th in the world on the Human Development Index, which measures the social and economic dimensions of a country and balances them to measure the social and economic stability of a country. This means that economic dimensions and social dimensions are quite interdependent in Germany, meaning economic downturn will also influence social downturns and vice versa.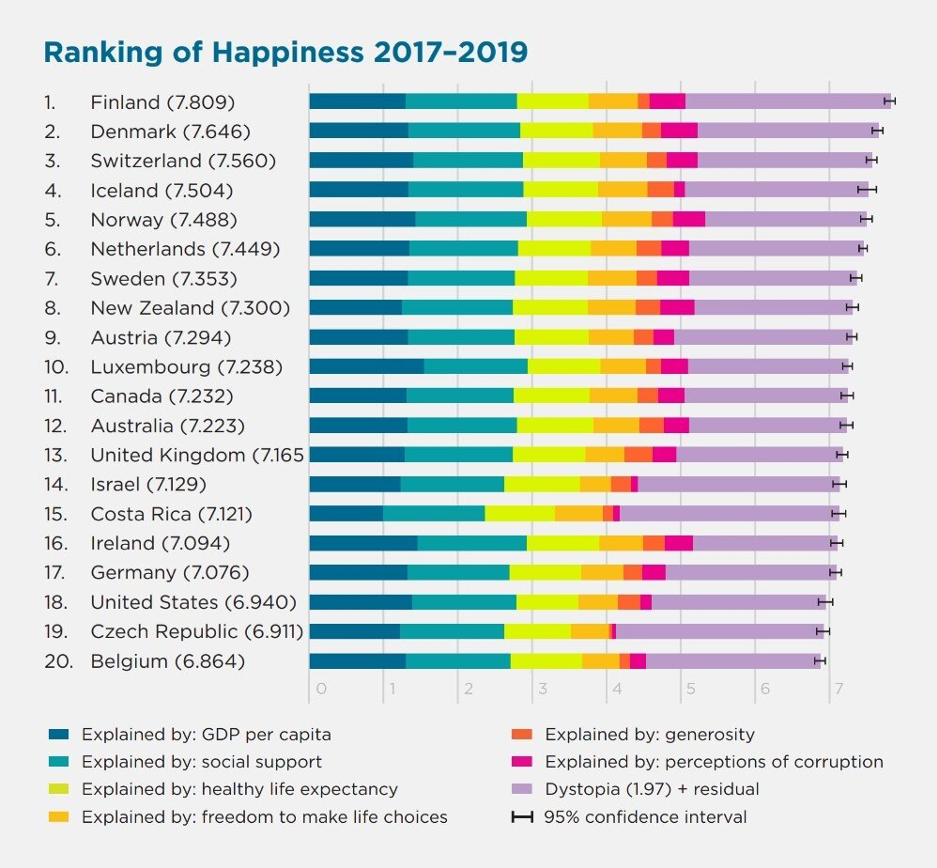 According to the World Happiness Report 2020, which measures data collected between 2017-2019, Germany was ranked 17th in the world on the happiness index, which balances economic measures (like GDP and social support), with social measures (like freedom of choice and generosity).
Throughout coronavirus, Germans, along with most people in the world, have had to make extreme sacrifices and changes to their daily lives. The OECD Better Life Index points out that Germans seek their satisfaction mainly from their work-life balance (8.4), their safety (8.3) and their jobs (8.2), which are three areas that have been heavily affected by coronavirus.
As our friend pointed out in her postcard, jobs have been heavily hit in Germany due to lockdowns: "No one allowed to travel and with my line of work, I can't work from home (our friend )…The only one of my friends here in Berlin who is working at the moment is my friend who is a newsreader for a 24 cable news channel."
A local German newspaper also conducted a report on how international residents have been impacted by COVID-19.
Most respondents said they were content to remain in Germany during the pandemic because of their trust and safety in its healthcare system and government responses.
Mayada Samy, 29, in Düsseldorf and from Egypt, told thelocal.de: "I'm very content with the way the German government is dealing with the situation and I feel safe here (not just in terms of my faith in Germany's health system (which is stellar) but also regarding the measures being taken by the government to help businesses and secure jobs – yet of course, I would have loved to have been around my family at times like these."
Kara Guminski, 39, from Chicago, living in Berlin with her wife and two children said the couple work from home while juggling their two children. "My company asked me to take holidays and soon most probably we'll need to do Kurzarbeit," she said.
Kuzarbeit is essentially a short-term cut of working hours during an economic downturn, which will be largely compensated by the state, to avoid unemployment.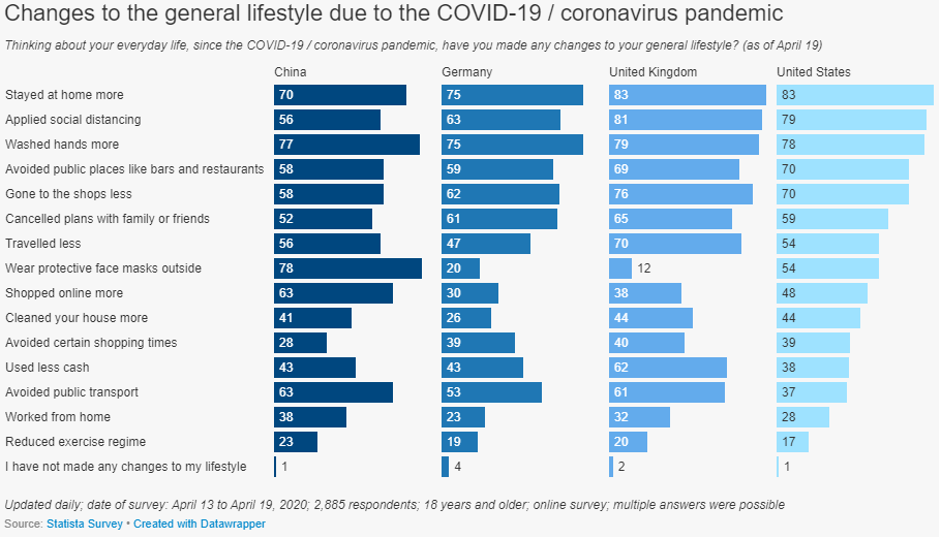 The imposition on employment and restrictions on leaving the home has made Germans extra conscious about implementing changes to their general lifestyle, due to COVID-19.
The areas most Germans have made changes in include:
Staying at home more
Washing hands more
Applying social distancing
Going to the shops less
Cancelling plans with friends and family
Avoiding public places like bars and restaurants
Avoiding public transport
Generally, Germans have a high level of trust in their governments and leaders, which trickles down to allow them to feel safe and assured from an economic and social perspective. This has meant that many German residents have been able to view their lockdown from a generally positive lens – filled with walks, baking, 'Osterzopf' and toilet paper.