Global share markets rose again over the last week helped by good US earnings, declining new coronavirus cases and ongoing assurance of easy monetary policy and US fiscal stimulus. For the week, US shares rose 1.2%, Eurozone shares gained 0.8%, Japanese shares rose 2.6% and Chinese shares rose 5.9%. Australian shares fell -0.6% for the week, though led by declines in energy, industrial, material and utility stocks not helped by Friday's news of yet another snap lockdown – this time in Victoria. Bond yields generally rose as did commodity prices and the $A, as the $US fell.
Bitcoin rides again
Bitcoin resumed its melt-up over the last week, after a brief but sharp correction. While digital currencies likely have a future, it remains unclear whether it will be Bitcoin as opposed to something else or government provided currencies and what the level of demand will be given that digital transactions are common anyway and Bitcoin remains highly unstable making it an unreliable store of value. All of which makes it very hard to attach a fundamental value to it. But as with Dutch Tulip bulbs and other bubbles through history, it could still go a lot higher as the $US trends down and more jump on to the speculative bandwagon.
The downtrend in new global coronavirus cases continued over the last week with most regions seeing a fall and deaths now moving decisively lower too.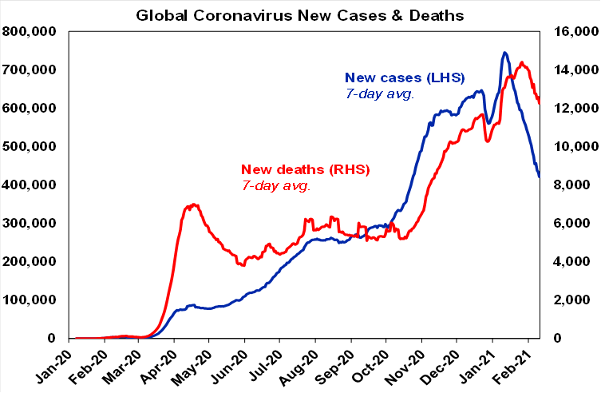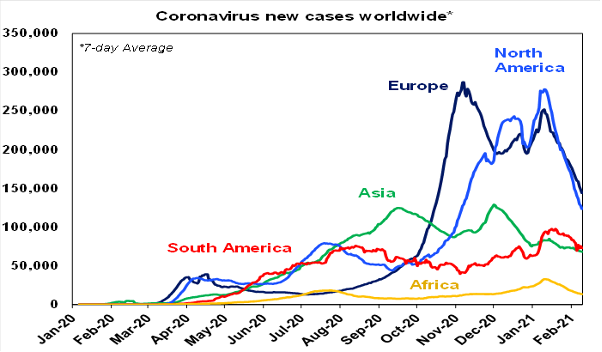 7 vaccines globally
Confidence about vaccines is on the rise again with production concerns declining now that there are seven vaccines globally and the realisation that while the current vaccines may not be as effective in preventing infection from the new mutations (around 60% effective with the new mutations versus around 90% for the original), they appear highly effective in preventing severe cases and the need for hospitalisation and deaths. And if the latter remains the case, then the new mutations won't be a barrier to reopening once sufficient people have been vaccinated. Rough estimates suggest herd immunity can be reached in developed countries by the December quarter, with the US around mid-year, and in first half next year in most emerging countries. 40% of Israel's population has now received one dose of vaccine, 20% in the UK and 10% in the US. (Note that this is not the same as total vaccine doses divided by the population, which exaggerates the proportion of the population that has been vaccinated.) Declining new cases and the spread of vaccines add to confidence about a sustained reopening this year.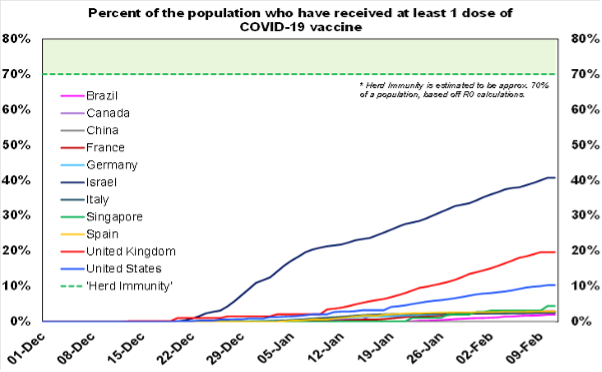 Returned travellers continue to be a problem
It's the same old in Australia - while new cases remain low the returned traveller quarantine program continues to cause problems, with the latest being in Victoria where quarantine workers and their close contacts being infected with the UK variant has triggered another snap stay at home lockdown like those seen recently in SA, Queensland and WA for five days.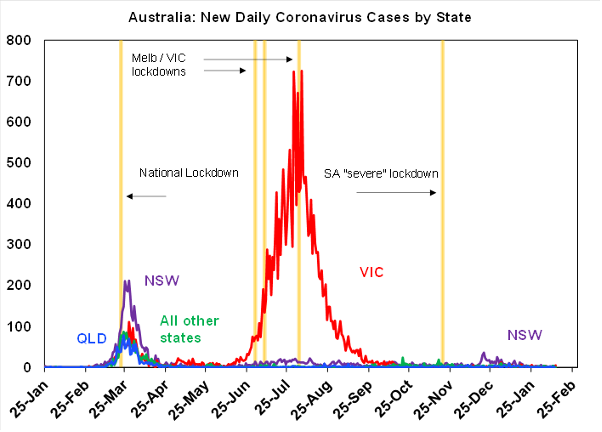 Economic activity tracker pushes higher
With new coronavirus cases remaining low in Australia despite regular scares and brief targeted lockdowns, our weekly Economic Activity Tracker for Australia pushed higher again over the last week. The snap five day hard lockdown in Victoria may cause a few bumps in the recovery but as we have seen lately with snap lockdowns in SA, NSW, Queensland and WA their economic impact has been relatively minor and short lived – as they have been well timed and brief and Australians have adapted to them in ways that are less economically disruptive. So, providing any new lockdown in Victoria is brief then the economic impact is likely to be minor, albeit it's very tough for those directly impacted.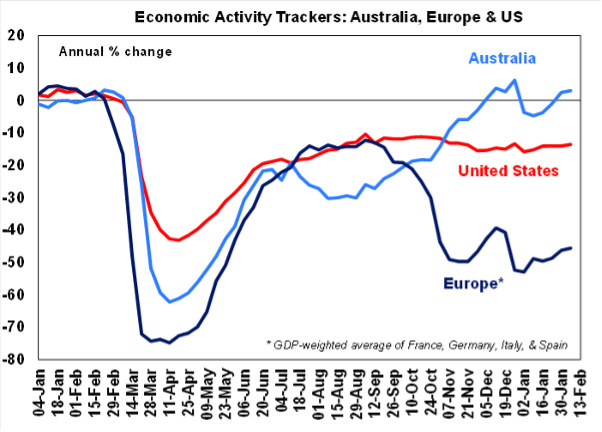 US economic activity tracker not as good
Our US Economic Activity Tracker edged up fractionally but remains soft & down from its September high. And our European Economic Activity Tracker rose slightly again over the last week but remains very weak.
US fiscal stimulus looking bigger. Our expectation has been that President Biden's $1.9bn coronavirus stimulus would be wound back by Congressional negotiations to around $1.5bn or less. But it's increasingly looking like it could end up around $1.9bn: Congress has already passed a budget via reconciliation including the full $1.9bn with no push back by Republicans; moderate Democrats aren't offering much opposition; the package is claimed to pay for itself as required under reconciliation because of the boost to the economy it provides (much like Trump justified his tax cuts). Democrats seem to be trying to make up for not going hard enough in President Obama's first year. This could also be followed up by a big infrastructure spending program (with potentially no tax hikes till 2022) which taken with the $0.9trn stimulus now being paid out could take total stimulus up to a whopping $3.8bn or 17% of US GDP albeit with some spread over into the next few years with a risk that it overheats the US economy.
That said there is a long way to go yet, but massive fiscal stimulus taken together with ongoing ultra-easy monetary policy could be the straw that breaks the camel's back of disinflation. This is clearly something central bankers would welcome as evident in comments from Powell and Lagarde in the past week and Lowe the week before. Having battled falling inflation expectations for a decade now they are clearly intent on pushing it back up knowing that without higher inflation expectations leading to higher wages growth any pickup in inflation due to a spike in say commodity prices and temporary bottle necks in goods production simply won't be sustained.
The Aussie stimulus debate
The debate continues in Australia about what will happen when JobKeeper and other stimulus measures end, particularly after March. We are not concerned about this so-called fiscal cliff because we already saw a far bigger wind down in stimulus last October – which saw jobs protected by JobKeeper plunge from 3.6 million to 1.5 million – with little impact on the economy or the jobs market that has since seen a further recovery and decline in unemployment. The reason was that the economy was recovering and so less government support was needed and the same is likely to be the case after March.
Must give my music message!
Last week I referred to Andy Williams…it was his 1967 Music to Watch Girls Go By that I discovered many years later that turned me on to his music. His TV show can be credited with helping Elton John break into the US. In fact, Andy recorded his own version of Elton's Your Song and his version of George Harrison's Something really impresses me.