Global share markets pushed higher again over the last week helped by mostly good economic data, renewed progress towards additional fiscal stimulus in the US, which may have been given a push along by a softer-than-expected jobs report in the US and ongoing vaccine optimism. For the week, US shares rose 1.7% to a new record high, Eurozone shares rose 0.2%, Japanese shares gained 0.4% and Chinese shares rose 1.7%. Reflecting the solid global lead, stronger-than-expected Australian economic data and a surging iron ore price, the Australian share market rose 0.5% making it the fifth week in a row of gains with the rise being led by resources, IT, property and consumer staple stocks. Bond yields mostly rose consistent with "risk on" sentiment as did prices for oil (helped by an OPEC agreement to more gradually ease production cuts), metals and iron ore and the $A rose to its highest since mid-2018 against a falling $US.
After huge gains, shares are overbought and at risk of a short-term pause. However, more upside is likely as momentum is very strong, the Santa Claus seasonal rally normally gets underway from mid-December and investors are yet to fully discount the potential for a very strong economic and profit recovery next year, as stimulus combines with vaccines. Cyclical recovery shares like resources, industrials and financials are likely to be relative outperformers as they have been laggards through the pandemic, and this should benefit the Australian share market over US shares. More upbeat comments and upgrades than normal through the recent Australian AGM season are also bullish for the Australian share market. With the $A now having broken through resistance at around $US0.74, its likely on its way to around $US0.80 over the year ahead on the back of rising commodity prices and a falling US dollar. RBA quantitative easing may be able to slow the $A's ascent but it's unlikely to be able to stop it.
The flow of new global coronavirus cases remained stable over the last week, with a rising trend in emerging countries offset by a declining trend in developed countries. Europe and the UK are continuing to see a sharp decline in new cases as lockdowns impact and the trend has slowed in the US, although testing delays and then a catch up associated with the Thanksgiving holiday appears to be distorting US case data and pressure on its hospital system is driving more city lockdowns with a high likelihood of more lockdowns to come. Japan and Canada remain in uptrends, with Japan at risk of another lockdown.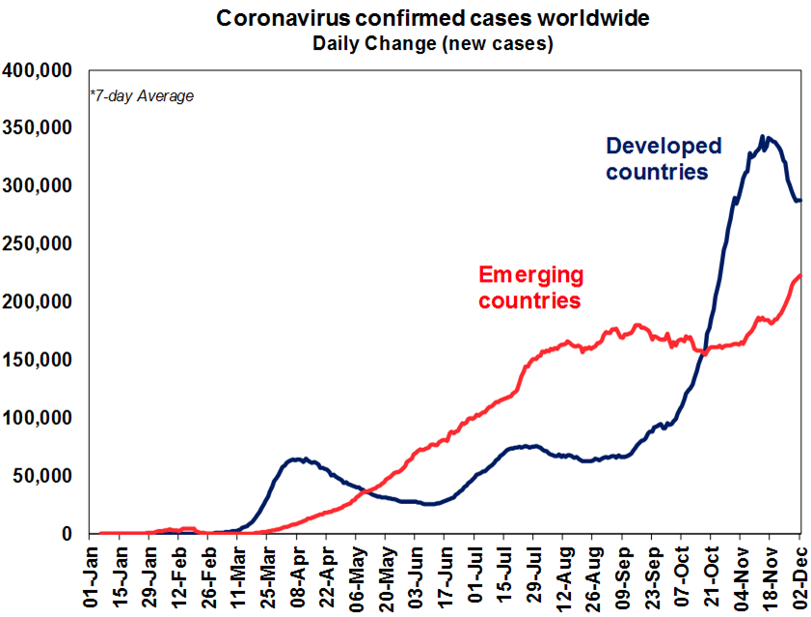 The decline in new cases in developed countries, led by Europe, is starting to see deaths peak. The US bears watching here though.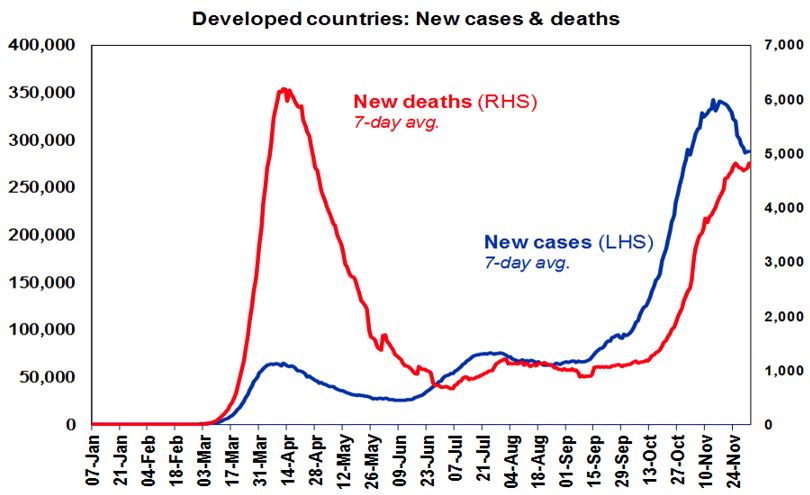 The deployment of vaccines is getting closer, with the UK approving the Pfizer vaccine for emergency use and other countries and vaccines likely to follow rapidly. Allowing for production plans (including somewhat slower production from Pfizer this year) and those who have already had the virus (which is likely to be far above the 65 million officially reported) there is a good chance of reaching herd immunity globally by the end of 2021 or early 2022. This is continuing to help share markets look through the current problems with the virus and its economic impact.
Australia is continuing to report a low level of new covid cases– with Victoria going 35 days without a case, SA appearing to get its cluster under control but NSW seeing concern around an infected hotel quarantine worker.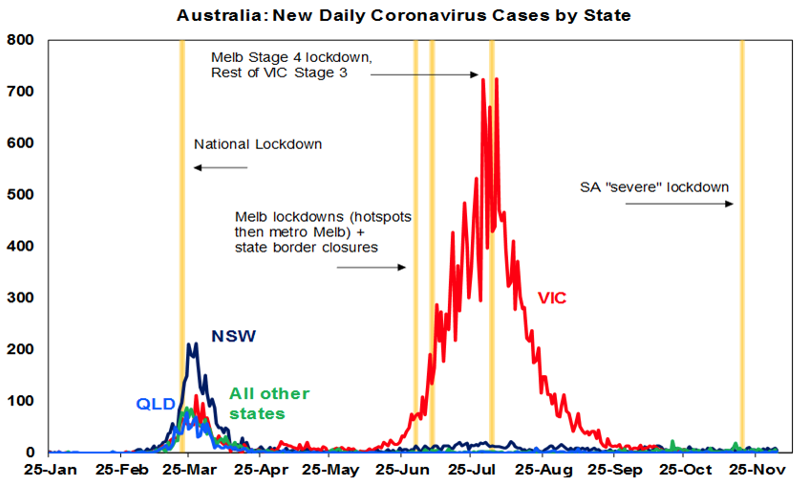 Our weekly Economic Activity Trackers remain divergent. In Europe they have started to edge up a bit after a sharp fall driven by lockdowns and may start to improve more significantly in the next month or two if lockdowns are eased. Our US tracker is edging down suggesting an increasing negative economic impact from the resurgence of coronavirus but nothing like that seen in Europe due to the absence so far of a hard national lockdown in the US. By contrast, our Australian Economic Activity Tracker is continuing to edge up consistent with the control of coronavirus in Australia and the reopening of the economy – notably in Victoria but also with relaxing distancing requirements in other states and border re-openings. In fact, it's now down just 4.5% from a year ago which is a huge improvement from being down 58% at its low point in April. This all suggests that Australia will see continuing solid economic recovery this quarter, while the US may be slower, and Europe will see a contraction. All things being equal, this should be relatively positive for the Australian share market and the $A.
The Australian economy still has a way to go to a full recover from the covid hit, but at least September quarter GDP data showed that the recession is over and its heading in the right direction. The bad news is that GDP is still down 4.2% from its pre-covid level which still exceeds the biggest slumps since the end of WW2. The good news though is that September GDP rose by a stronger than expected 3.3% indicating that the economy is recovering, were it not for the lockdown in Victoria it would have rebounded by around 5.3%, the household saving rate remains very high at 18.9% suggesting a lot of pent up demand remains that can be unleashed as confidence improves and Victoria is reopened and more timely data reflected in our Australian Economic Activity Tracker points to a continued strong recovery this quarter.
While Australia's September quarter GDP rebound was less than that seen in the US (+7.4%), the Eurozone (+12.6%) and the UK (+15.5%) this reflected a much smaller first half contraction, a more cautious and covid safe reopening and Victoria's lockdown. Looking forward, better virus control should augur well for continued recovery in contrast to Europe which is likely to contract this quarter and the US which may slow.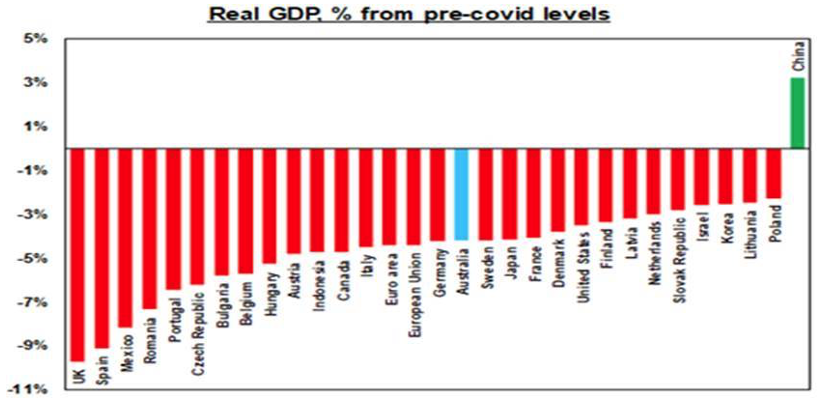 Our rough estimate is that Australian GDP growth in the current quarter will be around 2.8% with much of that coming from Victoria, and that GDP will be back to its December quarter 2019 pre-covid level by mid next year. We have now revised our 2020 growth forecast to -2.5% (up from -3.5%) and see 2021 growth of 4.5% and 2022 growth of 3%.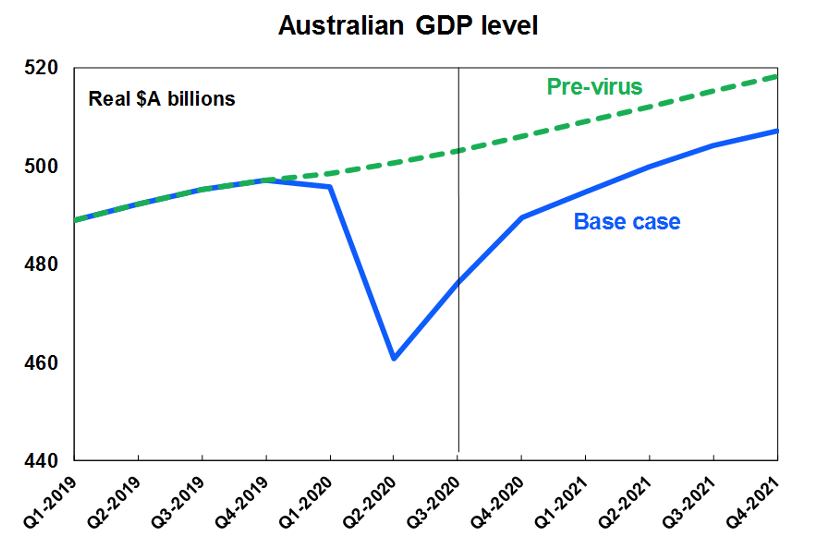 RBA on hold, but further easing via QE remains likely. While September quarter GDP growth was stronger than expected, the recovery will still be "uneven and bumpy" (in the words of Governor Lowe) with lots of "spare capacity" in the form of unemployment and underemployment for some years to come. So we agree with the RBA that a cash rate hike remains unlikely for three years at least, and with negative rates remaining "extraordinarily unlikely" an expansion in the RBA's bond buying program is likely at some point in the first half of next year, particularly to provide a brake on the ascent of the Australian dollar which we see rising to around $US0.80 over the next 12 months.