Our Australian Economic Activity Tracker fell slightly in the last week, but remains up from its August low and is likely to move higher in the weeks ahead as NSW, the ACT and Victoria gradually reopen. However, given the likelihood of high coronavirus numbers through the reopening and only the vaccinated being able to initially participate, this recovery will likely be more gradual at first than was the case after last year's lockdowns. Our US and European Economic Activity Trackers are stalled, which possibly suggests a loss of momentum in their recovery.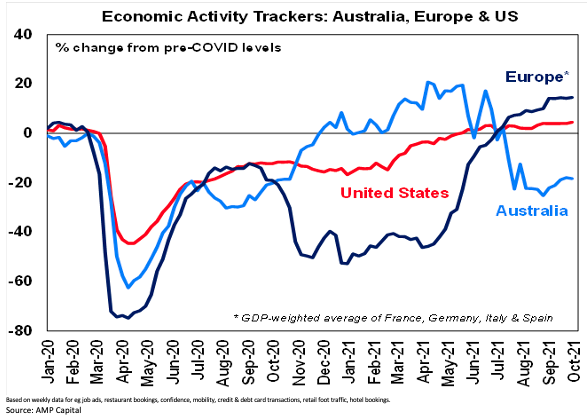 Based on weekly data for eg job ads, restaurant bookings, confidence, mobility, credit & debit card transactions, retail foot traffic, hotel bookings.
Australian economic events and implications
Coal and gas to the "rescue". Despite a 4% fall in iron ore exports, Australia's trade surplus surprisingly rose to a record $15.1 billion in August as coal exports surged 13% and LNG exports surged 16% with rising prices for both. While the plunge in iron ore prices is yet to fully impact the trade surplus, it's likely to remain in a healthy surplus thanks to the strength in coal and gas.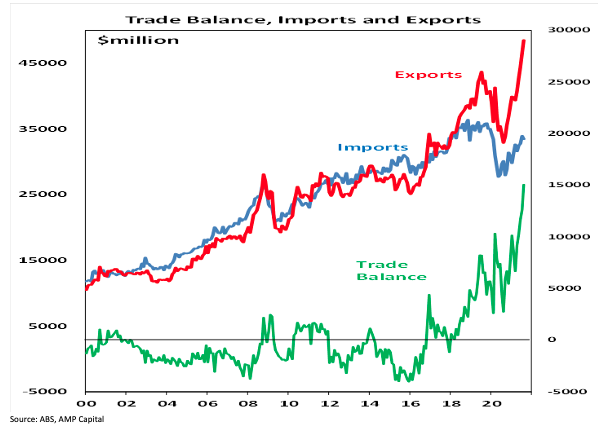 Payroll jobs down, but vacancies holding up
While payroll jobs fell again into mid-September and are now down by around -5% from their June high reflecting the lockdowns job vacancies have held up far better through this lockdown auguring well for a recovery in jobs as lockdowns are eased.
Apart from hinting at an increase in interest serviceability, the RBA Board meeting provided no surprises. While it remains upbeat on the growth outlook beyond the disruption from lockdowns the RBA remains very dovish on rates, repeating that the conditions for a rate hike are unlikely to be in place before 2024.
What to watch over the week
In the US, the minutes from the Fed's last meeting (tomorrow) will be watched for more detail around the Fed's tapering plans from November. On the data front, core CPI inflation (tomorrow) is expected to rise another 0.2% month-on-month leaving annual inflation at a still-high 4% year-on-year. Producer price inflation (Thursday) is also likely to remain high. Headline retail sales (Friday) are expected to have fallen slightly but underlying measures are expected to show a modest gain.
Manufacturing conditions in the New York region (Friday) are expected to have fallen back slightly but remain robust. Small business optimism and labour market openings data will be released Tuesday. The September quarter earnings reporting season will start to get underway with the consensus being for 28% earnings growth on a year ago.
Chinese trade data (Wednesday) is expected to show a moderation in import and export growth after surprising strength in August and inflation data (Thursday) is expected to show a slight rise in CPI inflation to 0.9% YoY but a strong rise in producer price inflation to 10.6% on the back of energy shortages. Credit data will also be released and will be watched for signs of policy easing.
In Australia, expect jobs to be down but confidence to be up. Jobs data (Thursday) is likely to show another 150,000-strong decline in employment as the full impact of the Victorian lockdown impacts. However, as we saw in August a decline in participation is likely to keep unemployment subdued although we expect a modest rise to 4.8% and the bulk of the impact from the lockdowns will be in terms of hours worked. Of course, with reopening now commencing the jobs data will be a bit dated. Meanwhile, the NAB business conditions and confidence survey for September (today) is expected to show a modest improvement as is consumer confidence (tomorrow) as a result of rising vaccination rates and reopening roadmaps.
Outlook for investment markets
Shares remain vulnerable to short-term volatility with possible triggers being coronavirus, global supply constraints & the inflation scare, less dovish central banks, US spending and tax plans and the slowing Chinese economy. But looking through the short-term noise, the combination of improving global growth and earnings, vaccines ultimately allowing a more sustained reopening and still-low interest rates augurs well for shares over the next 12 months.
Expect the rising trend in bond yields to continue as it becomes clear the global recovery is continuing resulting in capital losses and poor returns from bonds over the next 12 months.
Unlisted commercial property may still see some weakness in retail and office returns but industrial is likely to be strong. Unlisted infrastructure is expected to see solid returns.
Australian home prices look likely to rise by around 21% this year before slowing to around 7% next year, being boosted by ultra-low mortgage rates, economic recovery and FOMO, but expect a progressive slowing in the pace of gains as poor affordability impacts, government home buyer incentives are cut back, listings return to more normal levels, fixed mortgage rates rise, macro prudential tightening slows lending and immigration remains down relative to normal.
Cash and bank deposits are likely to provide poor returns, given the ultra-low cash rate of 0.1%.
Although the $A could pull back further in response to the latest threats to global and Australian growth and weak iron ore prices, a rising trend is likely over the next 12 months helped by strong commodity prices and a cyclical decline in the US dollar, probably taking the $A up to around $US0.80.
Eurozone shares fell -0.5% on Friday and the US S&P 500 fell -0.2% in a choppy session as a result of the messy jobs report for September. Reflecting the soft global lead ASX 200 futures fell -4 points, or -0.1%, pointing to a softish start to trade on Monday for the Australian share market.