September is often the month for corrections and we have seen a bit of that so far this month with the stretched US market having a top to bottom pullback of 7%, led by the very stretched Nasdaq, which has seen a 10% top to bottom fall. In the process Australian shares have also pulled back 5%but Eurozone and Japanese shares have been little affected. The pullback has relieved overbought conditions while at the same time the resilience of credit spreads, metal prices and growth currencies like the $A tell us its likely just a correction and not the start of a renewed bear market. Strengthening economic data and very dovish central banks should underpin share markets on a 6 to 12-month horizon, providing coronavirus is controlled. But right now it's still too early to say the correction is over – seasonal weakness often continues into October, coronavirus could have a third wave into the northern winter, uncertainty remains around the next round of fiscal stimulus in the US and the US election is likely to add to volatility.
The past week or so has seen the trend in new coronavirus cases hook up after a period of stability through August.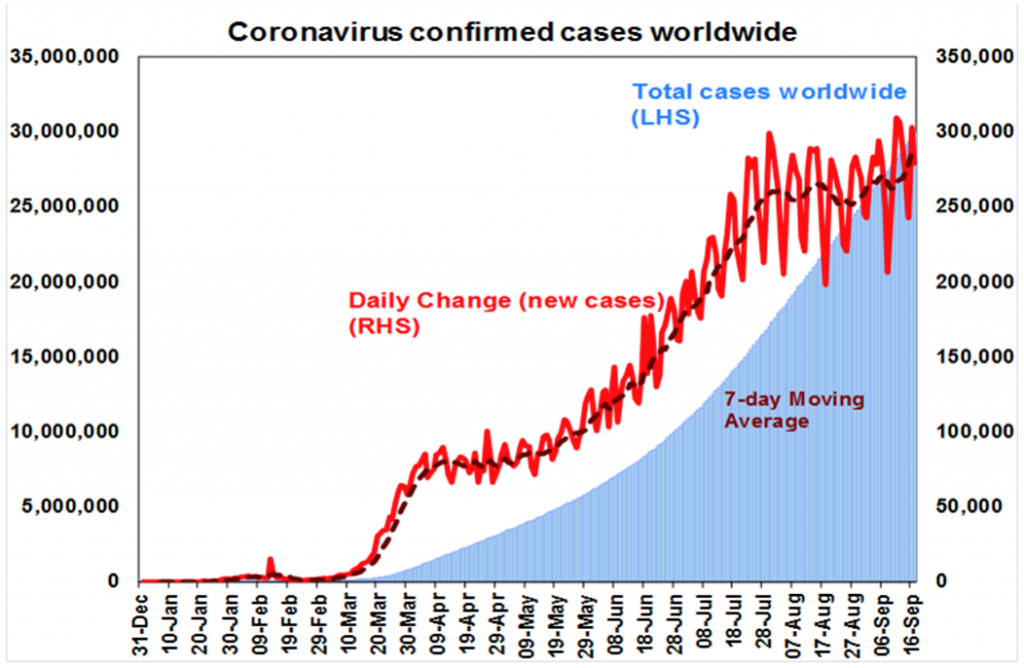 The uptick reflects both emerging countries (particularly India) but also developed countries moving up again as new cases in Europe continue to trend up to be now above March/April highs and the US has hooked up again over the last few days (mainly in the south and mid-west).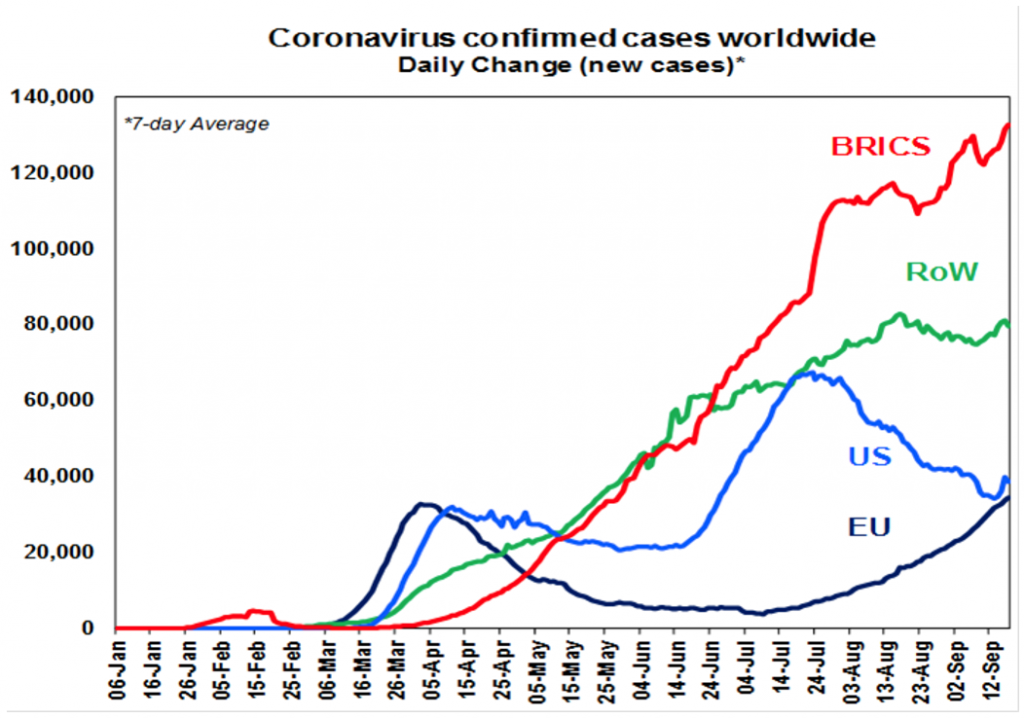 Fortunately, the second wave of new coronavirus cases in developed countries has continued to be far less deadly than the first wave with deaths running well below their April high whereas new cases have been well above. This reflects a combination of more testing (picking up more younger people), better treatments and better protection for older people. This in turn is continuing to help avoid a return to generalised lockdowns in most countries (Israel and Victoria excepted) – in favour of targeted measures – and helping confidence hold up. Although Europe is at risk here.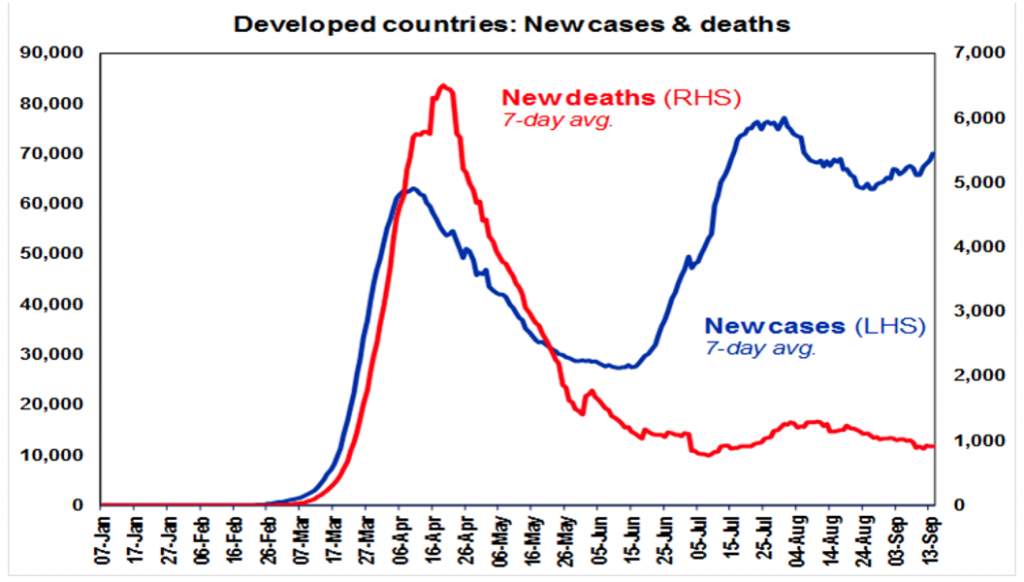 The lower level of fatalities and absence of a return to a hard lockdown has seen economic recovery continue in most developed countries. However, our US Economic Activity Tracker had a setback over the last week with declines in restaurant and hotel bookings and mobility indicators.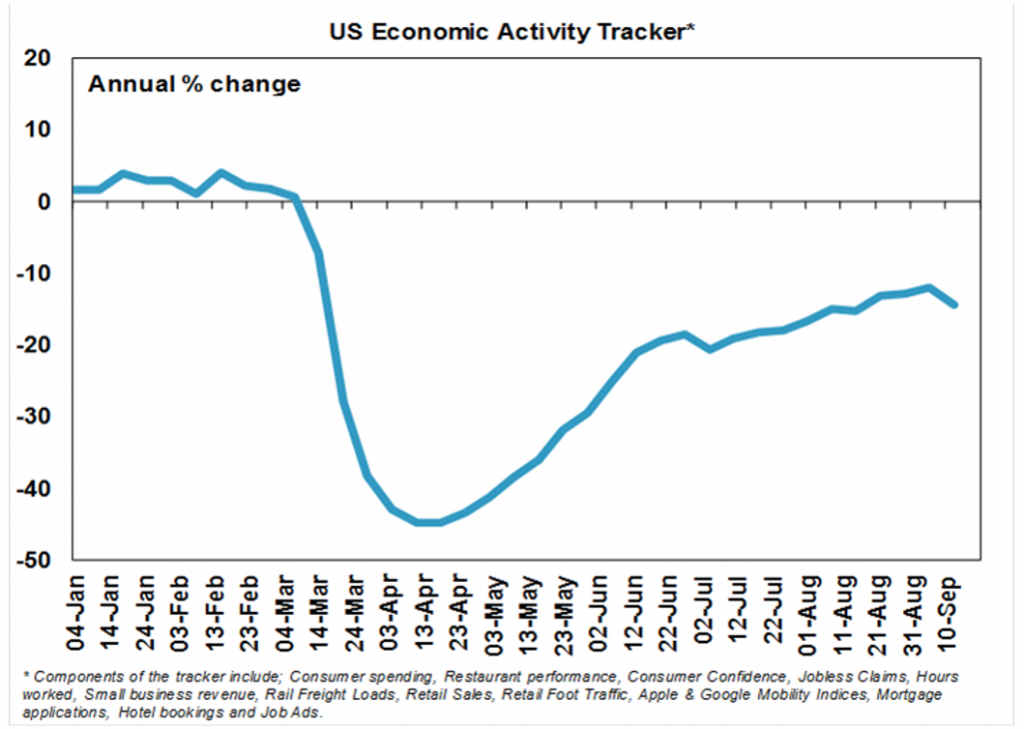 Australia is continuing to see better news on coronavirus, with new cases in Victoria pushing into the 30-50 range over 14 days, which is necessary for a move to Melbourne's Step Two reopening from September 28.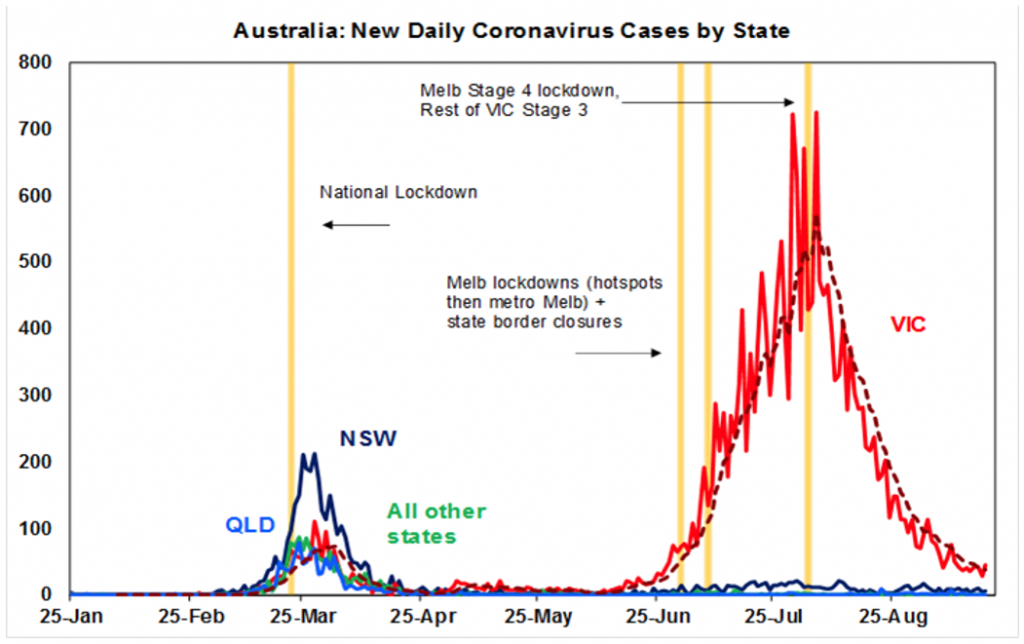 And now with new cases sliding, deaths have also fallen sharply in Victoria. While the second wave proved more deadly than the first in Australia in contrast to other developed countries, coronavirus deaths per million people in Australia remain low at 33 compared to the US at 602, the UK at 627 and France at 423.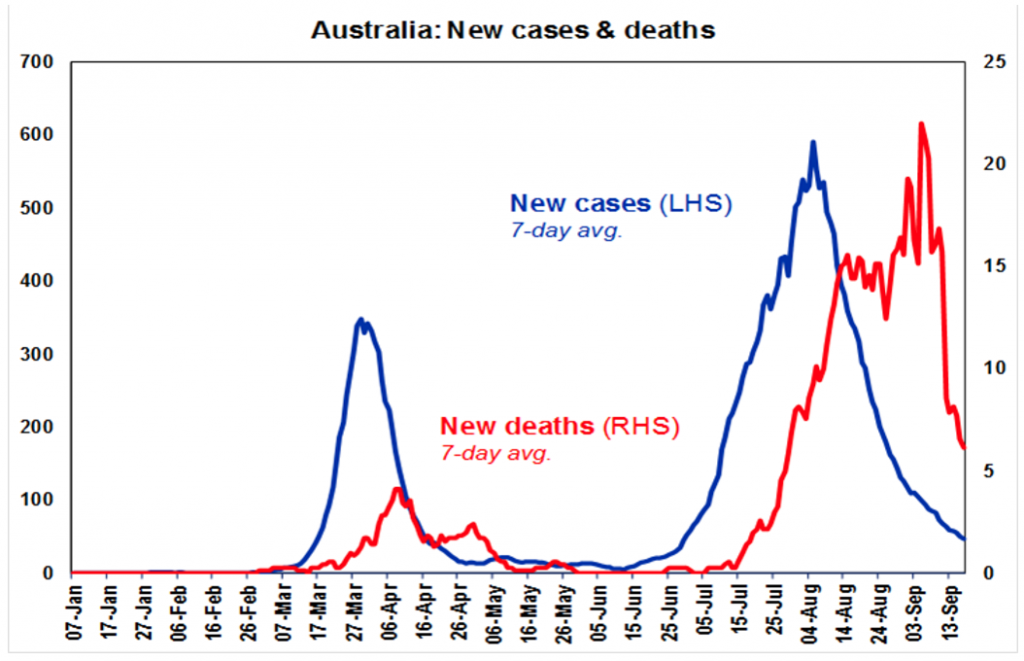 The decline in new cases has seen our Australian Economic Activity Tracker hook up from August lows but it had a set back over the last week with falls in restaurant bookings and shopper traffic. Expect a rising trend though, as Victoria moves to a gradual reopening and other states continue to recover.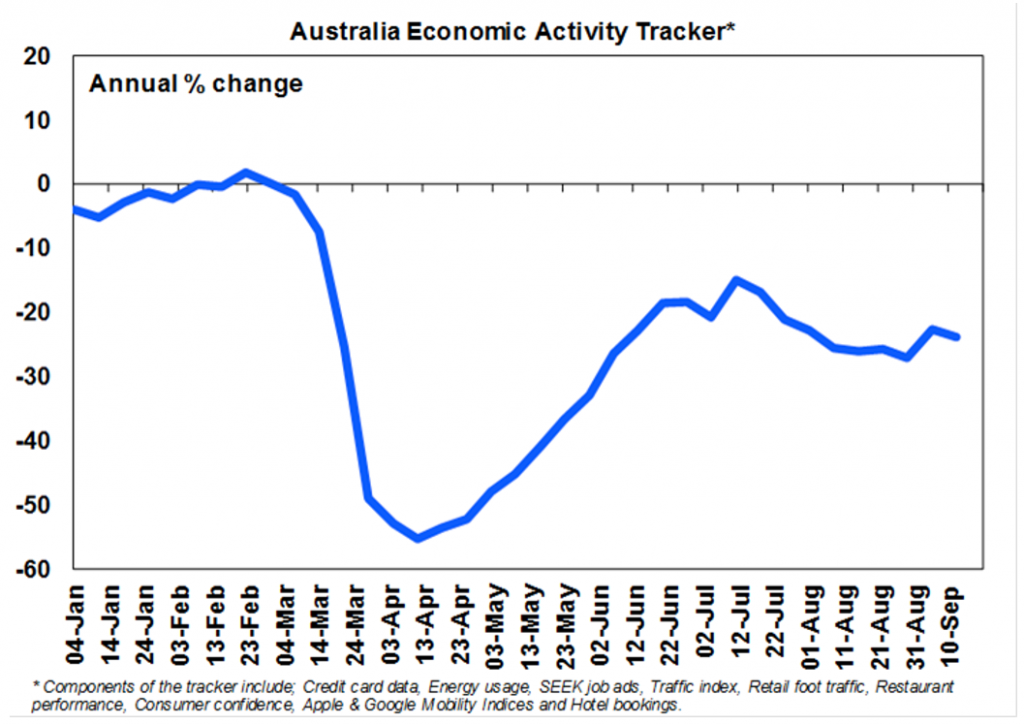 What to watch this week
The key focus is likely to be on business conditions PMIs for September to be released Wednesday. These are expected to remain strong in the US and improve in Japan and Australia as the number of new coronavirus cases has fallen in both countries, but are vulnerable to a further decline in Europe where new cases are continuing to rise.
In Australia, expect preliminary retail sales for September (Wednesday) to have fallen 3% after several months of very strong gains with weakness concentrated in Victoria. Payroll jobs data for the period to 5th September will also be released (tomorrow) along with March population data (Thursday) which is likely to show some slowing in population growth due to lower immigration in March. A speech by RBA Deputy Governor Debelle (tomorrow) will also be watched closely for any clues regarding future monetary easing.
Outlook for investment markets   
After a strong rally from March lows shares remain vulnerable to short term setbacks given uncertainties around coronavirus, economic recovery, the US election and US/China tensions. But on a 6 to 12-month view shares are expected to see good total returns helped by a pick-up in economic activity and stimulus.
Australian home prices at present are being protected by income support measures and bank payment holidays but higher unemployment, a stop to immigration and rent holidays will push prices lower into next year. Home prices are expected to fall by around 10%-15% from their April high. Melbourne is particularly at risk on this front as its Stage 4 lockdown pushes more businesses and households to the brink.
Cash & bank deposits are likely to provide very poor returns, given the ultra-low cash rate of just 0.25%.
Although the $A is vulnerable to bouts of uncertainty about coronavirus, the economic recovery and US/China tensions, a continuing rising trend is likely to around $US0.80 over the next 6-12 months helped by rising commodity prices, the return of a positive bond yield differential versus the US and a cyclical decline in the US dollar.