The Reserve Bank of Australia is treating us like guinea pigs, with interest rates so low that it has created a "too hot" property market that could ultimately cook our goose! And as someone who's sometimes unfairly criticised for being optimistic, I'm warning prospective homebuyers to be careful, really careful.
The great Australian dream is to own your own home. Of course, this has become increasingly difficult as property prices are going through the roof. The latest CoreLogic data drop tells us that Sydney home prices rose by 26% over the year, 20% in Brisbane and Melbourne 15.6%.
These are HUGE rises and are doing one of two things to too many would-be property buyers: either making them pay too much or making them miss out. And given what's been happening to the country's home prices, missing out might end up proving the luckiest break many might have.
That's especially so if the fears of the RBA's Assistant Governor, Michelle Bullock, force the Big Bank to take action that could send home prices down.
Addressing a conference, Ms Bullock said the RBA is watching what borrowers are doing and is concerned about the "over-exuberance" out there in homebuying land.
I'm sure there are many of us who'd read this and say: "Well, der!" But anyone who'd be so rude to that august organisation called the Reserve Bank of Australia, might not understand the double play the bank has to pull off.
In a nutshell, the RBA has to stimulate the economy to create great economic growth in 2022 and 2023 to help offset the recession negatives created by the Coronavirus and now the lockdowns linked to the Delta variant. This virus not only threatens our lives and our health, it also threatens the health of our economy. Strong economic growth, helped along by the RBA, will create jobs, sustain struggling businesses and boost taxes so the governments of Australia can gradually repair their budgets that have spiralled into historically huge deficits.
Right now, unbelievably low interest rates, big spending governments, retail spending, especially online and the booming property market, and our exports are all keeping the economic show positive. But in recent times, China is looking to hit our exports.
The latter doesn't just push up prices but also stimulates building, renovations and the spending on goods and services that goes with all that. The fact we're locked up at home but our economy continues to operate via Zoom, Microsoft Teams and online transactions underlines how important technology has become to effectively soften the blow of recessions.
Imagine if workers were sent home without work and you couldn't do 'click and collect', and Deliveroo as well as Uber Eats were unheard of!
We'd be in a very long recession that could've turned into a virus-created Great Depression!
But there are still problems for the economy, such as lockdowns and businesses and workers who can't make work happen on a laptop via Zoom. The holiday industry can't operate with closed borders and hair can't be cut online.
This is the context that faces the RBA as it ponders whether it can afford to take the exuberance out of the property sector. It knows it will have to, but the big question is: WHEN?
The Organisation for Economic Co-operation and Development (OECD) told us this week that the lockdowns recently have cut our economic growth from 5.1% to 4%, which the SMH says was "the biggest downgrade of any country measured by the Paris-based think tank."
It now thinks we'll grow by 3.3% next year, which is 0.1% less than what it thought in May.
This is why the RBA isn't keen to spook the property market with interest rate rises until the place is going gangbusters, which I think will be post mid-2022. Even so, the Bank keeps telling us they won't raise rates until 2024, which is a promise I hope they have to break.
If rate rises aren't necessary until 2024, then our growth story won't have been a good one, and I don't believe that for one minute!
Ms Bullock isn't worried about bank balance sheets after lending so much, which is a good thing, but she is concerned about households being overborrowed.
And because of this big debt for those owning properties, the RBA won't want to raise rates too quickly or too soon. So, with the help of APRA, it will do two things to hit future homebuyers.
APRA and the RBA's encouragement will restrict how much borrowers can borrow and who gets to hear 'yes' or 'no' to a request for a loan.
This happened in 2017 and home prices fell by over 10% in Sydney alone. This chart shows it clearly.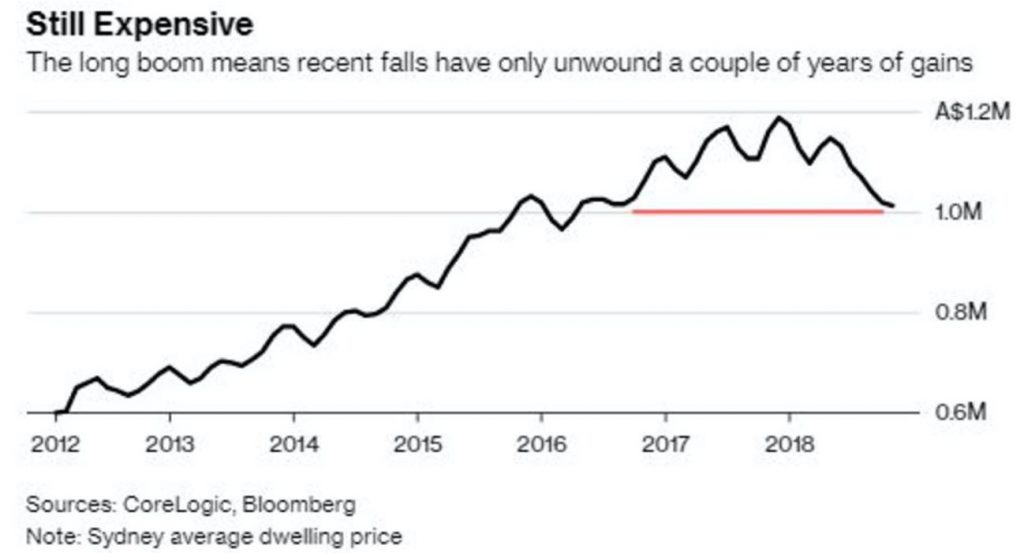 Yep, the regulators can slow down price rises and even force them down. It will eventually happen, but not any time soon, as lockdowns and threats of financial contagion from a bankrupt Chinese developer spook stock markets and the US worries about inflation.
We've got time up our sleeve before the RBA raises rates, but I suspect when vaccinations help our economy start to grow faster early in 2022, APRA and the RBA will gang up on new borrowers or those looking to refinance their loans.
This will reduce the number of buyers at auctions and open houses and prices will stop rising quickly. Eventually property prices will fall, so be careful about what you pay for a home. Also, make sure your job or business is safe, though I do think we'll have two strong years of growth that could offer a lot of borrowers protection from sudden drops in their income.
The greatest threat to successful home ownership is not just rising interest rates but more your income's ability to service a loan as rates eventually rise.
The bottom line? Be careful with your homebuying plans!