Anyone praying for term deposits to get over 1% to say 5% (like in the good old days) should simply forget it. And anyone worried that these low interest rates for home loans won't last for some time should stop worrying.
If you want to grow your wealth, you have two choices: stocks and property, so you better change your attitude if you're a scaredy cat worried that the bad old stock market might take away your precious capital.
The irony is that it's your scaredy cat ways that are the biggest threat to your capital or nest egg, not that wicked old stock market.
I'll get to this controversial point later, but for now let's look at why we can't get inflation up.
On Wednesday, the March quarter inflation number was released and it came in at 0.6% but economists expected a 0.9% result. It meant our annual rate of inflation was only 1.1% and that's despite a big boom brewing in the economy, with CommSec predicting economic growth this year at a big 4.2%!
This low inflation outcome won't please the Reserve Bank that wants inflation between 2-3%. It means that the Big Bank will keep the cash rate at 0.1% for a long time or for as long as it takes to get inflation and wages up and unemployment in the 4% range.
Overnight, the Treasurer told us that he wants the jobless rate down, with a "4 in front of it". So the combined messaging from both Josh Frydenberg and the RBA is that they'll keep stimulating the economy until a normal economy with inflation, rising wages and lower unemployment than the current 5.6% appears.
This means low interest rates for borrowers will persist for at least two years, but it could be longer. RBA boss Dr Phil Lowe has said he'd keep rates low to 2024 if he had to and overnight the Federal Reserve chair Jerome Powell restated his commitment to low interest rates for a long time.
So rates won't rise until inflation rises, but there are so many new age developments that stop prices from rising. Think about how the new age discounters, the Asian suppliers and the online as well the digital disrupting world bring prices down. Look at Zara, H&M, Uber, Airbnb, Amazon, Afterpay, Zip, online websites, fin-techs, neo-banks, online stockbrokers, JetStar, cheap Domino's pizzas and even cars — likes Coles they all scream: "Down, down, prices are down!
That Coles promotion took the prices of 250 products down and led to a price war, which experts say is looking likely to restart soon. The digital age has structurally changed the economy so prices don't rise as quickly as they used to, when tariffs protected local business profits and permitted higher wage increases.
We didn't get our T-shirts from China or Vietnam but from a Melbourne factory so it was easier for wages and inflation to spike. This chart shows how inflation has been 'dead meat' since the 1980s.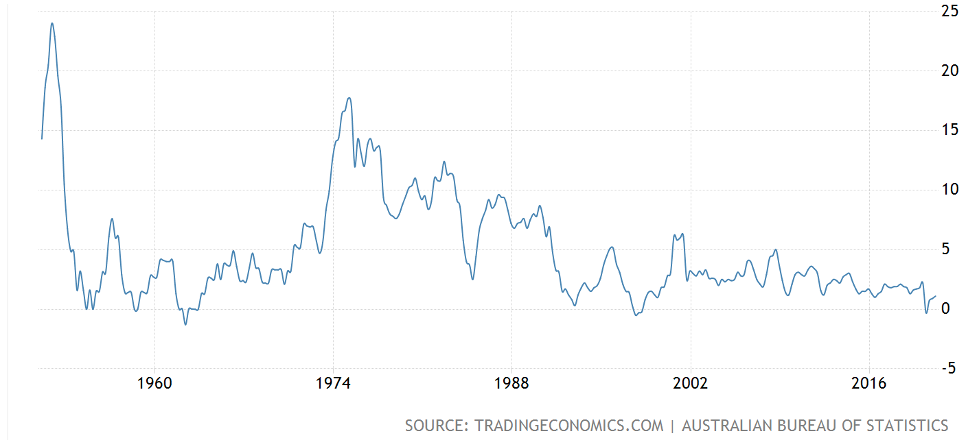 In 1988, inflation was around 10% but since we tore down tariffs, traded more with cheap labour Asian countries and people like Amazon's Jeff Bezos and Apple's Steve Jobs made us computer and online addicted, inflation has fallen big time!
What does this mean for investors and anyone wanting to play it safe in term deposits because they hate the scary stock market? This is what lies ahead:
Term deposits will be low for a long time.
Low interest rates will push stock prices up.
Low interest rates will push property prices up.
Those who don't grow their capital or nest egg will see that nest egg shrink, meaning the scaredy cats will lose if they remain scared.
If someone had a million in retirement and kept their money in the bank at 1% (if they're lucky), they'd make $10,000 a year. But if they spent $60,000 a year, they actually shrink their nest egg by $50,000 a year.
And if rates remain low until 2024, they could kill their capital by $150,000 to $200,000.
Even if deposit rates rise, a 3% rate seems a long way off so the scaredy cat investor simply has to get some exposure to the stock market, but they have to get used to the ups and downs of a stock market.
Let me use my Switzer Dividend Growth fund (SWTZ), listed on the stock market to show what the scary stock market can be like.
SWTZ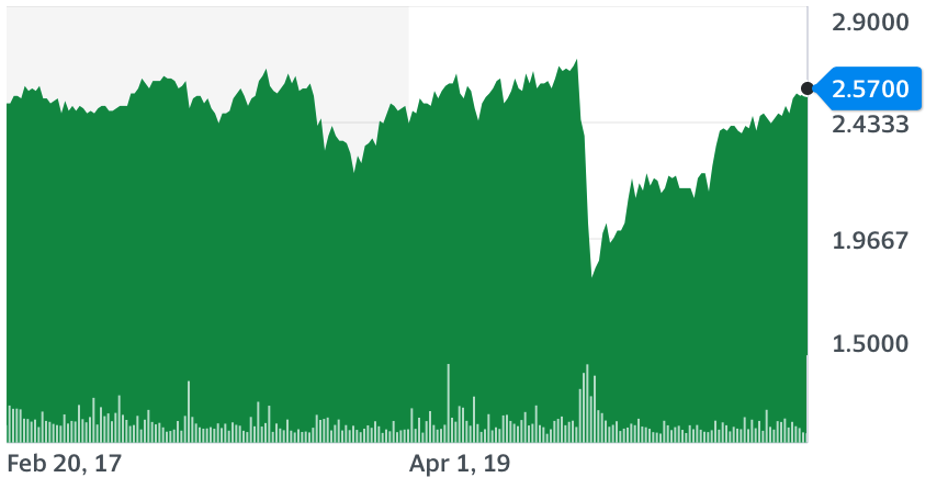 This fund collects about 30 or so good quality companies that pay pretty good dividends. Some top quality companies like CSL can be thrown in for capital gain but most of the stocks are dividend payers.
SWTZ listed in 2017 at $2.50. It climbed to $2.70, got smashed in the Coronavirus crash to $1.81 but has now rebounded to $2.57.
Along the way it kept paying income, as the table below shows. The annualised return after fees is 4.92% before franking.

It has been a pretty good performer for a safe kind of fund, provided you can live with the ups and downs of the stock market.
Sure, our investors would've been scared when the stock market fell last year, but quality stocks eventually rebound and scaredy cat savers need to know this or else their scaredy cats ways will send them to the poor house!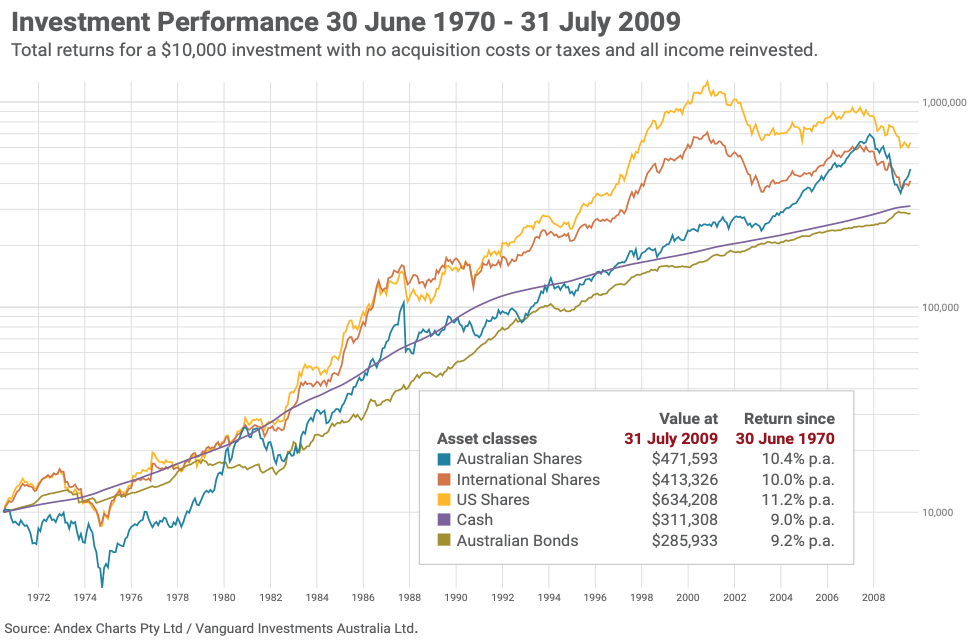 The chart above shows how the stock market can be scary, crashing occasionally but it rises again and it rises over a long time on a rising rate, which means your money grows with it. You just have to make sure you're invested in quality companies and don't be too frightened to grow your wealth because term deposits won't do it for you!